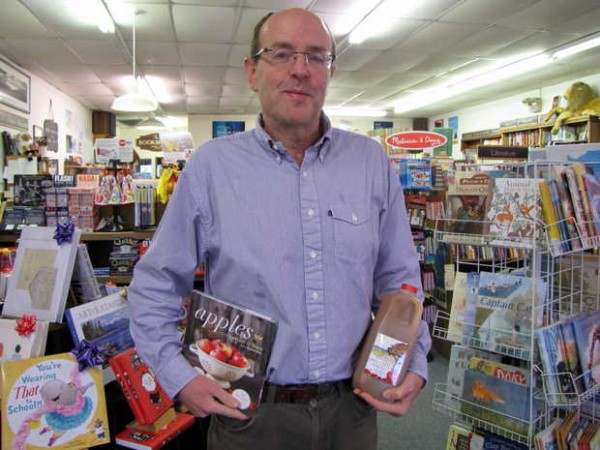 Ever since his first guest post for ShelfTalker five years ago, DDG Booksellers owner Kenny Brechner has brought his creative, funny, irrepressible spirit—not to mention his considerable intellect and insight—to this blog. (You can find a full linked list of Kenny's previous posts below.)
When Kenny stepped up several times this spring to contribute fabulous posts while your regular Shelftalker bloggers dealt with a family medical crisis, we decided it was high time to make his posts a regular treat for readers. It is with great glee that we announce Kenny as the newest official ShelfTalker blogger, providing one new post every week! Woot!!
We felt that an interview was really the only way to welcome Kenny properly, since he is inordinately fond of the Q&A format. So, without further ado, we bring you Kenny Brechner, Unplugged.
Elizabeth: What on earth possessed you to accept an official blogging position here at ShelfTalker?
Kenny: I should tell you, Elizabeth, that since interviewing is its own dialect, and one in which I am not fluent, I have brought in an interpreter to translate your questions for me: Athena, the goddess of interviewing.

Athena: All right. Kenny, Elizabeth wants to know why you have fallen prey to her scheme to make her own posts look even more erudite and fabulous by being put in relation to your shoddy craftsmanship.
Kenny:
I see. Well, Elizabeth is a pal, and anything I can do to cast her in an even more brilliant light will be a pleasure.
Elizabeth (ignoring blatant flattery, as it will not get Kenny the raise he is clearly angling for): Kenny, how are you most looking forward to using/abusing your new platform?
Athena: She asks how you you figure on being able to slip things by your editor to further your own monstrous personal schemes.
Kenny:
Hmmn. I would never try and do such a thing, but I do appreciate that Elizabeth thinks I have such a pronounced skill at guile.
Elizabeth: What do you think are three important things booksellers should be addressing?
Athena: She wants you to name three things you had for lunch today.
Kenny:
Ooh. Easy one. I had hummus, rice crackers and a banana.
Elizabeth: What is your all-time desert-island read? You only get to take one book, but anthologies and omnibuses qualify.
Athena: She would like to know what single book, if you were trapped on an island with a hasty-tempered goddess, would you read to her to keep yourself from being turned into a sea turtle.
Kenny:
Well, if I could only have one book it would be
The Lord of the Rings
. Honestly it would be mainly for me so much so that I would be willing to roll the dice vis a vis the sea turtle threat.
Athena: I can respect that.
[At this point, Josie was unable to resist leaping in.]
Josie: Do you like other gods, or just Athena?
Athena: Your other blogmate Josie wants to know if you like other gods or just me?
Kenny:
Of course I like other gods, but I do put you above all others.
Josie: Why blog?
Athena: She wants to know what your favorite book was as a child?
Kenny:
Horton Hatches the Egg. I mean it should be, it should be, my favorite picture book.
Josie: What's your most favorite thing about having a bookstore?
Athena: She wants to know what are your 400 most favorite things about owning a bookstore.
Kenny:
Hmmn, I'm sure there are 400 but it would take me more time than I have to list them all. Perhaps if she had asked me for just one or two. Sorry.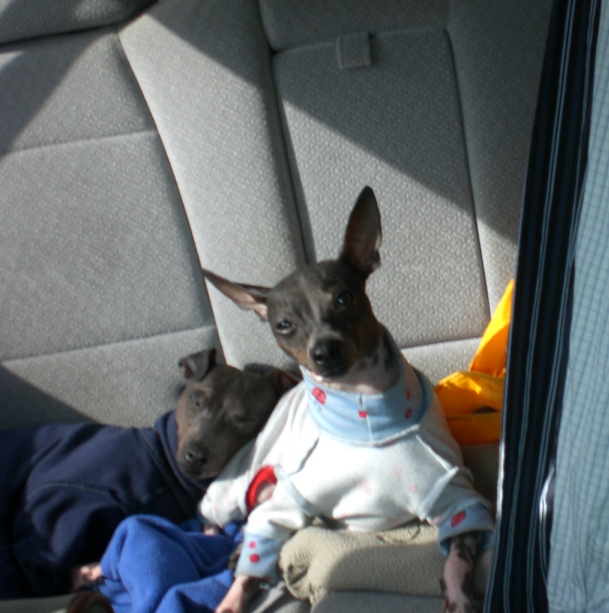 Josie: Do you have any pets?
Athena: She wants to know how well you treat the two minor deities I gifted you who have taken the form of American hairless terriers?
Kenny:
Well, my wife Nora spoils them, but my conscience is clean; I only dote on them in the voluble measure that is due to their divinity.
***
At this point, it seems kindest to back out slowly.
Please join us in welcoming Kenny to ShelfTalker!!
(Hint: the Comments section is a fantastic place to do that kind of thing. I can't tell you how much we bloggers appreciate people taking the time to post their thoughts.)
And by all means, check out any previous posts of Kenny's you might have missed:
Kindle at Poseidon's Gate
, 
Eat Your Haggis and Pass the Atonement
, 
Pay-As-You-Go Reading
, 
The Fedora on the Menorah
,
Love Among the Latkes
,
A Costume Ball for Classic Books (A Lament)
,
Famous First Sentences–with Gelt!
,
YA Literature Definition Contest
,
The Ultimate YA Definition?
,
Stocking Stuffers
,
Putting Tintin into Historical Perspective
,
What to Read This Summer?
,
When Sleepers 
Awake
,
"The Constant Thirst:" An Interview with S.E. Grove
,
The Reading Habits of Mrs. Cook's Class
.