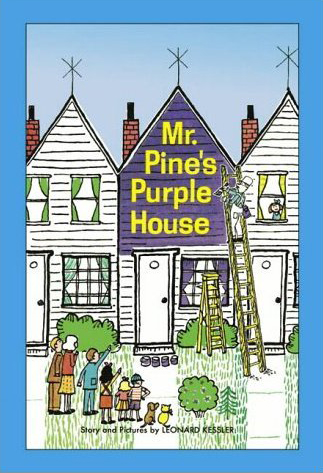 For some time now, I've meant to start a recurring feature highlighting some of our favorite small presses. We independent booksellers are always working to get the message out about the wonderful benefits we offer to readers; just as important is our support of smaller indie publishers, who likewise depend on us to recognize and value (and buy) the unique books they have to offer. In this economy especially, we need to put our money where our mouths are. Let's hear it for small presses!

The first spotlight shines on PURPLE HOUSE PRESS. Our bookstore was about four years old when this small press started up in 2000. They were dedicated to bringing back rescued treasures from out of print. I was immediately delighted by their selections; several of their books were favorites from my own childhood. I was also impressed by the quality of the books, with their wonderful paper and top-notch production values.
From Mr. Pine's Purple House (the book by Leonard Kessler that inspired publisher Jill Morgan to
start the press in the first place) to cartoonist Gary Larson's favorite book as a three-year-old, Mr. Bear Squash-You-All-Flat by Morrell Gipson, illustrated by Angela, to Astrid Lindgren's The Brothers Lionheart to Clifford B. Hicks's The Marvelous Inventions of Alvin Fernald, Purple House Press only brings back time-tested child favorites. I love their taste in books, and their carefully chosen, just-a-few-new-titles-every-year publishing schedule, which seems to ensure that all of the books they bring back stay in print.
I had a rare, wonderful, heart-stopping moment because of PHP some years ago,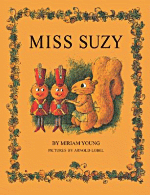 when I was browsing through their titles online and saw a book cover that brought back a flood of memories. I hadn't thought about Miss Suzy in about 35 years, but when I spotted Arnold Lobel's drawing of a small gray squirrel with two toy soldiers, my heart actually stopped beating for a second. As a little child, I had been FASCINATED by Miss Suzy's plight with a band of mean red squirrels who chase her from her home. (She gets help from the toy soldiers.) I can't tell you exactly why I loved that book so much, but it certainly had something to do with Lobel's signature soft, rounded, friendly illustrations, and the slightly scary adventure with the mean squirrels written by Miriam Young.

Purple House Press's complete catalog is small and star-studded. Enjoy browsing through books that might plunge YOU back in time to your enchanted childhood self. Booksellers, librarians, teachers, and book buyers everywhere — please consider bringing these gems to your shelves and introducing them to a whole new generation of young readers.
And now, if you'll excuse me, I need to go make a Purple House Press order. I'm not kidding. Money, meet mouth.