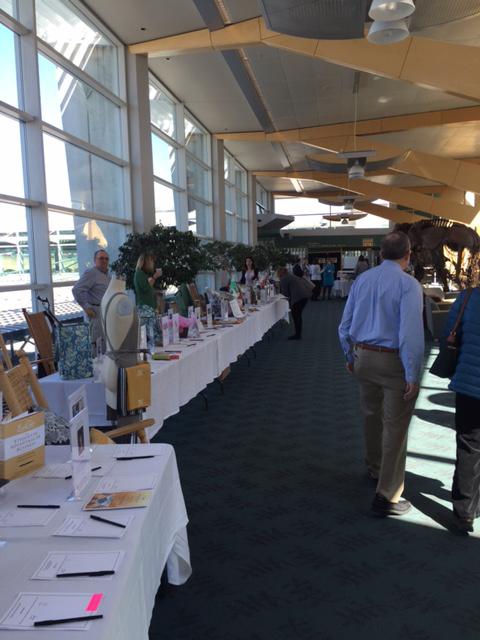 When scouting possible locations for a fundraising event featuring 21 authors, you wouldn't immediately think of the airport as a potential venue. But in a small city like Burlington, it's not only feasible, it's fantastic. Big windows, lots of light and space for setting up, and a series of available rooms for author panels and presentations —plus free parking for the event— made the Stern Center's annual gala beautiful and unique.
I'd noticed a lot of civic things happening lately at our mighty little Burlington International Airport, so when I had a chance to meet its newest owner, Gene Richards, I asked him what was going on. "This airport was built with taxpayer dollars," he said, "and it should be available to the community that built it." One of his favorite recent events was a dinner to celebrate the Refugee Resettlement Program. Food from many international cultures were shared from family to family. It was a way to bring new Americans and longtime Vermonters together. Love that!
The morning sessions were devoted to children's books and featured Jason Chin, Deirdre Gill, Kate Messner, me with my drummer pal Sue Schmidt, and Harry Bliss. Afternoon sessions were for authors of adult fiction and nonfiction, and included special out-of-town guest B.A. Shapiro (The Art Forger, The Muralist), along with a host of fabulous Vermont authors and presenters: Philip Baruth, Janet Biehl, Brenda Buzzell, Bronwyn Jones Dunne, Barry Estabrook, Dr. Lewis First, Stephen Kiernan, Jack Mayer, Tracey Medeiros, Karen Newman, Joanne Palmisano, Stephen Russell Payne, Willard Sterne Randall, Bill Schubart, Phoebe Stone, Tanya Lee Stone, and Katie Webster.
I snapped a couple of photos of the bookselling and silent auction areas during set-up. You can see how beautiful the space is!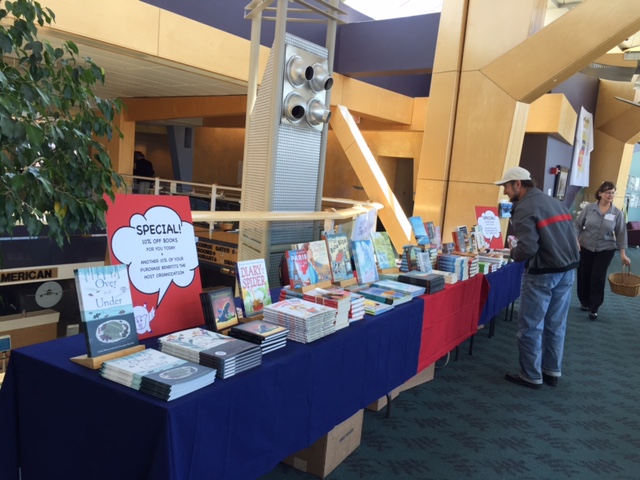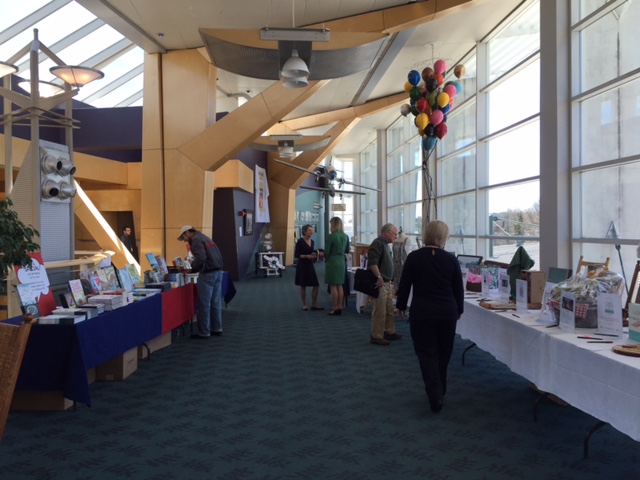 When I asked Mr. Richards if large-scale events—especially one like this, which lasted from 7 a.m. set-up until 9 p.m. breakdown—added additional security pressure for the airport, he acknowledged that there are extra duties, but seemed comfortable with them. "We have more than 700 cameras, and people watching them." Then he added, with a smile, "I'm always alert." I believed him, and made a mental note not to ever do anything potentially embarrassing at an airport again. Like the week before, when I had chugged my remaining 16 ounces of water from the bottle I forgot about before security, and half of it spilled down my front.
I was busy selling books most of the day, but the author events I did get to peek in at were well-attended and lively. Because the event was held on a weekday, the Stern Center had invited schools to attend, so there were lots of preschoolers and kindergartners on hand. I had a blast at my own event. I'll never forget Kate Messner, Jason Chin, and Deirdre Gill "wokka-ing" around the room with the children. Authors are such game individuals! And Laurie Burke, the incredibly gracious, hardworking Stern Center event guru, was extra happy with the Flying Pig thanks to our staffer Laura Heaberlin, who hooked up the Stern Center with her singing partner, 25-year-old Taylor Smith, for a last-minute event substitution. Taylor charmed hordes of tots with his guitar and sweet voice. I'm used to Laura and Taylor's haunting, complex melodies in their band, Cricket Blue, so it was surreal to suddenly hear that familiar voice piping, "Heads, shoulders, knees and toes" with a bunch of four-year-olds.
We had another fun offsite event: Girl Expo VT, a celebration of all things Girl Scout. Author-illustrator Sarah Dillard had been invited because her new chapter book series, Mouse Scouts, is PERFECT for Girl Scouts ages 7 and up. Sarah's publisher, Random House/Knopf, arranged for a booth at the exposition center in the big fairgrounds building. I printed up some posters of Sarah's book covers mounted on foam core, and Sarah designed a third poster with both covers and her adorable mouse scouts that we also printed out to decorate the booth. (I couldn't find my usual store banner that morning, so made do with this little red one. Ah, well. The posters looked great!)
We sold 120 of Sarah's books, and—just as exciting—Sarah was approached by the woman in charge of the international Girl Scout convention, who thought she would be a great addition to that conference, which brings together 10,000 Girl Scouts from all over the world every autumn. How cool is that?! Even if we hadn't sold any books, that connection alone would have made it worth the visit for Sarah and her publisher.
I wish I had had the time and opportunity to take pictures of Sarah's reading and signing books for all of those scouts. While the sweet spot for Sarah's books is 7 to young 10, there were 11- and 12-year-old readers who begged their moms to buy the book. That was interesting to me as a bookseller; now I'll feel comfortable recommending this series—which is so cute, and was reviewed in the New York Times in April— to a broader age range than I would have before the event.
While, in general, offsite events tend to end up more expense than income because of staff time, materials needed, and returns processed and shipped, they are almost always valuable and fun, and lead to great community connections, not to mention the kind of goodwill fostered by collaboration and hard work toward a common goal. I'm definitely a fan of the offsite event. If only I could clone my staff….