Remember that lovely surprise ShelfTalker enjoyed recently when I posted about a customer sharing a special Richard Scarry book with his toddler and received a comment from the man's son himself, artist Huck Scarry? In his comment, he asked for our address, and what arrived the other day from Austria was the happiest little piece of art, soon to grace the Flying Pig Bookstore's walls. First, the envelope, which was almost as marvelous: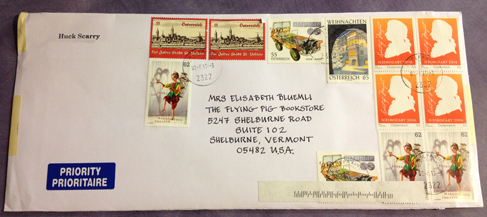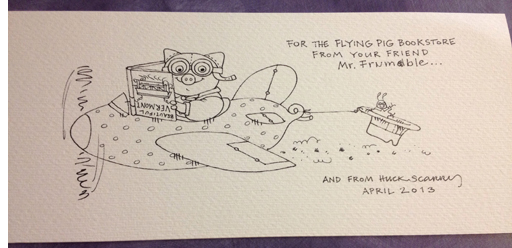 We are feeling very fortunate these days! What a lovely, lovely gift.
If you have a chance, try to track down some of Huck Scarry's books. In addition to carrying on his father's timeless work, Huck also has illustrated gorgeous sketchbooks of Tuscany and Venice, as well as intricately detailed tours of life on a fishing boat, travels in a hot-air balloon and a steam locomotive, and more. He's such an accomplished watercolor and pen-and-ink artist!
Almost nothing delights us more than seeing how children's book illustrators draw the flying pig. We have received some fabulous pigs through the years, and the aviator Mr. Frumble is a treasure.
It's been a fabulous week! Enjoy your weekends, everyone.
Grinning ear to ear, your correspondent,
Elizabeth