When classic books with great covers get new cover designs, it is always a tricky businesses for their established reader base. Change can be good, of course. Visions of rejuvenated sales and bringing in a new generation of readers, of broadening a book's appeal, are quality thoughts for any marketing department to be entertaining.
Lovers of the classic versions are prone to being unfair, just as they can be about films. I refused to believe that the 1984 version of The Scarlet Pimpernel could possibly have been necessary or worth seeing since nothing could top the 1934 version with Leslie Howard and Merle Oberon. When I finally climbed down and watched the 1984 version I discovered that it was a terrific film and brought an entirely new sense and sensibility to the story. Thus when I saw that HMH was coming out with new jackets for four Karen Cushman novels I called to mind such past personal failures of judgment and resolved to be fair. Here are the new covers.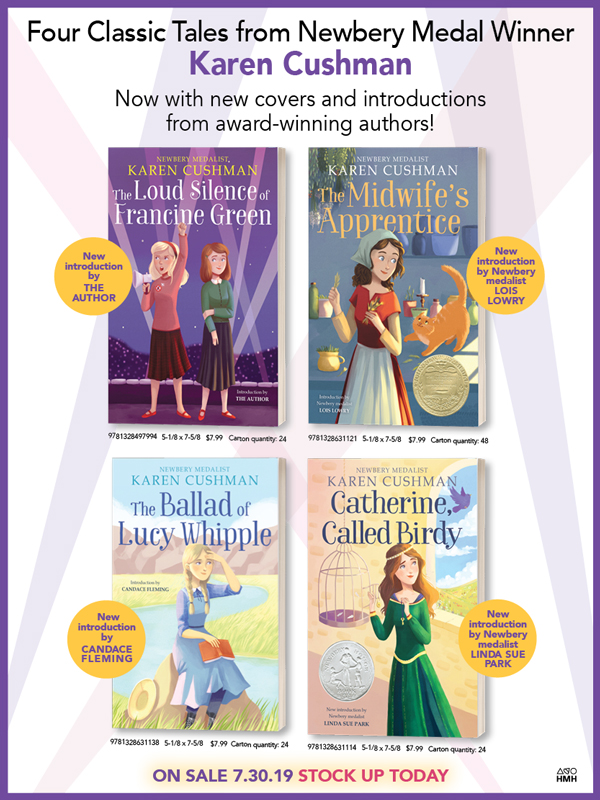 My first reaction was that Disney had bought Houghton and I hadn't heard about it yet. These cover seemed so at odds with the character of the books that I was numb with horror. My better self, such as it is, warned of those old lessons of skewed perspectives. "Get a grip on yourself," said my better self, "fairness first." The right thing to do was to compare the old with new in a direct manner. The two Newbery books set in the Middle Ages seemed most important to me and I set them together thus.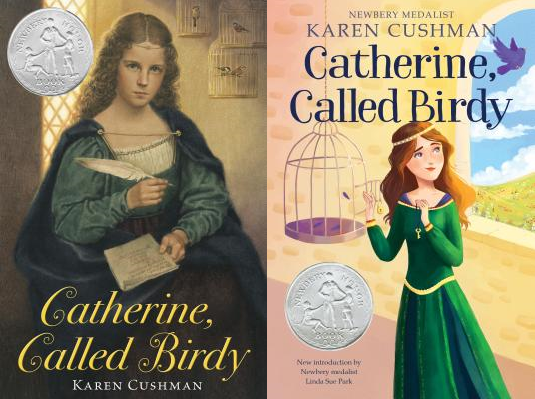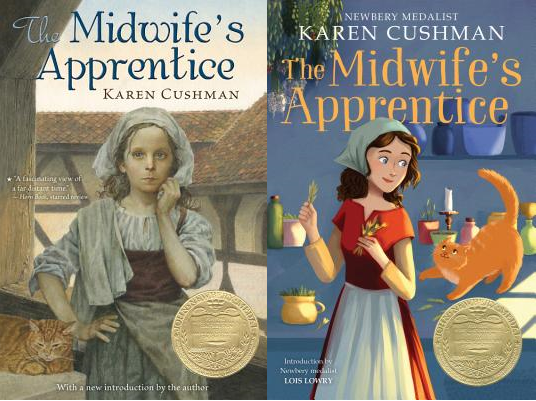 I talked to many people who know the books and all of them felt that the new covers failed to capture the dimension, grit, and character of these great stories. In fact, as I was writing this post, just a few minutes ago. one of my high school librarians came in and I asked for her opinion of the new covers. The look of dumbfounded anguish on her face was truly comical. "Oh my God," she said. "It looks like the cover for a BabySitters Club book." She went on to voice another concern I had heard from other readers I had polled earlier.The new covers might have kid appeal, but didn't they promise a story that a young reader would not find in the book's pages?
Were we being fair, though? Were all us old Karen Cushman lovers blinded by our attachment to what we all agreed were the exceptional covers we knew and loved? To answer that question I went to the source and asked two of the covers themselves.
Kenny: So tell me: I know your lead character was a young person of immense character and would be inclined toward fairness, even if it came to a matter of being replaced by a new cover. Are you of the same fine ilk?
Old Cover of Catherine, Called Birdy: I am Catherine brought to view. I am she. I have been she, and I shall ever be she. I am, it is true, not her only possible image. Many others could be made. My replacement is not one of them, however. There is such a thing as integrity. I should be happy to pass the torch to a new incarnation of Catherine, but I am deeply unsettled and feel cast aside now for the most dubious of causes.
Kenny: I see. And you, New Cover of Catherine Called Birdy. What say you?
New Cover of Catherine, Called Birdy: Look at the Birdy fly out the window. What a beautiful day it is. I'm so happy.
Kenny: Hmmn. What about your predecessor's substantive issues?
New Cover of Catherine, Called Birdy: Oh, her. Bwahaha. She can just consider that I look more like Catherine's parents wanted her to look. So there! That's a happy ending for you. Ha!
Well then. What's your opinion? Old, new, both or neither?