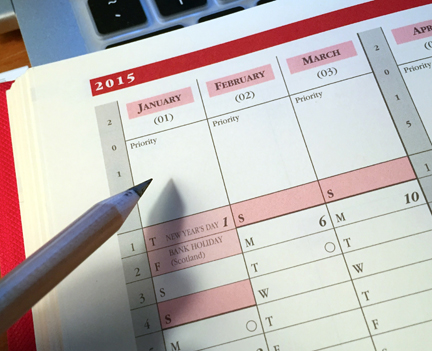 Ah, 2015, we welcome you with open arms and hopeful hearts. As many of us set new goals for more alert, thoughtful, better lived, better experienced, better managed (ha!) lives, some are also thinking about the reading year ahead.
One Vermonter we know has set out to read the Modern Library's 100 Best English-Language Novels of the 20th Century. Not in a single year, but she is determined not to read anything else until she's finished those one hundred books. It's an admirable goal, and one I would borrow from with a few tweaks for myself.
The Modern Library list is solid canon fare, mostly by deceased white male writers in the Western tradition. I would love to find a classics "best of" list that draws from a broader variety of authors and countries and perspectives. In children's books this year, School Library Journal's 100 Best Books of 2014 was such a breath of fresh air to peruse — it's a lively list, full of wonderful rich diversity, and it feels to me the way a collection of books should be. It's inclusive, unexpected, and full of gems. I would like to find an adult list of classics — for my purposes, classics that have stood the test of time — that feels as fresh and diverse.
I'm tempted to simply plumb the depths of the New Directions catalog. The books are delicious. I also always love David R. Godine's taste in books; to fully populate my imaginary ideal reading list, I would likely need to draw from some more non-Western sources as well.

Any suggestions?
Regardless of where my adult literary adventures take me, I know that in the world of children's books, I plan to double-down on my efforts to read as many diverse offerings our author and publishing colleagues bring forth as possible. And I am looking at some ways to revamp my diversity database to reflect changes in what is needed in 2015, as opposed to in 2009 when I started it.
Most importantly, what are YOUR reading resolutions for this year? Are there authors whose *entire* bodies of work you want to read? (Katherine Paterson! Naomi Shihab Nye! Gregory Maguire! Grace Lin! Kate DiCamillo — oh, wait, you've already done that? Good on you! Christopher Paul Curtis! Louise Erdrich! Gary Schmidt! Natalie Babbitt! Gerald Morris! Diana Wynne Jones! Margaret Mahy! Richard Peck! Ursula K. LeGuin!) Okay, I'll stop for now. Sooo many good ones out there; the few I've identified here have so many titles published that reading all of their books would be a nice, yet doable challenge.
Are you planning to read more books this year? Or read more nonfiction, or fiction, or poetry? Try reading new kinds of literature? Are you planning to write a book?
Editors, what do YOUR reading resolutions look like? I suspect they are different from the rest of ours, even though we are in this field together. Fellow booksellers, how about you?
Please do share your thoughts with us. It makes us so happy to hear from you!
Finally, thanks so much for taking the time to read Josie and Kenny and my posts here at PW's ShelfTalker. And thanks to our fearless editor, Diane Roback, for somehow managing both to give us free reign and keep us in check, as needed. Each year, we all think about what we are bringing to PW readers, and how to make our posts better, more fun, more interesting, and worth your time. Feel free to share your ideas on how we can best serve you in the comments below or by email (mine is ebluemle at publishersweekly.com).
Happy New Year, everyone!