Gareth and I are just THREE days away from our Manhattan move and doing a feverish dance of both packing boxes and purging possessions. Moving to an apartment that's two-thirds the size of your current place turns out to be a logistical headache that's about the size of, say, Central Park. And just as easy to get lost in.
BUT, we are making progress! And by Monday evening we should be newly installed in our new apartment, new city, new state, new lives. (The very thought of that makes a little panicky, but it'll be great, right? Right. That's what I keep telling myself!) In the meantime, we have been trying to solve various household logistical problems like trying to find ample space for Gareth's studio AND for houseguests, finding furniture that will work in a bedroom that will be almost entirely filled by our bed, and so on. With furniture and housewares on the brain, I thought I'd feature a few items I've come across in my in-person and on-the-web travels that might have particular appeal to book lovers.
The first of these is an unexpected and relatively inexpensive find. No more do you have to relegate your book love to the living room, bedroom, office, and kitchen of your house, as Kohls sells this shower curtain, allowing you to feature  stacks of books in your bathroom too.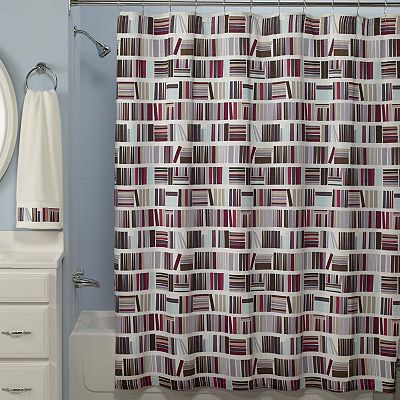 And speaking of stacks of books… In honor of their Billy bookcase's 30th birthday, Ikea created a limited edition version that features snippets of love sonnets by Shakespeare, penned in graffiti-like fashion by designer Annika Bryngelson. Clever? Not clever? You decide. First though, note that it's not all's well that ends well with this bookcase, as some of the quotes in its design are falsely attributed to the Bard! Argh!! I suspect Ms. Bryngelson (or the person who fed her the lines that later flowed from her pen) did her "research" for this design via the internet. Tsk tsk. Commence finger wagging.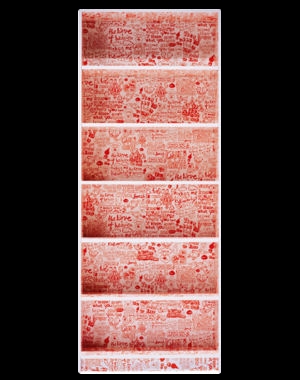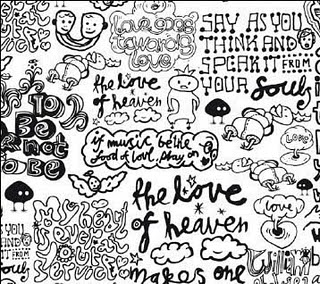 The Billy Jader bookcase featured above comes in 3 different colors, whereas MY favorite item of book-modified furniture comes in FAR, FAR more than that. Artist Mike Stilkey used the covers of old books to "augment" this piano, with which I am very much in love. (sigh) And what book does it make me think of…? (This should be an easy one, folks!) Mysterious Thelonious by Chris Raschka. (Listen to it free online!) Ten points to everyone who guessed correctly.  If you had a different idea, I'd love to know what it was.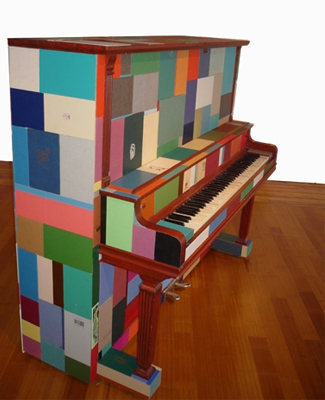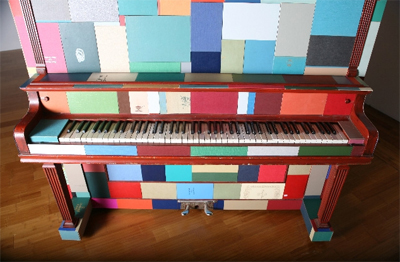 Finding room for this piano might be a challenge in smaller spaces, but you can still look to Mike Stilkey to bring books to your space on a much more manageable level, size-wise. He does paintings on the spines of books that would fit nicely on almost any wall. (Seeing these makes me REALLY want to line up a stack of library discards and break out the paint!)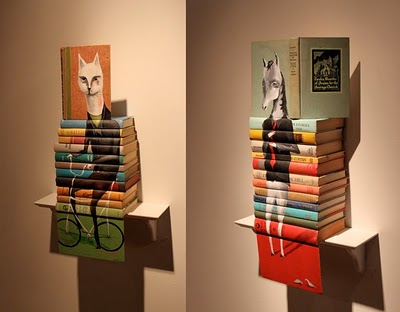 Artist Laura Cahill is also finding at-home inspiration from books. I am personally coveting her Heavy Read stool (and, yes, you can actually sit on it!), but maybe you'd be more keen on her Reading Lamp (in photo next to stool — yes, it's made out of books) or one of her Book Vases?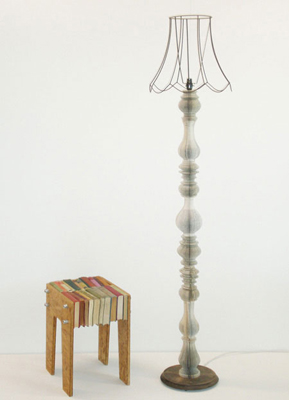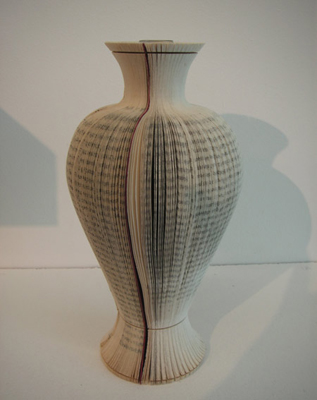 Normally I would say that fungus is NOT something you want to have in your home. But faux fungi made from handmade books? That's another story! I love these fantastic paper sculptures created by Melissa Jay Craig for her (S)Edition exhibit at the Morgan Art of Papermaking Conservatory and Educational Foundation in Cleveland. If you're enamoured with them too, note that in a blog post back in February, Melissa said, "I am searching for a 2010 venue for (S)Edition, and I would love to see it in an alternative to the gallery; I would love to see all 99 copies installed in a working library, for instance. Any ideas, anyone?" Those of you with ideas can comment on Melissa's post or get in touch with her using the contact info on her website. Be sure to also check out her Current Portfolio, where you'll find more remarkable book art.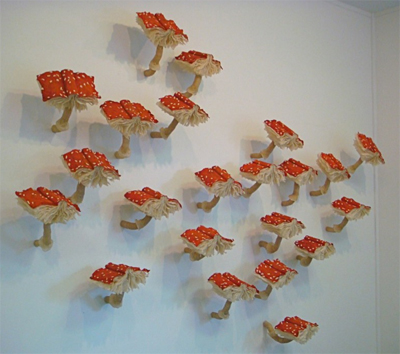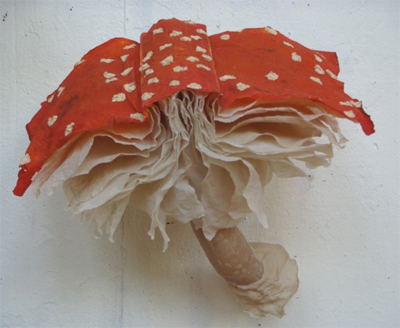 And one more wall suggestion: I left Wellesley Booksmith before I'd been able to read the picture books on all the major publishers' fall lists, but my brief visit with the Houghton Mifflin Harcourt kit had me oohing and ahhing over the incredible woodcut illustrations Rick Allen created for Joyce Sidman's forthcoming book Dark Emperor and Other Poems of the Night (September). The art he created for this book matches the beauty of Joyce Sidman's poems, which is (as you all know) is an EXTREMELY high compliment! Wanting to see more of Rick's work I visited the website for his studio, the Kenspeckle Letterpress, where I fell in love with print after print after print. Pasted here are a few of my favorites, but WOW was it hard to choose! This is one "newcomer" to the children's book world who is clearly not a newcomer to the art of wood engraving. I predict that an onslaught of contract offers will soon be headed Rick's way…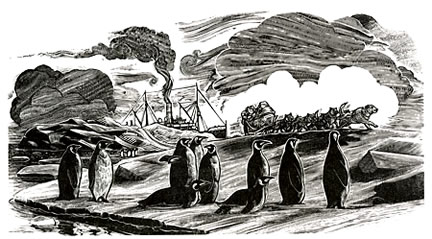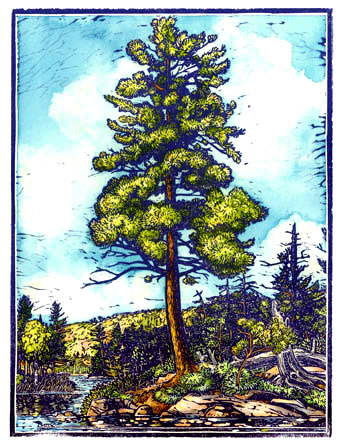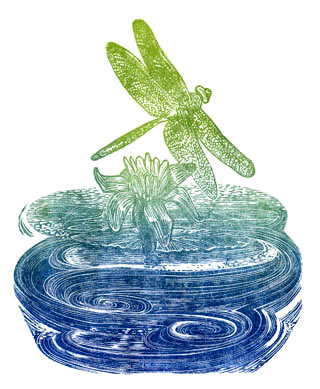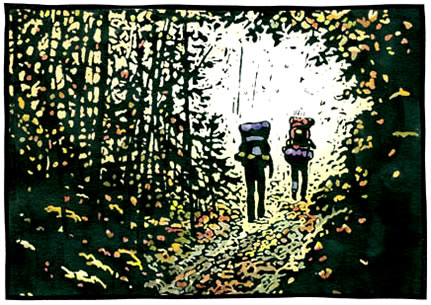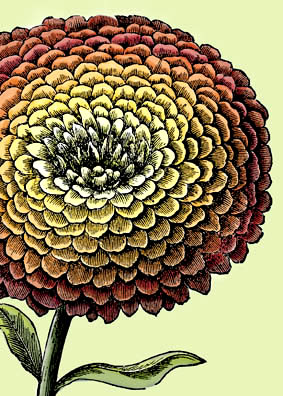 And now… Back to packing!