Readers of ShelfTalker by now should know what a sucker I am for a cute puppy, or any dog for that matter. I love to hold them while their owners bustle about the store. This usually goes without incident, except for Friday.
I was having a very productive day doing returns when Shelby (not her real name) came in with her family. Shelby is a year-and-a-half-year-old dachshund who was in the arms of her owner. Just the other day I had seen and held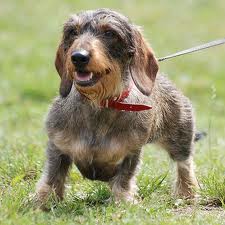 Shelby without incident. This day, however, Shelby was very excited to see me. Just as I held her close, the way she had liked the day before, Shelby peed all over me. Not just a little that could be washed off easily, but a lot. Enough so that my shirt was soaked and even my jeans had not escaped this very excited dog, who apparently hadn't gone to the bathroom all day. We were all embarrassed. Shelby looked pitifully guilty, her owner kept apologizing and I wondered why I never left a change of clothes at the store.
I emailed my Simon & Schuster rep and explained that I needed to reschedule my phone appointment. In my email I explained what happened. Then I thought maybe I should call him, just in case he didn't check his email. He was still laughing when he picked up the phone. I was happy to provide "the funniest thing" he'd ever heard. I know it's just an excited puppy, but getting pee all over me was not how I wanted to spend part of any day. It occurred to me, maybe this was an elaborate ruse from the publishers to get me to stop doing returns.
I drove home, damp and a little smelly with a new adage forming in my head: Just because a puppy is happy to see me doesn't mean I should pick her up.