I don't get to go away too often. Vacations, the real kind, with sun and sand, seem to be an every two year or more occurrence. Happily for me, I'm in the beach cycle this year. As I pack for my trip the hardest question isn't what clothing to bring, it's what books to pack. Yes, I said books. I don't have an ereader, and while I understand the benefit of them now, as I am forced to choose what books to bring, I wouldn't have it any another way. I love the feel of a book on vacation at the beach. I do not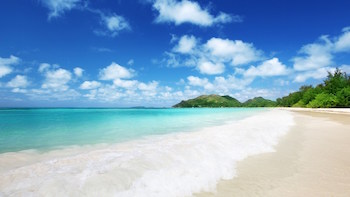 want to be tied to a device, any device, while I am on a beach, so I happily will pack a few books.The particular bend a book gets when it's been read in the sand and sun, the random stains of sunblock, the spill of a beer carelessly dropped on the cover, these all tell the story of the book, and I love that.
Books have to match my mood, or the mood I think I'll be in when I start reading. This is true pretty much every day, but never more so than on vacation where this is a limited selection of books to choose from. So, I have spent much time going through the galley shelves at the bookstore carefully trying to match my need for escapist fun with well-written, well-plotted books that will engage me during a whole day of reading by the water. Now for the fun part, or the sad part depending on what books I have to leave behind: choosing the books that make it in my carry-on. I have chosen adult books for this trip for two reasons: they are longer so one adult book is going to last for more days than a kids' book, and I don't get read adult as often, so this is a real treat for me. 
When I only have room for three books, what makes the cut is so hard. The new Ann Packer, The Children's Crusade, is already in the bag. I was a big fan of her earlier book, The Dive from Clausen's Pier, so that was easy. Now I have room for two more. The question I'm grappling with is, do I want a mystery (that's almost always a yes for me) or something more sweeping and epic, or a short story collection that might lend itself to the wandering brain I usually have on vacation? Oh, the choices! Knowing myself as a reader is helpful, but still I need to weigh the balance of known authors versus taking a chance on an unknown and perhaps brilliant author? My second book is from Lauren Holmes, Barbara the Slut and Other People. A short story collection that looks very good, and seems to have a good mix of funny, poignant, and sexy.
The last book is more problematic. I have four books on the dining room table to choose from. One mystery, two books that promise to be "epics," and another short story collection. I keep waffling between the mystery, A Good Killing and Kelly Link's Get in Trouble. Here's the real issue when a bookseller goes on vacation: do I read something that's already out, or do I "discover" something new that's not coming out for months? I don't fly out until tomorrow morning, so I will delay deciding until tonight. And that leaves me one thing to pack right now: my reading glasses!
So, vacationing readers: how do you choose your books for vacation? And what do you choose?