As I mentioned in yesterday's post, this is my last week as a regular contributor to ShelfTalker. As such, Josie and Elizabeth are taking the week off (from blogging, that is, not bookselling) and I'll be filling these spaces with a mish-mash of things I've been wanting to write about. Today's theme: places you should visit and things you should see.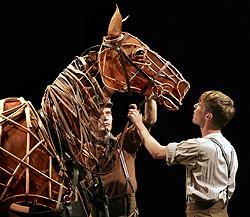 First and foremost: If you go to London anytime soon or come to New York City early next year,  SEE War Horse, which I first blogged about in July 2010, and which Lincoln Center will begin hosting beginning in March 2011. Gareth and I saw a performance in London while on our honeymoon, and we were utterly bowled over by it. It was, simply put, one of the best pieces of theater I've ever seen, and an incredibly moving adaptation of Michael Morpurgo's novel. (No, you don't need to read the book before you see the play, and YES, it's every bit as much for adults as for young adults, though I don't think it's a good fit for young children.) The puppetry by the Handspring Puppet Company is absolutely remarkable — their horses live and breathe and are far and away the true stars of this show. If you need still more convincing, listen to the piece about War Horse that aired on NPR's "Morning Edition" in May of this year. And note that Steven Spielberg recently bought the film rights to the novel, but that does NOT mean you shouldn't see it as a play!! Go! Go!
Another London tip: If children's book business ever takes you to London, see if it can't also take you to the roof (or almost roof) of the building that's home to Puffin Books, and inside the offices of Walker Books. Gareth and I had the great pleasure of visiting both of these houses while in town, and met a lot of delightful and interesting people at both. In the first photo below, Gareth is standing with wonderful Lindsey Heaven (best name ever!) from Puffin who, as a ShelfTalker reader, invited me ages ago to come see the view from their building. Here's how London looks from there.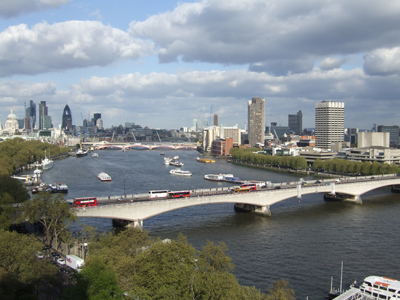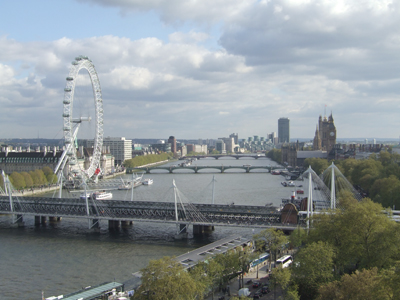 And here's a quick shot of Walker's offices! I was so sidetracked by great conversations and discussions of Gareth's books once we walked in the door that I failed to take any decent photos! (Boo.) Inside it's bright and fun and friendly — just as you'd expect from a place that publishes the likes of Polly Dunbar and Bob Graham and Helen Oxenbury (and so on and so on and so on…)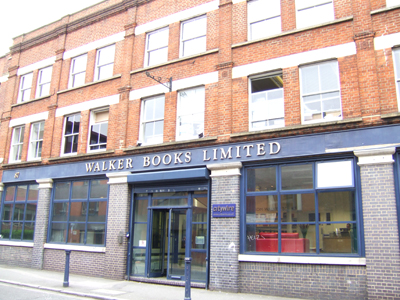 NOW, let's talk Paris. If you go to Paris, you should, of course, go to legendary independent bookstore Shakespeare and Company. It's just like you've always pictured it, and it's a terrific cacaphony of visual noise, if that makes any sense. It's the kind of place you want to sink into… slowly… and stay for several days.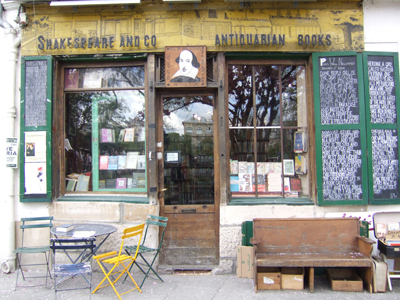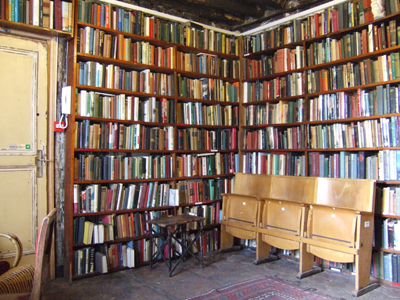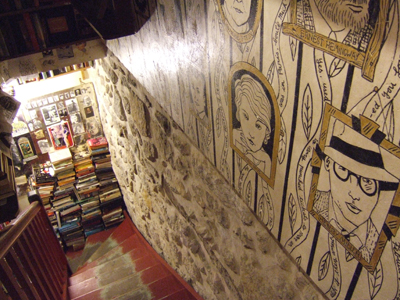 While in Paris, though, you should also visit the Red Wheelbarrow Bookstore — an English-language bookshop that is less well-known than Shakespeare and Company but just as filled with treasures. AND it boasts has a much better selection of children's and YA books. Say hi to owner Penelope. She is LOVELY and the type of bookseller with whom you can have lengthy, intelligent conversations about pretty much anything, from what I could tell. She also made me feel like a TOTAL rock star when, well into our chatter about the book business, I mentioned that I blogged for ShelfTalker and she not only knew exactly who I was but then proceeded to tell me which one of my blog posts was her favorite. I had to do one of those, "Wait. We are in PARIS, right?" reality checks, and I have never in my life felt more like a rock star.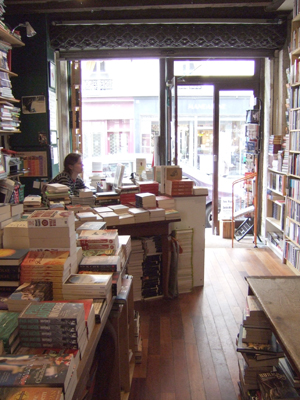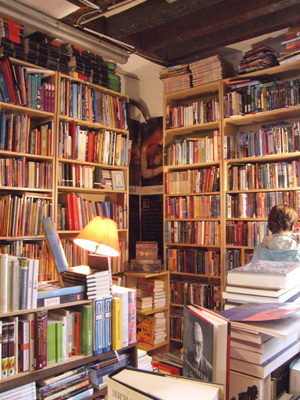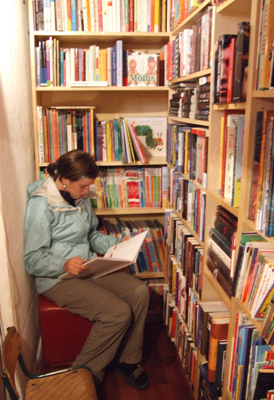 If you're in Paris and looking for children's books in French, I suggest visiting Les Enfants du Musee, the children's bookstore at the Louvre, where I salivated over many a tome and considered spending many a Euro on books it would take me ages to wade through. (Those 5 years of French I took in junior high/high school are more than a little rusty now…)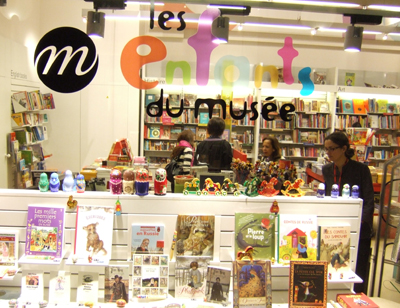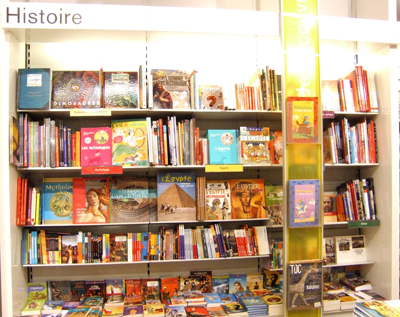 Now Maine. What if you go to Maine (which I love almost as much as Paris — honestly)? Well, you should, of COURSE, visit Ashley Bryan, who says (honestly) that you're ALL welcome at his place. If you go nowhere else in New England, EVER, go to Ashley's house and spend time with Ashley. I honestly believe this trip should be top on your priority list.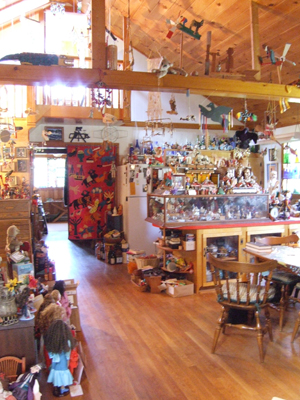 If you like your books old and quirky, then en route to Ashley's you should stop at The Big Chicken Barn in Ellsworth, Maine. It's HUGE! And the second floor is second-hand books as far as the eye can see.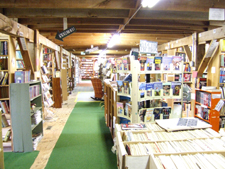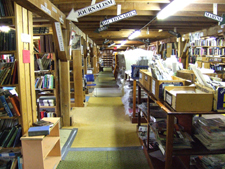 While you're in New England, go to Cape Cod and visit both Titcomb's Bookshop in East Sandwich (a general bookstore that specializes in new, used, and rare books) and Eight Cousins in Falmouth (which is primarily for children and teens but also includes a small, well-curated selection of books for adults). Both stores are run by some of the hardest-working and most devoted women in the book business, and both stores are ones I'd planned to feature in "photo tour" posts about two years ago, before time (at the time) got away from me! Here are a few posts of the lovely Titcomb's, where Vicky Uminowicz (in the center, below) and her fellow booksellers (many of them her relatives!) will charm you with their sunny personalities and wow you with their knowledge of both used and new books.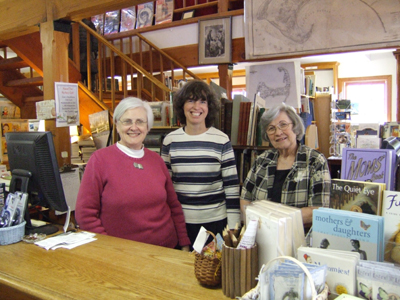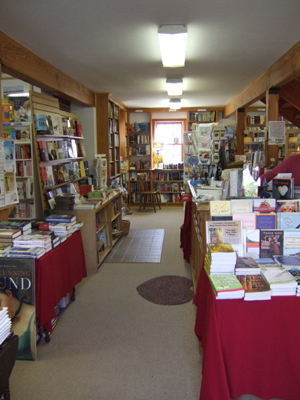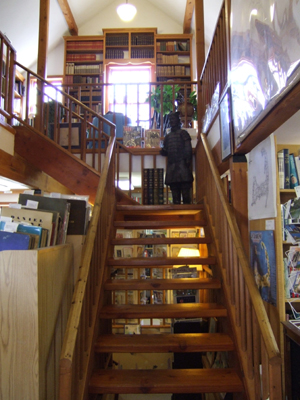 And here are a few shots of Eight Cousins, which has some of the prettiest windows I've seen in a store, some of the most interesting selections, and one of the most dedicated women running it! If you're a customer, Carol Chittenden will bend over backwards to find what you need, and if you're an aspiring or beginning bookseller, she will give you all the advice and good wishes you could ever hope for. (I am always wowed by Carol's generous contributions to both the NECBA and ABC listservs.)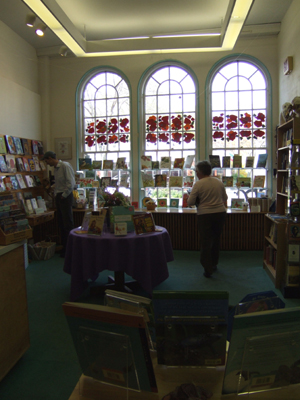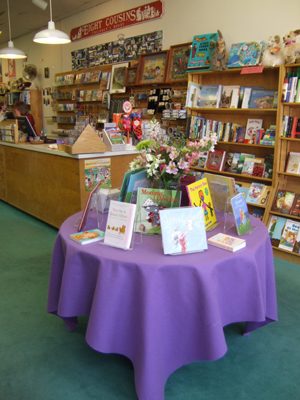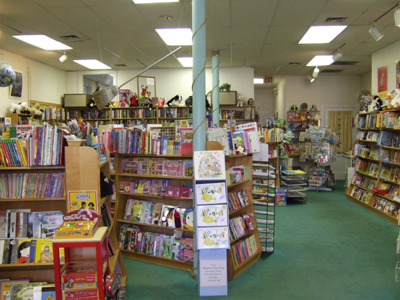 And when you come to NYC, come visit my neighbor, the Little Red Lighthouse. Remember the picture book The Little Red Lighthouse and the Great Gray Bridge by Hildegard Swift, illustrated by Lynd Ward (published in 1942 by Harcourt Brace)? The real, actual Little Red Lighthouse sits beneath the George Washington Bridge just a few blocks from the apartment where Gareth and I are now living, in Washington Heights. The lighthouse was saved from demolition in 1951, largely thanks to a letter-writing campaign by children who loved Swift's book. I think that ALONE makes it worth a visit, which I why I am hoping to get there soon myself! The Urban Parks Dept. offers tours of the lighthouse from 1-4pm every 2nd Saturday of the month during the late spring, summer, and fall. Perhaps I'll see you there?
Happy travels!