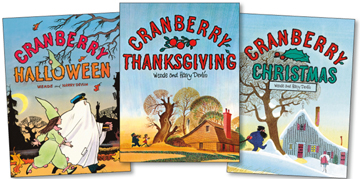 "Out of print" is one of the saddest phrases I know. Every year, I compile a list of Rescued Treasures heralding the return of beloved books that had been sent to pasture. I am always on the hunt for these, and turn to publishers like Purple House Press, who are responsible for some of my all-time favorite reprints, such as Miss Suzy by Miriam Young and Arnold Lobel, Old Black Witch by Wende and Harry Devlin, and The Brothers Lionheart by Astrid Lindgren.

This year, Purple House is bringing back The Marvelous Inventions of Alvin Fernald by Clifford Hicks in paperback, The Giraffe That Walked to Paris by Nancy Milton and Roger Roth, and two more popular books by the Devlins, A Cranberry Halloween and A Cranberry Christmas.
(Side note: speaking of Halloween, I have to say I really miss the Georgie books by Robert Bright. A couple of them came back into print in the late 90s, but are back OP again.)

Harper is celebrating the 75th anniversary of Gertrude Stein's The World Is Round (illustrated by Clement Hurd) with a facsimile edition of the original — meaning that it features the original blue and white line art on rosy pink paper. Ahhhh, lovely. I discovered this picture book in college and was taken by its distinctively Steinian repetitions and convolutions. Thacher Hurd has written an introduction for the new edition.

As blogged about early this year, Random House, much to my delight, is re-issuing the Ruth Chew everyday magic books, beginning with What the Witch Left and No Such Thing as a Witch. Wahoo!! I love these books, and so do young readers.
I know there have been many more delights reissued this year. Publishers, feel free to add yours in the Comments section! Let us celebrate your reissues.
P.S. It's a sad truth that often, reissues just don't have the kind of sales and marketing budgets allocated to new titles, so all too often, they fade back OP again because the teachers and librarians and nostalgic parents who might have snapped them up don't ever know they were available again. I wish there were a better way to get the word out! If anyone has a brilliant idea, let us know.