As we enter the last 10 days before the holiday, it's time for my recap of the previous week.
– Sales continue to be great. We are ahead of last year, even with the snow (and school snow days) and are continuing the trend of folks spending a lot more per purchase than they did last year or even the year before. Yes, we have lost some customers to the e-book world, but the ones who are buying physical books are buying heaps of them. Customers are finding that they can get a lot of shopping done at the store whether it's for books, toys, games or stocking stuffers. We are happily wrapping and giving out sugar plums by the pound.
– Who knew that Pioneer Girl  by Laura Ingalls Wilder would be the hot book of the season that is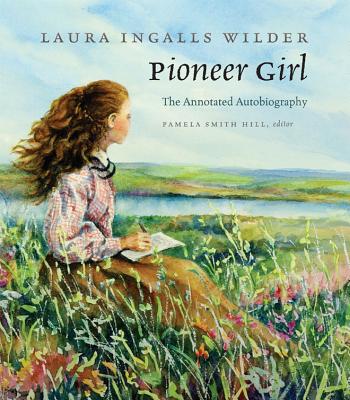 utterly unavailable? I'm sure the publisher, South Dakota Historical Society, was taken by surprise as well, judging by the late date of the reprints.- Shipping issues continue to plague us. One distributor seems to have at least one box (if not two) go missing with every delivery. Theses errant boxes do eventually show up, but often it's after someone's deadline for their special order. Customers are not as understanding about these shipping issues as they could be. Of course, this makes sense because they all have deadlines, too. Another shipper seems to get our primary warehouse deliveries to us on time, but ones from our secondary warehouse take up to a week longer to arrive, which is several days later than normal. So, Elizabeth has spent a lot of time on the phone trying to sort this out and get things reshipped.
– One of our staffers, who loves the craziness of holiday shopping, had to go to California for her ailing sister. Darrilyn's last workday of the year was Saturday. Being down one person is hard enough, but to lose someone who absolutely thrives on the chaos that is the holidays is a tough blow for the store. She and I created a tiny competition among the rest of the staff for who could sell the most of their five favorite books. Her top book is Being Mortal and it's currently beating my top book, Nuts to You, by a tiny margin. But with 10 days left to go, it's anyone's game. And we're all selling Darrilyn's choices with gusto.
– When one staffer goes down, the others step up. Short of cloning ourselves, there's not much to be done except pick up extra shifts. Everyone has taken at least one of her shifts so we're essentially covered, but it's going to be a challenge this week until David comes back from college and helps save the day by working December 20th through 24th.
– Th first big snowstorm of the year took not one day but two to finally get out of town. The first hit caused us to close early on Wednesday because the roads were looking really bad. The second blast of the storm caused so much tree damage at my house that until all my neighbors helped clear the trees, the snowplow man couldn't come. Staffers who live in Burlington were able to come in at the regular time. I wasn't able to get there until after one. We were all just grateful that didn't happen on the weekend.
– The only thing that I'd like to change about this season is the music. We are stuck on the same bad five CDs and I'm starting to lose my mind with Barbra Streisand's version of Jingle Bells.