On the heels of my enthusiastic post about the Ellen Raskin reissues, I want to put in a bid for two semi-lost gems that I—as a bookseller, not just as a reader—would like to see back in print. I say semi-lost, because they aren't actually out of print; they're simply unavailable in my favorite editions.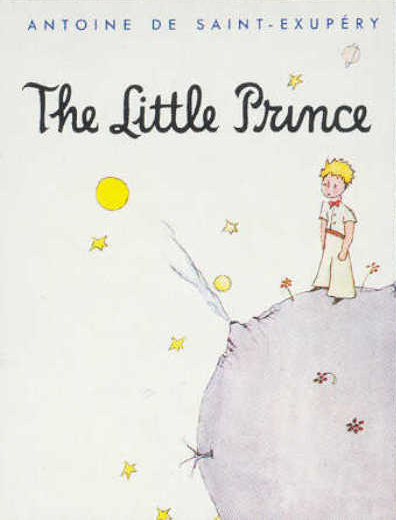 One is the 1943 Katherine Woods translation of The Little Prince, the one that mesmerized me as a child. I know the 2000 Richard Howard translation is considered to be more accurate, and I'm perfectly happy for that edition to co-exist with the one I grew up and fell in love with; I just want to be able to offer the earlier translation to customers, too. Its poetry and rhythms are lovely. I knew lines and even pages by heart, and I read the passage about the taming of the fox at my mom's memorial service. I used to make my college boyfriends read it. It's a little like the difference between the King James version of the Bible and the newer editions. I like the old-fashioned quality of Woods's language; it flavors the story and suits the quaint formality of the little prince himself.
I had a customer in the store this week who bought and returned the newer version because she "hated" this translation. As unfair as these complaints are to lob at a translator merely trying to provide a more direct translation of the original, I think there's something to be said for allowing readers to choose their own preferred translation by offering both. It's not rational, our attachment to the words that shape us; it's visceral. The nostalgia factor cannot be overestimated when it comes to selling children's books. People want the editions that were touchstones for them—and they usually want those editions in hardcover.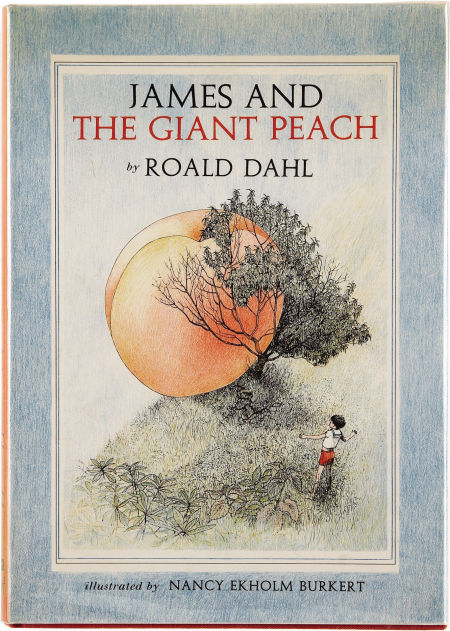 My other request is a fervent appeal to reissue the Nancy Eckholm Burkert version of Roald Dahl's James and the Giant Peach. The story is still available illustrated by Quentin Blake (whose art in general I adore, and whose Edward Eager cover redesigns dramatically revitalized sales of those books, at least at our store), but I think something was lost when the Burkert version went out of print. Quentin Blake is a master of whimsy; Burkert's art combined whimsy with gravity, like the story itself. Her softly glowing, magical, striking illustrations haunted my imagination as a child, resonating at a very deep level.
What I wish for is not to replace the Blake edition (and I see that a new graphic novel with art by Jordan Crane is coming in March) but to reinstate the Burkert hardcover as well — matte dust jacket and all.  We can keep the Blake for the paperback, fine by me. Just give us the choice of hardcovers, and let us introduce a new generation of kids to the strange and wonderful peach-y art in that original edition.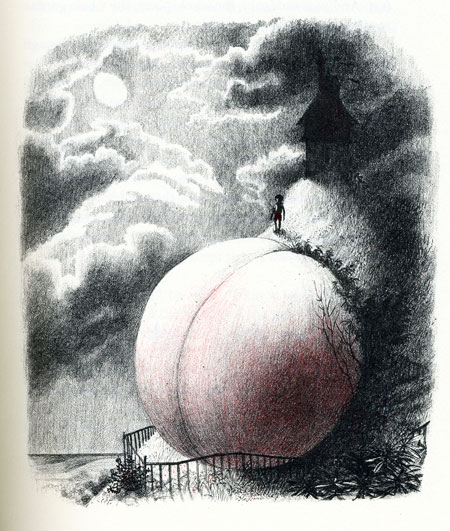 If there's anything a children's bookseller knows, it's that people are passionate and proprietary about specific editions of their favorite books. I'd say that in our field, nostalgia drives 25%-30% of picture book and middle grade sales. (Imagine, for a moment, trying to sell Mike Mulligan and the Steam Shovel—a book that softens the expression of even the grumpiest grandpa—if it had different illustrations. Sales would screech to a halt.) So, publishers, how about it? Bring back these delicious editions we love and can handsell like nobody's business to the parents and grandparents who come in looking for them.
Readers, are there any older editions of in-print books you'd like to see again?