It isn't always easy choosing gift books for well-read friends. You want to pick something they haven't read but that – preferably – you have, so that your gift is personal and meaningful. One way to celebrate a literary friendship in a unique way is to choose some favorite books and make snazzy gifts out of them. Handcrafted presents are especially precious and appreciated these days, when most of us seem too busy even to handwrite a letter, much less make our gifts. And homemade gifts can be easier on strained pocketbooks – a not insignificant point in this economy. Best of all, anything made with or from books just looks terrific.
If, like me, you aren't entirely sure you're the craftastic sort, you can browse through a couple of recent titles for ideas and step-by-step instructions for projects from vases and lamps to purses and totes to wall art – all made out of books.
Playing with Books: The Art of Upcycling, Deconstructing, & Reimagining the Book, by Jason Thompson (Quarry Books)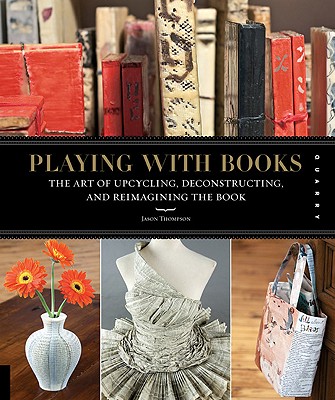 This is a beautiful book! The publisher's marketing info describes it perfectly: "In these pages, Jason Thompson has curated an extensive and artistic range of both achievable upcycled crafts made from books and book pages and an amazing gallery that contains thought-provoking and beautiful works that transform books into art. The content encompasses a wide range of techniques and step-by-step projects that deconstruct and rebuild books and their parts into unique, upcycled objects. The book combines in equal measure bookbinding, woodworking, paper crafting, origami, and textile and decorative arts techniques, along with a healthy dose of experimentation and fun."
Another book along these lines came to my attention via an artistic customer, who recently ordered it from us: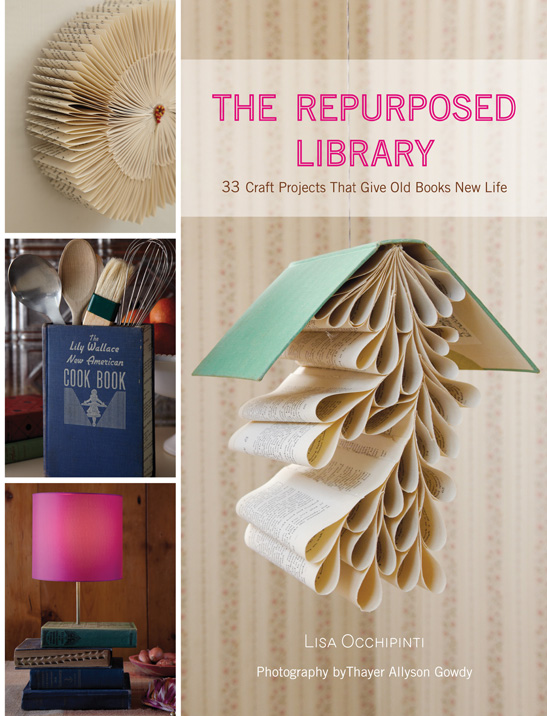 The Repurposed Library: 33 Craft Projects That Give Old Books New Life, by Lisa Occhipinti (Stewart, Tabori & Chang). This one has instructions for "homier" items, including a kitchen utensil holder made out of an old cookbook, a wall-mounted shelf made of books to hold small treasures, and a real-book holder to house an e-reader. There's even a paper wreath project – perfect for gracing the doors of booklovers' homes during the holidays.
If you want to actually make a handcrafted book instead of making things out of books, there are lots of terrific resources out there for bookbinding. Here's another title from Quarry Books, with a little twist:
Re-Bound: Creating Handmade Books from Recycled and Repurposed Materials, by Jeannine Stein (Quarry Books). The author shows folks how to use items from flea markets, thrift shops, even hardware stores and your house, and turn them into beautiful little books.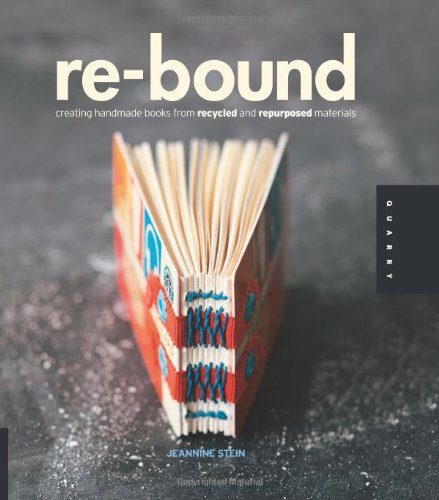 I must say that Quarry puts out some gorgeous books about books! Tonight, while grabbing cover images for this post, I came upon 1000 Artists' Books: Exploring the Book As Art, by Sandra Salamony, Peter Thomas, and Donna Thomas (Quarry Books):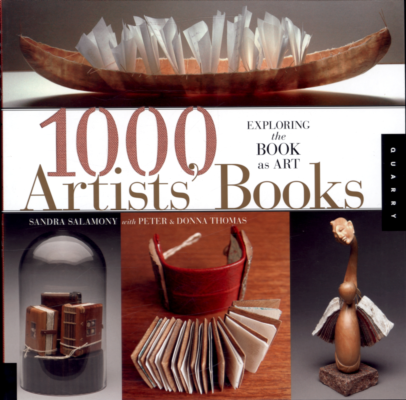 A delicate canoe with page tufts lofting from its bed? Teeny leather books in a bell jar?! The cover of this book alone makes me drool. I cannot wait to order it for the Flying Pig (and a copy for myself). The art objects in this collection are surely beyond the talents of many of us (or perhaps just me), but could provide inspiration – and simply delight – for decades.
Readers, what's the best gift you've ever received or made out of a book?