I skipped BookExpo this year and am blogging this week while Elizabeth is at the show. She will be recapping all the events next week.
The past Wednesday was the last story hour for our staffer JP, who is retiring. All the little kids knew it was her last time, as she had told them the week earlier. Parents and caregivers came with bags of goodies for JP, and some of the older children looked sad. One of the older girls, Belle, who is three, just could not bring herself to hug JP goodbye, and settled instead on a high-five.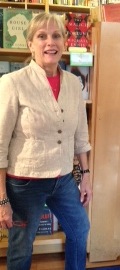 Our Wednesday story hours have just grown and grown over the years under JP's capable hands. Last year we had a monthly Vermont author/illustrator guest for story hour that was enormously successful. This past year JP has added a small craft for the kids to do. It's hard to know the right craft because you never know the ages of the kids ahead of time, but she always managed to find something all the little hands could participate in. Her reading style is engaging and she spent a lot of time thinking hard about the right books to read for the anticipated mix of regulars. Sometimes, a week ahead there would be a stack of picture books on the back counter with a post-it: JP's story hour books.
I've seen story hour go from one child to sometimes 10 kids a week. And I've blogged about this before, so I'll just touch on it here: story hour is about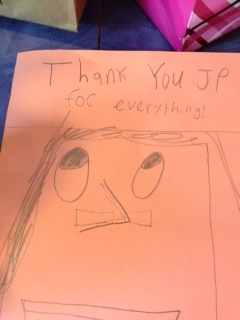 making a lasting connection with kids and their families. This turns into real relationships as evidenced by the number of parties JP got invited to, and the number of holiday cards and presents she got. The counter was brimming with gift bags, plants and cards on Wednesday as a thank you to JP. And, almost all story hour families are book buyers, which is a lovely bonus.
So, starting next week, Elizabeth and I will alternate weeks to do story hour. We know we have big shoes to fill and hope we can continue to build what JP has already done.
Just in case, we've already made plans for JP to come back once a month starting in the fall.