Last night we hosted our first-ever craft event for adults. DIY expert Joanne Palmisano, who has a great new book out, Salvage Secrets: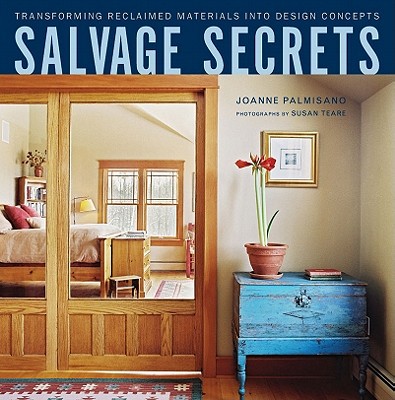 Transforming Reclaimed Material into Design Concept, led the activity. We decoupaged old lamps and made them into something delightfully stylish and lovely. I had never decoupaged anything, in fact I had to look up what it meant. It means to decorate something by glueing paper cutouts on it. It sounds simple and is actually really easy and so transformative. Let's face it, some of the lamps we started with weren't beauties, but by the end, they were really great looking.
Joanne brought all the supplies we needed, from the lamps, to the glue, to the really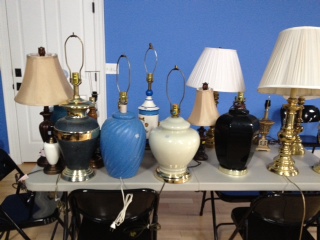 cool wrapping paper (a great way to spiff up a lamp and relatively inexpensive) and even an old dictionary. Joanne's intern spent much of the week going to every Goodwill, Salvation Army and recycle place to find the 20 lamps we needed. They may not look like much, but by the time we were done, they had been transformed. Joanne was an excellent teacher and folks were put at ease right away.

Folks, all women and including two sets of mothers and daughters, each picked out their lamps. The cutest thing was both moms and daughters choose matching lamps that were pink with one large lamp and one small lamp.  I am not a crafty person. I'm not good with scissors or glue, so I really just watched this event. People were so happy. The whole room was full of joyfully concentrating people and this is not something I see every day. All the lamps were different and clearly reflected the decoupager. It sort of amazed me what glue, paper and scissors was doing for the moods of all involved. I glimpsed a tiny bit of what if must be like to be crafty and be able to make beautiful things from humble beginnings.
I was struck also by the eagerness the women had for us to sponsor more events like this. Joanne had her very good friend, Shannon Quimby, another DIY expert, with her. The two of them see old things as a challenge. I see an old beat up suitcase, Shannon sees a dog bed. Joanne sees a truly ugly lamp and can envision it as a stunning lamp with very little effort. Their enthusiasm for turning the not-so-beautiful into beautiful was infectious. People were brainstorming other things we could do, like make picture frames and holiday ornaments from scraps and buttons.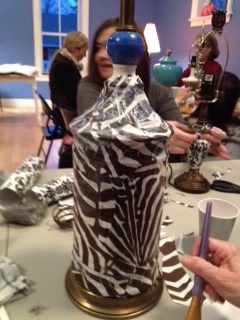 The finished lamps were really quite remarkable. The lamp at the right was painstakingly done by an eight-year-old who cut individual flower petals from the gift wrap she chose. Joanne said that while tearing the paper might seem easier, it leaves a white edge, so everyone shared the seven pairs of scissors we managed to scrap together. In the end, the lamps were shellacked and ready to go home with their creators. People knew exactly where they would go and Joanne told everyone where to go to buy matching shades.
So often we don't create anything in the modern world. We listen, we absorb, we surf the internet, but I've never had a store event where folks walked away with something they could use for the rest of their lives in their homes. There was something alien about this as I'm not someone who thinks about creating these things. It was lovely to see all these happy faces creating their beautiful lamps and feeling really good about taking something that might have been thrown away and making it into something they were proud of and couldn't wait to display in their houses.