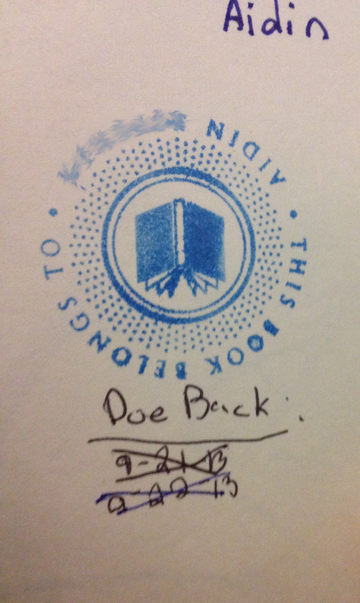 When I moved from New York City to Vermont, I had a little fantasy of finding a house that had its own library, a light-filled, high-ceilinged room lined with bookcases and windows, and at least two big window seats with cushions. I imagined pitchers of lemonade and an open-door policy for the neighborhood. I wanted to share my big collection of books with families, and I imagined letting people check them out with old-fashioned lined cards tucked in pockets inside each book. While my library fantasy turned into opening a bookstore, I recently met someone who had the same home library fantasy I did and made it come true. And he's only 11.
I met Aidin at the Flying Pig's event for Jarrett Krosoczka a couple of months ago. He was waiting in the signing line with his parents and had a bright presence. He was one of those kids who seems remarkably easy in his own skin for such a young person: articulate, relaxed talking with adults and other kids, not shy. The kind of kid who grows up to be a political leader or who invents new ways for remote villages to gather water. At some point in the conversation with his family, it came out that Aidin had started a reading group last summer for his friends — around 15 kids, though not all of them come to the chapter-per-week discussions. One of his favorite book group picks so far was Brian Selznick's The Invention of Hugo Cabret. He also turned his personal library of around 200 books into a lending library, and made and hand-delivered library cards for every kid in the neighborhood. His aunt had a special stamp made to mark his book's endpapers, and Aidan uses that space to write due dates underneath the stamp.

Because Aidin also has other goals he's working on (he's an athlete in training with his eye on breaking some records), Aidin's younger brother, Foster, age 6, has also been pressed into service. According to the two kids, Foster is the library assistant, responsible for "bookkeeping, making sure the books are in good condition, that they come back in time, and that kids know the library policies about due dates and treating books nicely." Wow. That's quite a chunk of responsibility for a first grader, but it seems to be going smoothly so far. (Somehow it doesn't surprise me that an older sibling already so adept at turning thoughts into actions is pretty good at knowing how to delegate. I had an older sibling just like that, and she is now executive director of an
amazing nonprofit organization
.)
I was so charmed and impressed by Aidin and Foster's make-it-happen ingenuity. I hope their library continues to grow, that the reading group discovers ever more treasures, and that we get to see what other community-building schemes they cook up over the years.