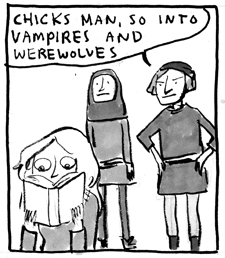 Beloved ShelfTalker readers, Gareth and I have finished our NYC move, we're feeling (mostly) settled in, and I'm about to start my new job at Scholastic Book Clubs. As part of all of these changes I am also going to be taking my leave of ShelfTalker at the end of this week — and this time on a much more "permanent" basis.
I feel I said most of my good-byes and thank-yous back in April of 2009, when I announced that I'd be handing the ShelfTalker reins off to Josie and Elizabeth. I didn't realize, at the time, that I'd wind up continuing to post as frequently as I have, nor that I'd wind up still being "part" of the blog long enough to see them do such fantastic things with it. You need only look at the number of comments their posts have generated of late to realize that, in their ShelfTalker tenure, Josie and Elizabeth have grown the audience for this blog and generated an incredible amount of content that readers have found both useful and entertaining. They have done with ShelfTalker all of the things I both hoped and thought it likely they would do! I know (believe me, I know!) just how much work it is to generate these posts on an almost-daily basis — especially when you're juggling said work with the neverending task of running a bookstore. My hat is off to this dynamic duo for doing it both so long and so well, and I wish you all the continued joy of them!
After this week you won't have *entirely* heard the last of me, as I may pop up now and again to do a guest post, and I WILL, most definitely, be returning soonish with a detailed how-to for making Bookish Birdhouses, as so many of you have been asking for one! I was hoping to have that post ready for you by now, but alas, my craft supplies are still in boxes and have not yet found a home in our new apartment. Once I can clear the way for them, I'll be able to do the post right — as in, with helpful visuals. In any case, stay tuned for that, as I promise you the post is coming.
Before I go, though, I have a few orders of business to get through, all centered around one complaint. That complaint is that, to me,  my blogging experience has felt a bit like floating on a sea of unfinished business. There is, on any given day, an endless string of things I want to write about, for which I just can't find the time! There are so many places I've been to and even photographed for you that never made their way into posts. There are so many books and authors I've wanted to rave about and oddities I've  wanted to highlight and trends I've wanted to examine and just random little things I've wanted to say. Soooo, for this, my final week as a regular ShelfTalker contributor, I'm going to do multiple posts, each offering you a few snippets of things that never landed here previously. This way my list of missed opportunities will be a bit shorter and you'll have a bunch of fun tidbits to wade through in the coming days.
For today, I'm tossing you just this one tip (as you've already spent enough time reading this!): If you aren't yet already reading Kate Beaton's marvelous blog Hark! A Vagrant on a routine basis, please do so. She is wildly funny, ridiculously clever, and oh so well-read. LOTS of her cartoons feature authors (e.g. Edgar Allan Poe and Jules Verne) and/or stars of famous literature. Some of them even have children's and teen literature-related themes, like Charlie and the Marvelous Turnip Factory, and an Edward Gorey covers-inspired round-up, in which a John Bellairs book gets the Beaton touch, AND the drawing at the very top of this post that refers, of course to Twilight. (Click on it to read the whole comic, which is actually part of a series about a 15th Century Peasant Romance. Bet you didn't guess that!)  Gareth and I treated ourselves to a copy of Kate's book Never Learn Anything from History, and we are so very, VERY glad we did. She is apparently also moving to NYC and Gareth's and my secret hope is that we'll someday have the opportunity to meet her, so we can tell her how much we love her work, aaaaaaand become her new best friends. Maybe. If she'll have us! In the meantime, enjoy wading through the archives of her work, and look for more entertainment coming your way, from me, tomorrow.