Take a close look at this painting. Do you see a king and his leonine pet, a costumed lad's accidental run-in with a lion, or someone trying to steal a crown? If you could turn the page and create the next scene without any context, what would you consider? I don't know if you can tell, but that lion seems like he's trying to say an awful lot with his eyes. And where one viewer might just see a royal portrait, another might see an image pulsing with the threat of a coup or even murder in the offing—which were some of the theories debated by one group of third graders at a recent event with Jon Klassen at the Blanton Museum of Art.
Designed to use the work of extraordinary illustrators as a jumping-off point for art exploration, the Art of the Book series we've been running with the Blanton Museum of Art brings students in for illustrator presentations followed by activities in the galleries tying into themes drawn from the illustrators' work. I've previously shared posts about the fun we've had with 
Javaka Steptoe
,
Armand Baltazar
, and
M.T. Anderson and Eugene Yelchin
, and this month, 300 (mostly) third graders had the good fortune to join Jon Klassen for our fourth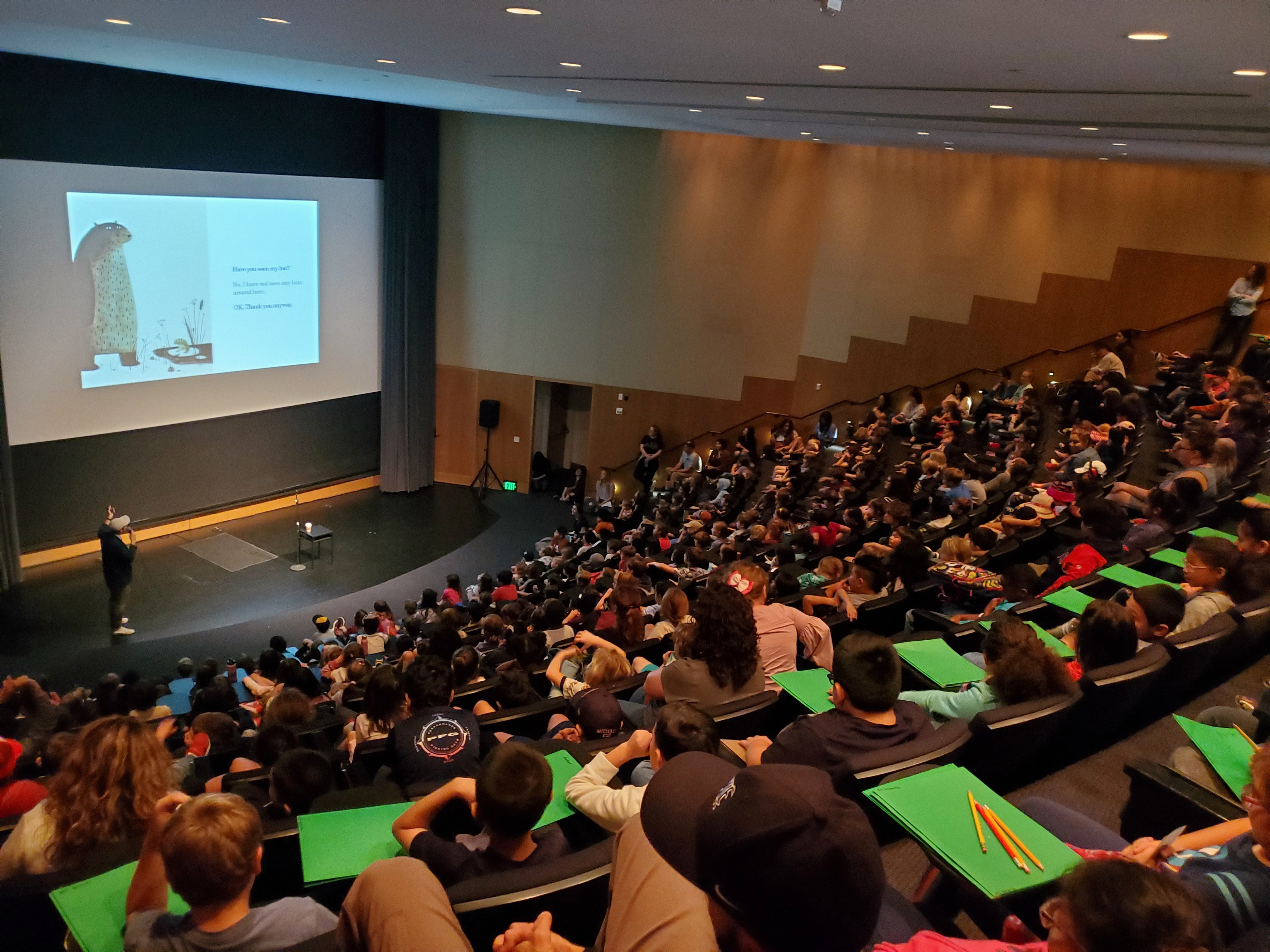 installment. Filled with visual clues that don't always match the words on the page and characters whose expressions do much of the dramatic heavy lifting, Jon's books embrace kids' innate perceptiveness (and delight at being in on a secret)—which of course make them the perfect launching pad for an exercise in artistic interpretation.
After we had discussed the painting above, the kids in our group were divided in half, given the prompt, "And his stomach rumbled," and told to construct freeze frame scenes of what exactly might transpire next. As the kids conferred, one of the adults in the group predicted the two scenes would follow the same path. And perhaps if we were watching two groups of adults, that would be true. To be fair, there were some strong similarities at first glance, notably a focus on raw carnage in both (the lion's eyes convinced them all of a threat). But as we probed the kids' scenes, they revealed very different intentions. In one, the lion had killed the king, supported by revolutionaries as the queen looked on in shock, while in the other, we saw that many brave souls had died defending the lion and her baby from the violence of a mad king. But really, since these were silent scenes, the fun was in the interpretation from the audience. Was that a king wielding a spear or a witch waving a wand? Were the victims really dead or was it  an elaborate ruse? Dead people usually don't laugh…
Jon likes talking to third graders in particular because, while they've mostly moved on to reading longer, more involved stories, he thinks this is exactly the age when they're starting to create things of their own that are indicative of who they are. What he gave these budding creatives in his presentation was a master class in writing with simplicity and intention. Happily poking holes in all his own tricks to expose exactly what he was really doing the whole time, Jon essentially demystified the sacred art of storytelling for his young audience, even pulling out all his abandoned concepts to show the value of experimentation and failure. In between laughing at all the shortcuts he claims to take to avoid drawing stuff that's "too hard," kids learned an awful lot about how to think through a story and intentionally direct—or misdirect—readers' assumptions along the way.
In an interview for the museum, Jon was asked a little bit about his own relationship with museums, which he said didn't begin until high school and college. He expressed appreciation for the way museum spaces are curated and designed very deliberately, urging us to pause and think, "What are they doing? What are they really talking about?"—which of course is what Jon's books do so very well. It's also a process kids can naturally find their way into a little more easily than adults. For adults, talking about art in museums can sometimes feel intimidating, like we might say the wrong thing. But as Jon reflected a little later on in his interview, as a kid you go into museums with "a sense that things will be too big for you, and you go anyway." The great thing about this guided program is it breaks the silence of the museum's hallowed halls and gives kids permission to embrace their own instincts and talk freely about what they see.
Did we figure it all out? Who can really say. All I know is that it was a deliberately collaborative, playful, creative day, and I can't wait to do it again.