As I pack my car with supplies for setting up the Texas Teen Book Festival at Southwestern University this weekend, I can only hope everything goes according to plan. Luckily, we've done a lot of planning, but when you head into a huge event there's always the chance things can go awry. Granted, even when something goes wrong it's usually more in the "we left all our signage at the store" category versus the "snowed in at an abandoned ski lodge" kind. But, as I mentioned last week, scary stories have been on my mind.
Because I don't have much time to write this week, I thought I'd share a few of my own spooky staff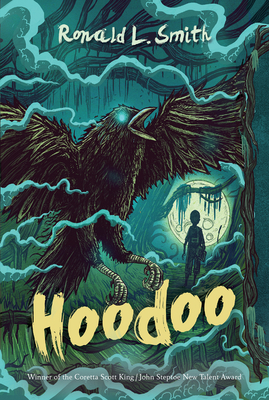 selections from the store (written by one slightly cowardly, not-so-fearless reader). 
Hoodoo by Ronald Smith: This eerily atmospheric Southern Gothic tale set in 1939 Alabama stars 12-year-old Hoodoo who possesses no magic, despite bearing his family's traditional mark of power—a heart shaped birthmark under his eye. Despite this magical ineptitude, he finds himself facing down the powers of darkness in the form of an ominous stranger who wants Hoodoo to pay a familial debt…with his soul!
Thornhill by Pam Smy: New to town, a girl looks out from her window at the abandoned orphanage next door. 35 years earlier, a girl faces danger and darkness in that very building. As their stories intertwine (one through words and one through pictures), chilling truths emerge. Haunting and tragic, this ghost story will thrill readers looking for a good scare.
The Charmed Children of Rookskill Castle by Janet Fox: What better setting for a terrifying tale than a remote castle in the Scottish highlands? Throw in an icy lady of the house who doesn't age, a magical talisman (or two), the threat of Nazi spies, and ghostly children on the grounds, and you get a spine-tingling read worth leaving the lights on for!
The Thickety by J.A. White: This creepy story of a village shadowed by a dark forest and a darker power inside is not for the faint of heart. Luckily for Kara, she has had to grow up strong, strong enough to bear the loss of her mother, who was killed for being a witch; the burden of her father, crushed by guilt; and the faith of her sickly younger brother, in need of a protector. And then she finds out she's a witch, a secret that brings power and danger in equal measure. Don't expect a cozy, heart-warming read, but do look for a strong heroine, plenty of suspense, and a twisted ending you won't see coming.
Sawkill Girls by Claire Legrand: Exactly 23 girls have disappeared from Sawkill Island. They won't be the last. Now Thea, Marion, and Val are being drawn together by the power of the Rock beneath them, as the island tries to protect its own in this seethingly malevolent horror story. Trust me, this is not for the faint of heart.
Wilder Girls by Rory Power: Stricken by a mysterious plague, residents of the Raxter School for Girls just want to survive. But the seriously grisly twists keep coming, as shocking betrayals, dwindling resources, and their own bodies' mutant biology spawn a terrifying, pulse-pounding race against time.
Dread Nation by Justina Ireland: As soldiers rise from the battlefields, newly "free" teens of color are forced into training to put them back down in a smashingly subversive Civil War fantasy full of horrifying conspiracies, pulse-pounding action, and hordes upon hordes of zombies!
'Tis the season for a great Halloween read. So pull up the covers, get out your flashlight, and enjoy!