Before we get started, big congratulations to the National Book Award finalists in young people's literature, announced yesterday! Kudos to Kathi Appelt (The True Blue Scouts of Sugar Man Swamp – Atheneum); Cynthia Kadohata (The Thing About Luck – Atheneum); Tom McNeal (Far Far Away – Knopf); Meg Rosoff (Picture Me Gone – Putnam); and Gene Luen Yang (Boxers and Saints – First Second). The winners of the National Book Award will be announced on November 20. Wonderful, worthy books, all!
And now, on to NEIBA. I blogged a little about it here and here, and have just a little more to share with you. It's hard to celebrate all the best things about a trade show without risking boring one's readers who weren't there, so I thought I'd give you a blog post in photos and captions for easy skimming. From breakfast speakers to bonfires, the New England Independent Booksellers Association show in Rhode Island was a blast. Okay, there weren't bonfires; I just wanted some alliteration. How about boots? Illustrator Melissa Sweet sported a great pair of cowboy boots. Yes, that's it: From breakfast to boots, it was a great show!
Author breakfasts are a highlight of the show. On the children's side, Robert Sabuda, David Wiesner, Maggie Stiefvater, and DJ MacHale wowed, amused, informed, and inspired listeners. They were all so absorbing I took no photos. Speakers at the adult breakfast were also terrific; shown below is the luminous Ishmael Beah, whose talk wove life and literature and storytelling into a bright tapestry.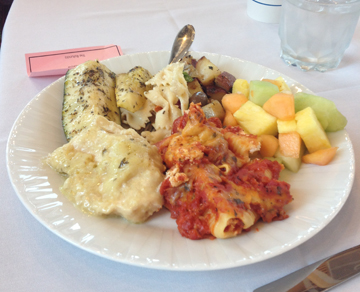 I know, I know. Food photos are gauche. But I had to highlight this crazy exception to the usual trade show author event breakfast (normally, stale rolls and coffee). Assuming the usual, I'd had breakfast at my hotel first. Mistake! Above is a bookseller pal's NEIBA brunch — a veritable feast I didn't get to eat because I gambled wrong. Sob!
Abrams hosted a lovely dinner celebrating Ross MacDonald's
Henry's Hand
, a charming picture book whose artwork pulls me in strongly. Love the palette, love the quirkiness, which puts me in mind of the green pants story in
The Lorax
. I got to finally meet the marvelous, boot-wearing illustrator Melissa Sweet that evening, as well as catch up with the amazing Peter Reynolds, whose bright spirit and art bring out the awkward fangirl in me. Apologies to Peter, congratulations to Ross, a delighted hello to Melissa, and thanks to Abrams!
It's always a pleasure to catch up with indie pals. Suzanna Hermans is the fantastic, young, energetic, ridiculously gifted bookseller (from Oblong Books) who just became NEIBA President! Woot!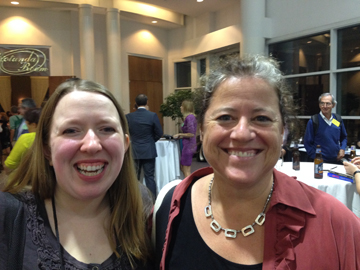 Encountered some new items at the show. Here are a couple of titles I definitely wasn't expecting to see. Cannot carry these for fear of them ending up mis-shelved in board books; break out in cold sweat at that scenario. Ends with me run out of town on a rail.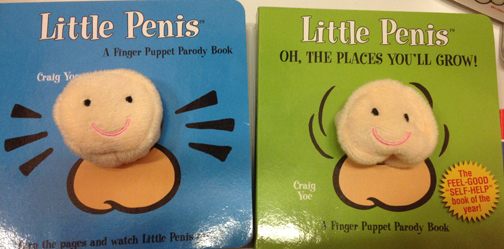 Continuing my swag-impaired record, here I ogle the FABULOUS tote bag from Houghton Mifflin Harcourt that bookseller Kenny Brechner is taunting me with. No, he didn't taunt. But he could have!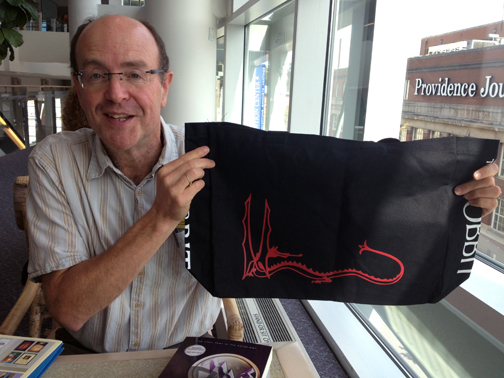 The very best thing about NEIBA, of course, is the wonderful people in this field. On the show floor, I was so happy to run into fellow Vermonter, friend, and writer of beautiful, powerful novels, Jo Knowles, signing her newest,
Living with Jackie Chan
.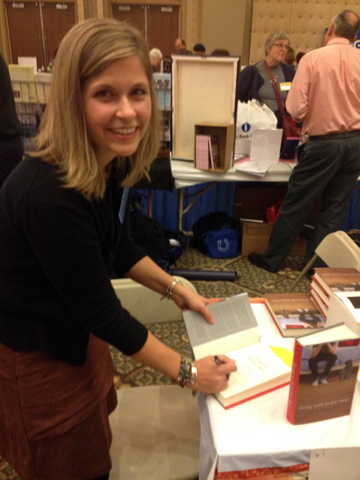 It was a great three days, reinvigorating and helpful. Next up: Winter Institute, if I get off the waiting list. Fingers crossed!