Every day we get promotional mailings. They range from postcards to posters and of course books, but every once in a while we get awesome mailings. The best things to get in the mail are books you actually want that are surrounded by food, preferably chocolate and ideally all of it is delivered with a sense of humor.
Last week, Kids Can Press hit a grand slam home run with their mailing for the new Scaredy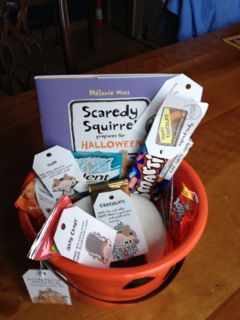 Squirrel book, Scaredy Squirrel Prepares for Halloween. First off, it was a great reminder to reorder the book, which is classic Scaredy Squirrel. The book is full of great information about how to safely get ready for a holiday that can be a real challenge for a fearful squirrel. The promo kit arrived in a large box, which is always a good sign that there could be something really great in there. Booksellers are a simple lot who often don't eat lunch until four, so anything with sugar tends to be very well received.
Imagine how happy I was when I opened the box and discovered this trick or treat jack o'lantern filled with a copy of the book and lots of candy! I took out all the candy and started reading the tags that were attached to them and couldn't stop laughing. The tag on the sour candy says: Pros: Awakens taste buds. Cons: Causes silly faces. The illustrations on the tags are adorable and we all had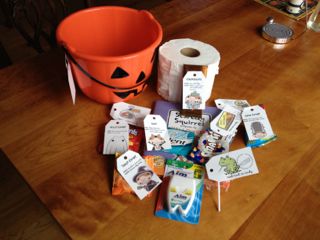 a good time with this. I did wonder why the toilet paper was included (it was for a mummy costume). There was just so much packed in the pail. Sour candy, dental floss, jelly candy, sugar-free gum, and more!
Oh, and because Kids Can Press is based in Toronto, all the candy was Canadian. I've always wanted to have Smarties, and now I have – thanks to a squirrel with caution on his mind!