On the surface it may seem surprising that Dashka Slater, the author of delightful picture books such as Escargot, could also be the creator of searing young adult non-fiction books like The 57 Bus and the newly released Accountable. In his introduction to Egil's Saga E.R. Eddison observed that the school that believes "the gouger out of Armod's eye could not in nature be also the tender and sublime poet of the Sonatorrek, is a school that knows little of humanity." Similarly we should be edified but not surprised by both Slater's versatility, and by the humanity she reveals in the perpetrators of terrible actions in her non-fiction tours de force.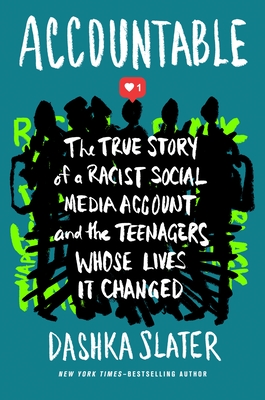 If I could pick a single book for a national book read it would be Slater's just published Accountable. With Accountable she has brought another morally complex story of severe interpersonal harm among teenagers to life. She does so with an acute subtlety which draws forth the intertwined elements of action, character, causation, and reaction in a manner whose artistry and open clarity provides the reader with multiple avenues of engagement.
The subtitle of the book is The True Story of a Racist Social Media Account and the Teenagers Whose Lives It Changed. The story includes racism, masculine bravado, the worst mediation imaginable, the accelerant nature of social media, bystanderism, and the profound failure of the adults in the room. It is a failure shared by parents of both the victims and perpetrators, of school and town administrators to put the welfare of children at the center of their words and actions.
Slater's combination of tightly focused detail and moral restraint reveals harm as a self-propagating, ever-accumulating, dehumanizing snowball of polarization, rage, abuse, and suppression. The skill of the book's revelation lets air into an environment normally inhospitable to life in which the only way to survive is to adopt a spacesuit of self-protection. To read Accountable is to traverse a heartbreaking tragedy that deserves our deepest attempts at understanding. Remarkably it provides every reader with just that opportunity. What more could a children's bookseller ask for?