There is a customer who comes to my store who everyone on staff just adores. Ki is lovely, exuberant and passionate about books on CD. In fact, she is the reason we continue to stock books on CD. She refuses to download them, she thinks it's silly; Ki just wants to hear a book from a CD as she drives back and forth to the Cape on a regular basis. She'll listen to anything as long as it's well written. Her tastes range from Christopher Moore, her absolute favorite, to young adult authors.
This past winter and spring, Ki was listening her way through Catherine Gilbert Murdock's delightful Dairy Queen series. Ki was game when I told her about the book, and she raved about it when she ordered the second book in the series, The Off Season, which sh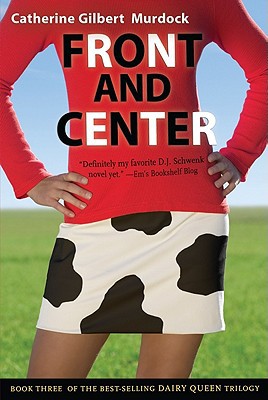 e loved as well. A problem arose with the third book, Front and Center.
It seems this book was not on CD. Ki bought the paperback to tide her over until the CD came. The problem was, there is no CD of this book that's available to bookstores. I told Ki the sad news, and she took matters into her own hands. She wrote a letter to Catherine Murdock to ask when the book would be coming out on CD. Wow! She just wrote the author about her not having a book on CD. I was impressed, but really didn't think anything would come of it because I just didn't think there was a CD to be had. I didn't want to dampen Ki's enthusiasm, so I said nothing.
Well, last week I was proven wrong in a wonderfully surprising way. Ki emailed to tell that Catherine Murdock responded to her email by telling her the audio was done for libraries but she had some at her house. She mailed Ki a copy. Not only that, but she gave Ki a few copies for the store. Wow, again. Catherine came to the store once and she was delightful, so I'm not surprised at her actions. What surprises me is the connection that these two women made.
I forget sometimes that access to authors is something I alternately take for granted and still revere. I love that Ki took it in her own hands to find one of the few copies of the CD she could. It makes me smile to think of someone writing an author and having such an exchange. And through all this, Ki could have downloaded a copy of the book months ago, but her old-fashioned love of CDs got her to actually write a letter.
Ki will bring our CDs the next time she comes in. I will listen to it, on CD, just the way Ki does, and I'll smile the whole time.