Dead bodies and meth mishaps aside, it was a great event. (More on those in a moment.)
Every four years or so, the inimitable David Sedaris comes to Vermont for a night at the Flynn Center, our area's biggest theatre, which seats around 1400 people.
Leading up to the event, we order heaps of Sedaris books and arrive a few hours ahead of time to set up. We make sure everything's set up, iPads and Square readers charged, prices and special discounts entered correctly into the offsite sales system, and most importantly, we ensure that the book tables look inviting. (This last means, counterintuitively, untidying the perfect book stacks just a little bit, since customers are wary of picking things up off a perfect pile, not wanting to mess up our display.)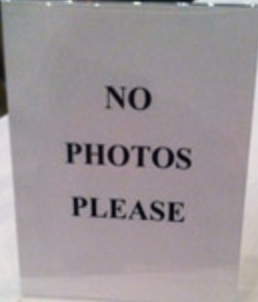 The Sedaris speaking bureau folks send ahead lucite holders with "No Photos Please" signs, along with four golf pencils and printed pads of paper for audiences to write the names they want David to sign to in their books. We borrow china, cutlery, and glasses from a nearby restaurant so that David Sedaris and his traveling companion, Adam (a great guy with a strikingly resonant voice who has been with DS on his speaking tours for 17 years), can have a civilized meal instead of eating from take-out containers.
About an hour or so before the show, Mr. Sedaris comes out into the lobby to sit at a temporary signing table and autographs books all the way up to the third "house lights to half" signal that the show is about to start. This mitigates some of the post-show signing time, which can last into the wee hours. David Sedaris is known for his congeniality and relaxed conversation with every person in line. He never rushes anyone, a habit that leads the speaker's bureau to alert booksellers that the signing line can last from two to five (!) hours after the show.
During the show, bookstore staffers slip in to the theatre and stand in the back with the ushers, listening and laughing. Much of that time, I am in the lobby with the books, checking stock and making sure our own pre-sold books are ready to be taken to the signing line after the show. The roars of laughter from inside the theatre are wonderful; sometimes there's a collective gasp. Once there was an all-audience "Nooooooo!" I sneak in now and again, and love listening to the familiar voice weave hilarious spells over the audience with understatement, wild exaggeration, and sudden left turns into the unexpected. Hearing new stories in progress is the biggest pleasure, and it's fun to watch him scribble something in the margins when he tries out a line that he must feel works, or doesn't, in the way he wants it to.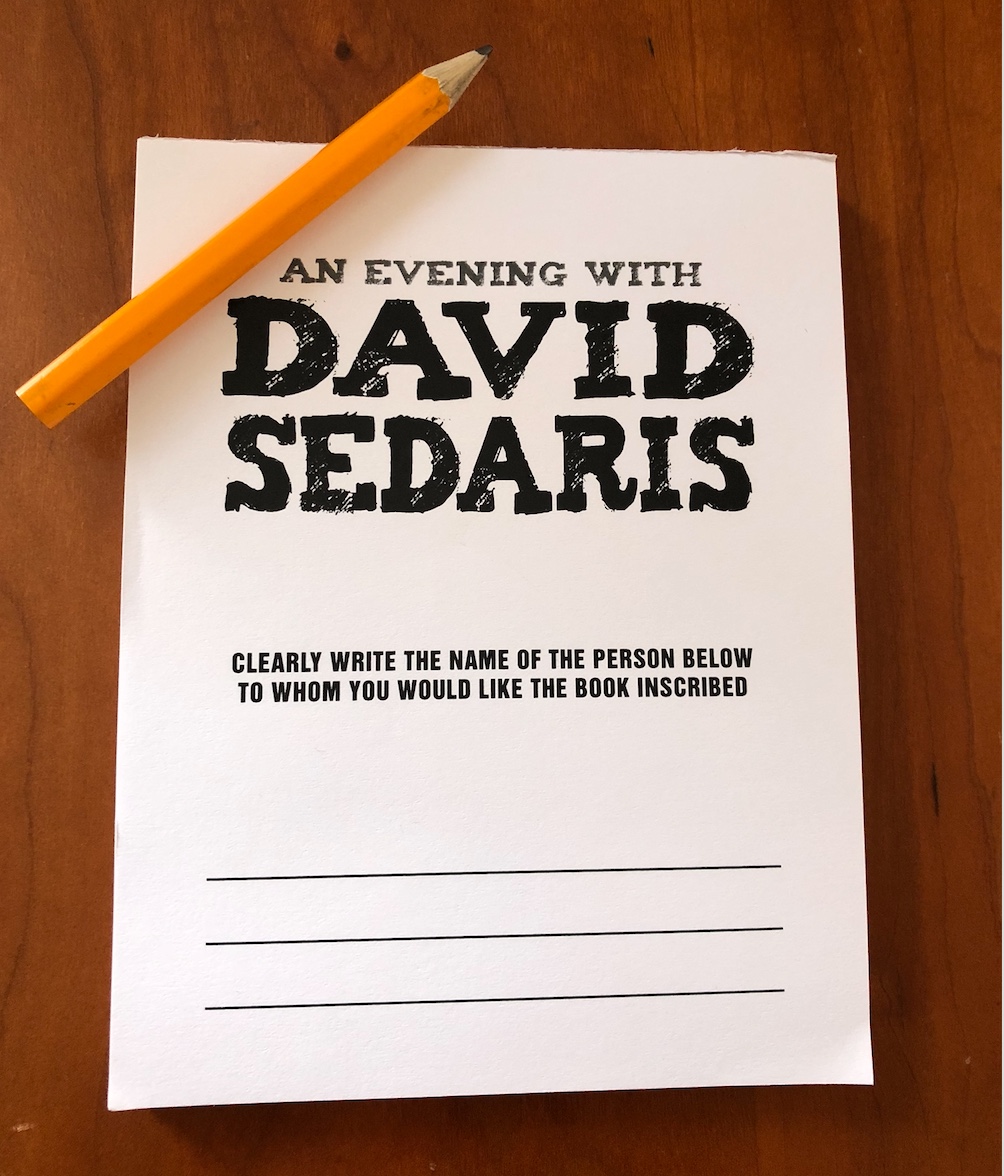 Since booksellers always want signed stock to take back to the store after an event, there's a well-orchestrated dance that happens. Right after the show, David Sedaris comes to the signing area, sits at the table, eats his dinner while chatting with people and signing their books. Once dinner is done, the plates are cleared and it's time for the store-stock dance. Because he is so practiced, he can sign a person's book, draw a funny picture in it, ask them about bat rabies, listen to their reply, and autograph store copies at the same time.
Josie Leavitt, former co-owner of the bookstore, remembers this process from the last few times he came to town. She says, "There is a rhythm you get into with him: get the book ready by gently folding back the book to the title page, hold that open, slide it across to him at exactly the right height and then he signs without even really looking at the book. Someone on the other side literally catches the books as he slides them out of his way. Never once have I seen him do this without breaking eye contact or interest in who is in the signing line. The fun of this is you get to hear what he's saying to people and it's often as beguiling as it is hilarious."
My friend Sue was the book 'flapper' for this event, and was amazed by his conversational skills. It is truly charming to see star-struck, tongue-tied attendees put at their ease with real eye contact and genuine interest—not to mention outrageousness—from their humorous idol. He might compliment someone's scarf or jacket, or graciously accept a small gift or card they've handed to him. In the next breath: "You teach special ed?" he'll ask, drawing a cat or a tombstone in someone's book. "We were just called a**holes in my day." He has excellent manners, so the slightly provocative comments, even though you expect them, almost hover in the air over the listeners while everyone waits for the person's response. He's as patient and courteous with the tedious guests as he is with the funny ones. That can't be easy, night after night.
To this event, he'd brought a bloody, severed finger in a wooden box that someone had given him at his last speaking engagement. It sort of fit the mood of the day, which in our city had been very strange. At around 2 p.m. the day of his visit, police had found a body on the roof of a building up the block. This is tragic, not typical for Burlington, and rattled us all. Later, during the performance, Adam had gone out for a slice of pizza before his duties with David at the signing, and discovered police cars and ambulances just around the corner, where a man on meth had needed more than eight officers to finally subdue him and get him to health care workers. Again, not typical of our small city, and a sad note on a very funny night.
Though when you think about it, that's kind of what David Sedaris does in his stories — there are expanses of light and funny, with rivulets or tides of sorrow, loss, and melancholy running beside and underneath them. There's a reason he's a laugh-till-you-cry writer.
At 12:47 a.m., the last audience member said his goodbyes, the signing line wrapped, we got all of our pre-solds personalized, and we waved goodbye to David and Adam, hoping they took with them some of the beauty and quirk of our little state.
P.S. Another generous thing David Sedaris does on tour is to highly recommend another author's book that he has recently loved. This year, it's Ann Patchett's
The Dutch House
 (which I cannot stop calling
The Dutch Girl
because of the cover art). Booksellers are asked to bring copies of the recommended read along with the Sedaris titles. This book happens to be well known and on bestseller lists already, but often the book is something the audience has never heard of. It's such a classy act, to use that power to bring attention to someone else's book.