I wrote over the summer about the wonderful experience of hosting April Stone, a local middle school librarian, for a three-day internship at the store. I jumped at the chance to welcome her into our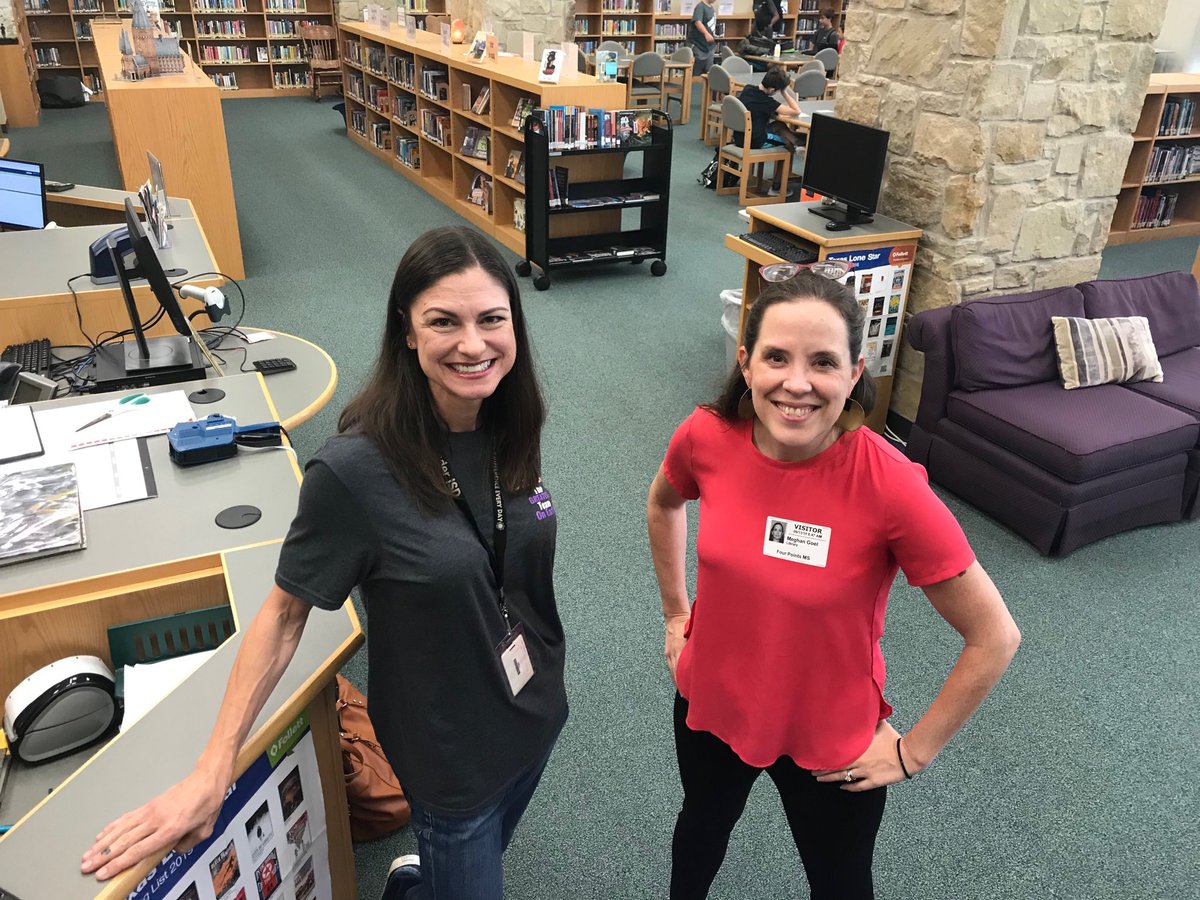 space and only asked for the opportunity to return the favor. I've worked with so many librarians through the years, so. I was curious to see what a day in the life of Four Points Middle School library really looked like—and to see what I might learn. Since she kindly shared her thoughts about her time in the store, she asked if I would answer a few questions about my time on the other side!
AS: What made you want to spend your time in a school library? What did you expect it would be like, coming in? 
MG: You know, I work with school librarians all the time and have popped in and out of so many of your spaces. But I've never actually watched the flow of kids in and out throughout the day. I was mainly curious what that felt like and how kids interacted with the library space.
AS: Was there anything you found surprising or different from what you expected? 
MG: It was fun to come on a day when so many classes came through one after the other—both because I could see the variations between groups and because I got to watch the orientation repeat so many times. That element of predictable repetition is not common to a bookstore experience. Even for events at the store, where we create systems for parents and kids and babies and authors to all interact smoothly, we don't really redo that interaction back-to-back in the exact same way. While I know the school library space also welcomes unexpected traffic every day, the bookstore is almost entirely oriented around the free flow of customers in and out.
I also think our systems are generally created to solve different challenges. In your interview, you talked about seeing how "every time a book moves it needs to be accounted for to make sure other booksellers can find it." At the library, while you don't have librarian colleagues to communicate with about placement, you had many systems in place to make sure that the books AND kids that flow in and out are all accounted for as they come and go—and (ideally) return again.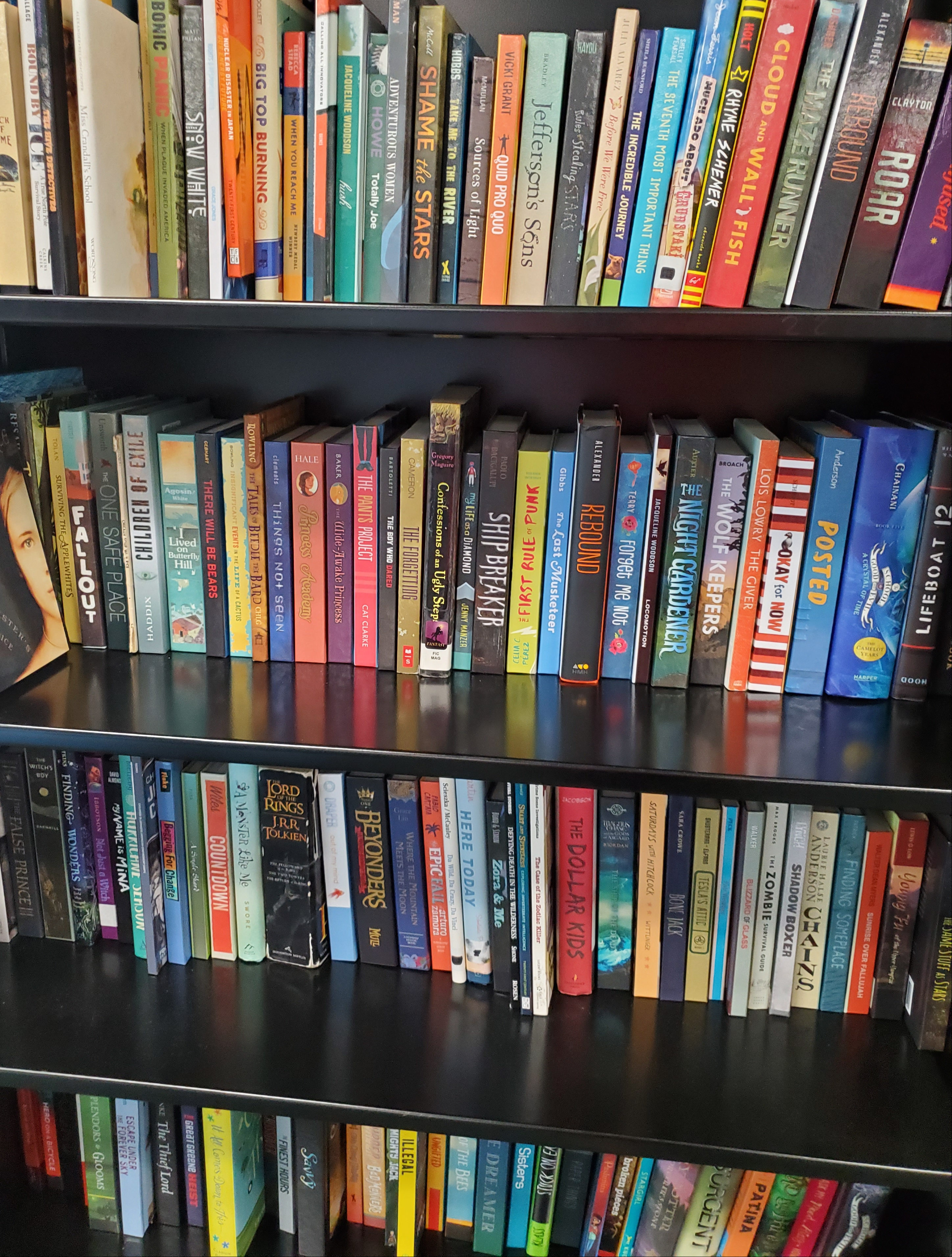 AS: What did you end up liking best or finding the most interesting? 
MG: Okay, so I admit this wasn't exactly in the library, but I got the chance to visit one of the ELA classrooms to look at the new book collections the district provided for free reading and classroom use this year. They're amazing. Filled with voices from a broad range of cultural backgrounds and settings and offering book choices across genres to appeal to all kinds of readers, the collection represented exactly what free reading should look like.
As I was talking with the teacher, Ms. Canino, we actually discovered a copy of Hope Larson's All Summer Long stashed on top of the bookshelves by a reader wanting to protect it until the next class. Ms. Canino said she's even been taking the books home to expand her own knowledge of the reading lists, with Veera Hiranandani's The Night Diary and Monster by Walter Dean Myers in her rotation right now! I'm excited to see such a commitment to literacy in the classroom.
AS: So after this window into the school library world, what do you think librarians and booksellers have in common? Where do you think our approaches diverge the most? 
MG: I think that we are both just trying to engage. We are looking for any opportunity to connect with readers, to turn a passing interest into a passion, or help a kid find just the right book at just the right time.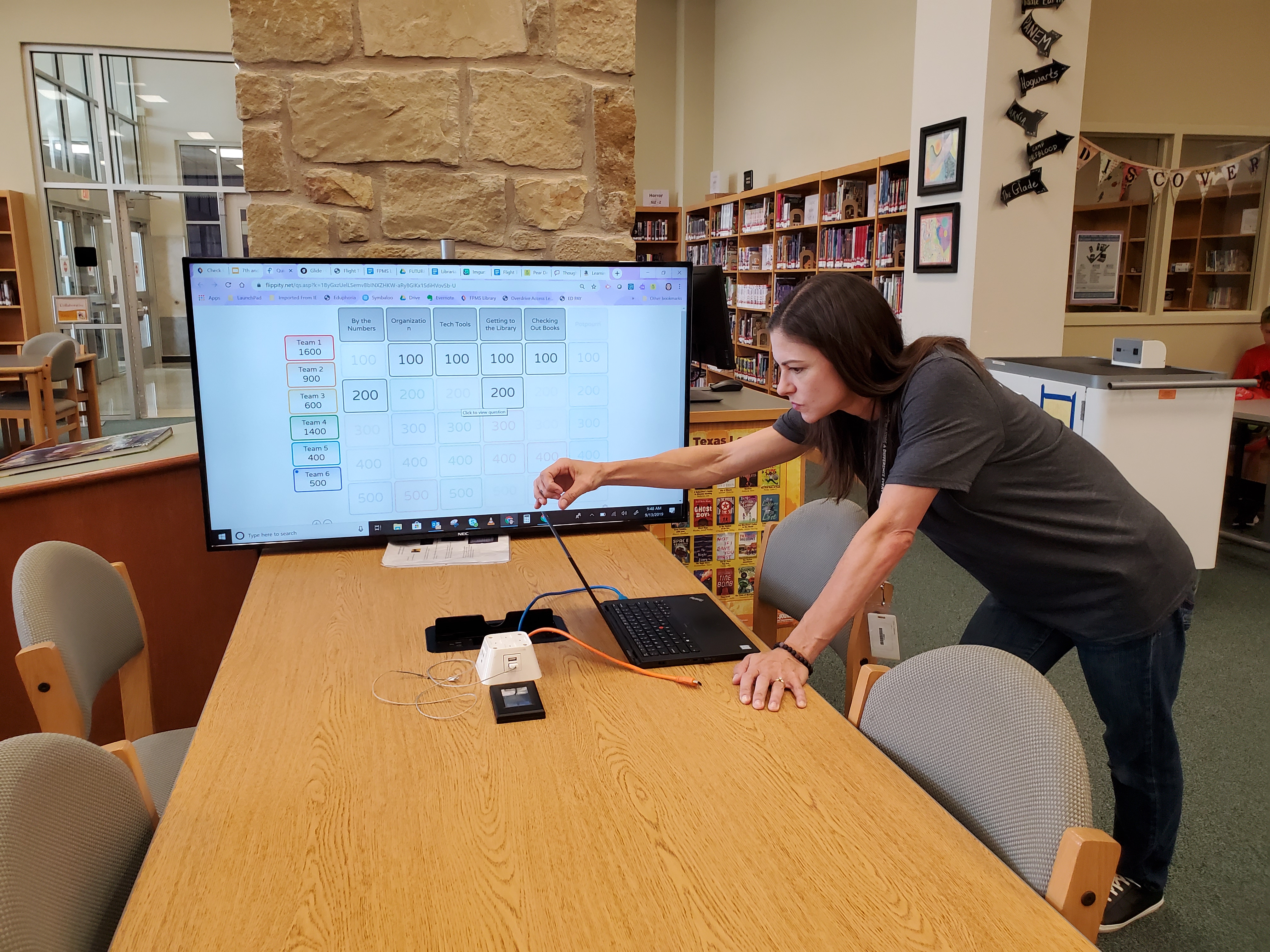 Going in, I suspected that the biggest difference between our approaches would be technology, but WOW was I impressed by the integration of technological expertise and digital literacy into the library space. With a green screen in one classroom for filming class projects, a maker space in another, a media table for groups to collaboratively work together on a big screen—not to mention the rows of computers for student access—technology was everywhere.
I know tons of smart and tech-savvy booksellers, but BookPeople's point of sale system is DOS-based, if that gives you any sense of the comparative sophistication of our systems. When I learned that the librarian serves as tech support for the school-issued laptops given to the kids every year, I internally laughed. I'm pretty sure that our IT manager has to help me with more computer issues than anyone else in the store. I definitely have a lot to learn in this area, and I was very interested to see that seemingly sophisticated set-ups like the green screen were really self-sufficient. Kids just opened an app and were able to film on their own.
AS: Were you able to make any book recommendations to any students? If so, did they check out the book?
MG: I didn't actually make any recommendations myself because I was mostly initiating conversations with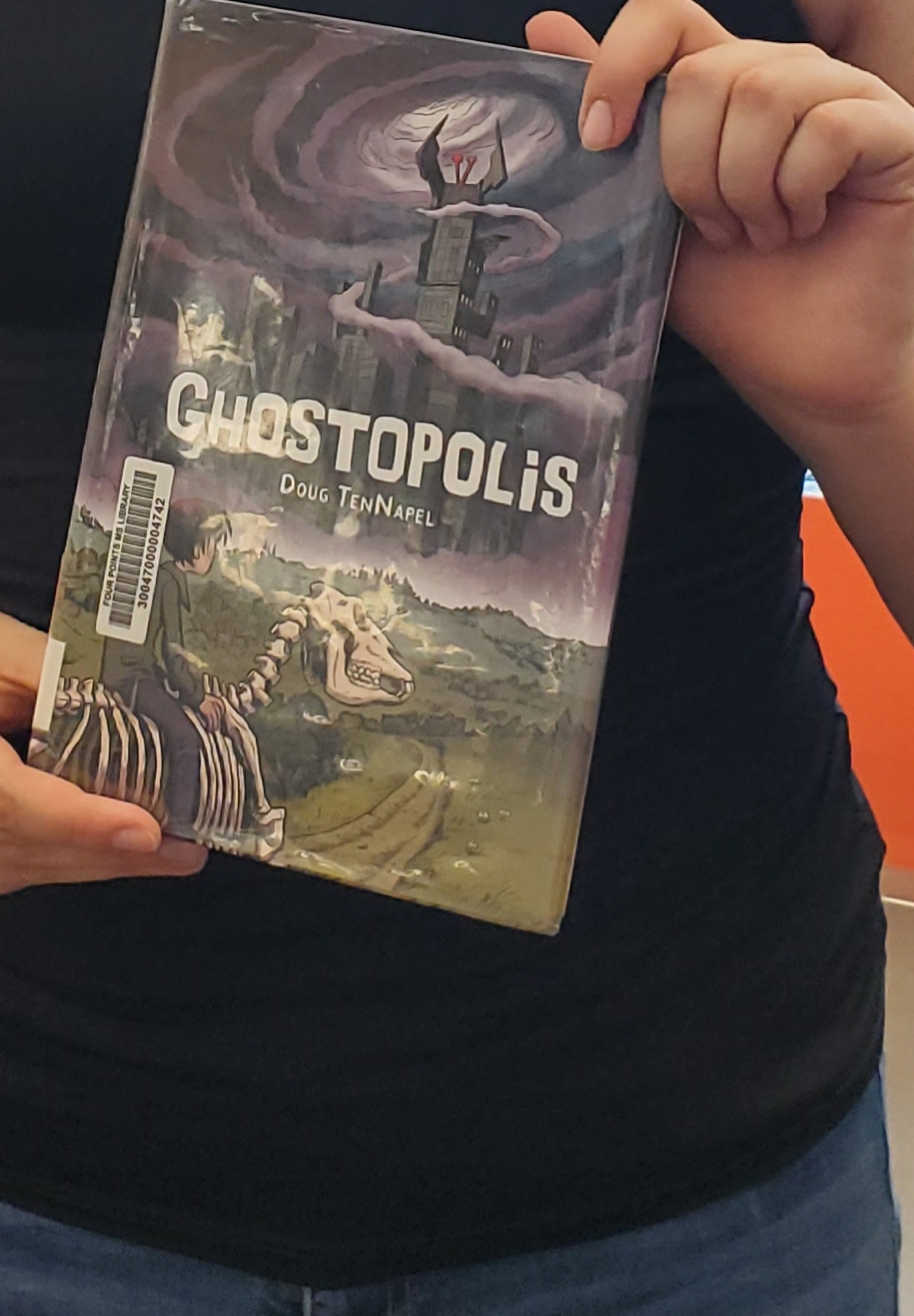 kids who were already checking out at the desk. I did get several recommendations from kids, though, which I always love. I heard all about Kiersten White's Bean Stalker, which looks really fun, but which I've never read. And I got turned on to the totally creepy and hilarious graphic novel Ghostopolis.
AS: Did you have or witness any fun or memorable (or weird) interactions with students or teachers? 
MG: I had a great time hanging out with a lunchtime book club of eighth graders. This was their first meeting of the new year, and it was really fun to hear them talk about their literary plan —between stealing each others' chocolate milk and trading affectionate insults. They compared notes on books read over the summer (the record was 55!) and strategized their upcoming book rotation by genre. After romance was roundly rejected as a genre by three of the four, they ended up planning a rotation of Sci-Fi Fantasy (authors A-L), Adventure, Graphic Novels, and Sci-Fi Fantasy (authors M-Z). They told me how much they love Roshani Chokshi's Aru Shah series and Holly Goldberg Sloan's Counting by 7s, and then we unexpectedly bonded over Amar Chitra Katha comic books (which my Indian American husband has been introducing to our second grader).
AS: Is there anything else you want to add?
MG: I feel like I absorbed a lot. After sitting on the sidelines for multiple rounds of library Jeopardy, I feel so informed! I know how to visit the library over lunch (ask for a pass), where to check out of the library if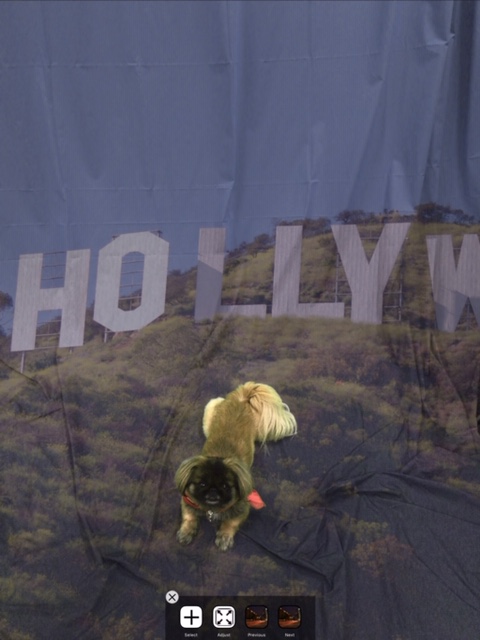 I'm going back to class on my own (clock out on the iPad), where the magazines are shelved (the first bookshelf by the circulation desk), and, although no one got this tricky question correct, I know that Bonnie is Ms. Stone's adorable dog's name (pictured here)!
I'm going to have to look into that Jeopardy game for bookseller challenges or even field trips (for prizes??)! Apparently you can make your own game using a Google spreadsheet extension called Flippity. The best part is that I didn't even have to look at my notes for any of that orientation information above. The rumors are true: Librarians know how to make information stick.