I was driving in to the bookstore on Monday morning when I saw ambulance lights behind. Noteworthy but not unusual. Then a series of more sirens from behind, ambulances, police cruisers, and fire trucks began to pass by in earnest. Maine Public Radio broke into Morning Edition to announce that a building had blown up in downtown Farmington and there had been a propane explosion. One firefighter was reported as dead and more injured. The thought flashed through my mind that the bookstore was involved, that the building had been my downtown neighbor, the House of Pizza, which has a row of propane tanks attached to it. We have had close calls along these lines before, smelling propane coming through shared ventilation into the bookstore and running over to the the House of Pizza before it had a chance to open and turn its ovens on. It was not the House of Pizza however. MPR  proceeded to report that It was the headquarters of a community nonprofit LEAP, Life Enrichment Advancing People, whose mission statement is
Supporting people with developmental, cognitive and intellectual disabilities to be actively involved in their home communities.
There had been a strong propane smell in the building when LEAP staff arrived that Monday morning, and the maintenance person took action and evacuated the building while calling for emergency support. Most of the Farmington Fire Department arrived and, along with the LEAP maintenance worker, went over to the building to try and find the cause of the leak. The propane source
exploded
, destroying the building entirely, leaving nothing but rubble, debris, one firefighter dead, six more critically injured along with the maintenance worker.
Farmington is an old, close-knit town, and nothing is closer knit than our Fire Department, which has deep multi-generational roots. Among those seven who went to save the Leap building were two brothers and one father and son pair. Everyone in town knows these people and has some personal connection or other. Just this past year two of them had come to the bookstore wearing their uniforms to read to the kids for our Children's Book Week event and were incredibly gracious. The firefighter who died, Captain Bell, is theUuncle of one of my young booksellers.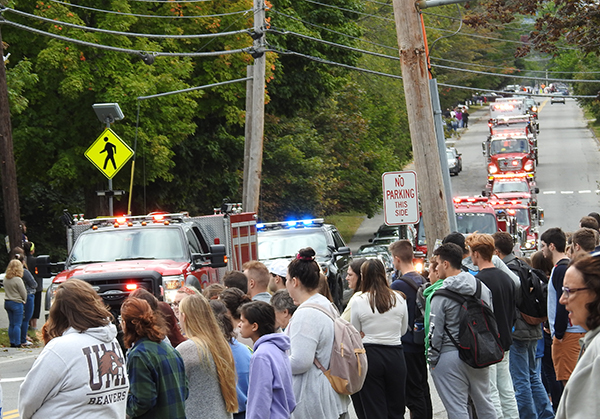 These connections are everywhere here. When Captain Bell's body was brought back to Farmington on Tuesday, accompanied by a procession of fire engines, police cruisers and ambulances, the procession passed right in front of the bookstore. There was not a dry eye on the street.
We think about books and community all the time at DDG. But when tragedy comes to town the definition and meaning of community changes. It is not about who you are and what you do. It just is. Everyone does what they can. It will change again, slowly. But for now the presence of tragedy is a powerful source of stillness and clarity, of suspension amid outpouring, an imbuing of time's movement with a dual sense of loss and purpose, a narrative which many books strive for and only the best realize.