Earlier this year I was approached with a very interesting proposal to host April Stone, the librarian at Four Points Middle School, for an externship. Through a grant, the district gives educators a stipend to go on-site at a business for three days during the summer. They then create a presentation to share with their colleagues and a lesson plan to share with students. I was intrigued and obviously said yes. Not only did we get an extra bookseller who already knows her stuff for a few days, but librarians are our number one best community partners. I always want to know more about what they're working on too. So it's an obvious win-win!

We packed a lot into our three-day window. She watched visits from preschool field trips each morning, she took on one of our storytime slots, made a display and some shelftalkers, sat in on a commission rep appointment, and came to our biweekly children's book specialist meeting—where our Hachette rep also gave a fall book presentation. And, of course, we just talked a lot about the different (and not so different) ways we each approach what we do.
I thought it could be even more fantastic if I could make this a trade instead of a one-way learning experience, so I'm actually going to be heading over to the school this fall myself for a little immersion of my own. I'll circle back and let you all know how it goes in a few months.
In the meantime, I asked April what stood out most from her experience at the store.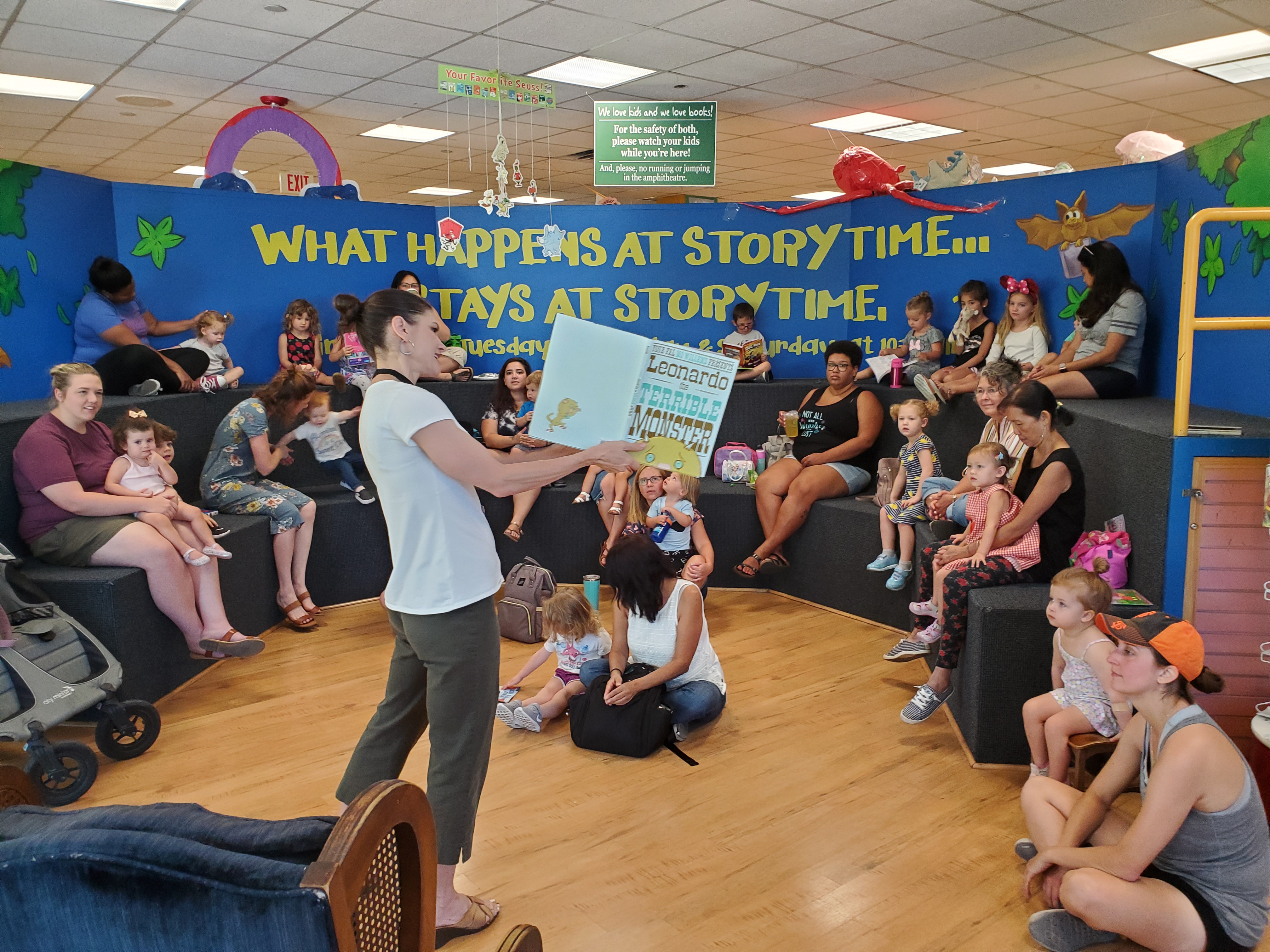 What made you want to come to BookPeople for your externship?
I have lived in Austin for almost 20 years. BookPeople has always been a heavenly oasis for myself and my family. I have connected with BookPeople to host Jay Asher at my school. I have attended the Teen Book Festival. BookPeople is my first stop when buying books as gifts. Since I receive regular email updates from you, and follow BookPeople on social media, it was my first connection when I thought of the book business in Austin.
What were your expectations?
I didn't know exactly what to expect. I anticipated being able to help customers find books and we had talked about doing a storytime and a display, but BookPeople has also always been a place that librarians come and take pictures of things for ideas. It's so creative and original. While some of us are creative and crafty, some of us are not, but we love trying to bring back ideas we can implement from retail.
What did you end up finding the most interesting? 
Professionally it feels very strange to go from a setting where I feel 100% competent to suddenly being clueless!
The most interesting aspect was learning the behind the scenes work that you do to get each book on the shelf. There is so much thought and time put into each selection. And all the people I was introduced to upstairs (receivers, marketers, buyers and more), it takes all these people to get the book on the shelf. I didn't even think about the website and marketing aspect of the work. And the buyers' roles in general seem very overwhelming—determining which books to order at any time, how many to get, and how many to send back.
It was also interesting on the floor to see that every time a book moves it needs to be accounted for to make sure other booksellers can find it. I don't have to do that in the library because it's just me.
What do you think we have in common? Where do our roles diverge? 
Librarians and booksellers both have the same goal in the end—to get books into the hands of readers. We both solicit frequent traffic, access to diverse titles that provide the user with choice, and programming that invites a crowd.
In school libraries, the librarian creates and markets programs, manages the library budget, collaborates with teachers to provide appropriate resources for lessons, catalogs and repairs books, maintains the physical and virtual library space, and is responsible for library purchases that include equipment, furniture, books, ebooks, and databases. In a bookstore like BookPeople, on the other hand, there are many team members to assist with programming, marketing, purchasing, virtual presence, displays, sales, and customer service.
And what about handselling? Did you get a chance to recommend any favorites? 
Yes, I did have a girl who asked for horror but was on the younger side. We talked about Neil Gaiman,
Coraline
and
The Graveyard Book
.
Are you taking back any new ideas?
I discovered a plethora of books. Since I was an elementary librarian 10 years ago, a large portion of the picture books were new to me. There are many that are so visually engaging that it is challenging to battle the urge to read them instead of reshelving them. I have a picture book collection even in the middle school library. So I'm thinking about whether there's a way to highlight the picture book section to see if I can create lessons for teachers with those particular books in mind, to make it easier for teachers to read to students and implement a suggested activity. I particularly liked the picture books in your Biography and Global Stories sections for that.
I'm also thinking about adding shelf labels like you all have to make sections clearer to students in addition to the larger headers I have. I'm always looking for ways to help kids help themselves. And I loved learning to use the Cricut machine for cutting out lettering for displays. I'm going to look into that!
And that's a wrap on part one of our bookseller/librarian exchange. Stay tuned for part two. I'll let you know what I learn!