Oh, the joy of attending a book launch… that you didn't plan, don't need to manage, and can just hang out as an interested reader! No worrying about attendance, no stressing about the number of copies you ordered in, no last-minute calls to the author who is "on their way," surely, but a little bit lost on the drive from the airport.
I treated myself to just such an event tonight, and wanted to bring all of you along, both to share our colleague Tiffany Phillips' charming Wild Geese Bookshop in Franklin, Indiana, and to highlight the launch of Brian Allen Carr's newest book Opioid, Indiana. If you haven't seen a galley (or as of today, if it's not on your New Releases table), then that's the first "to-do" item of your workday: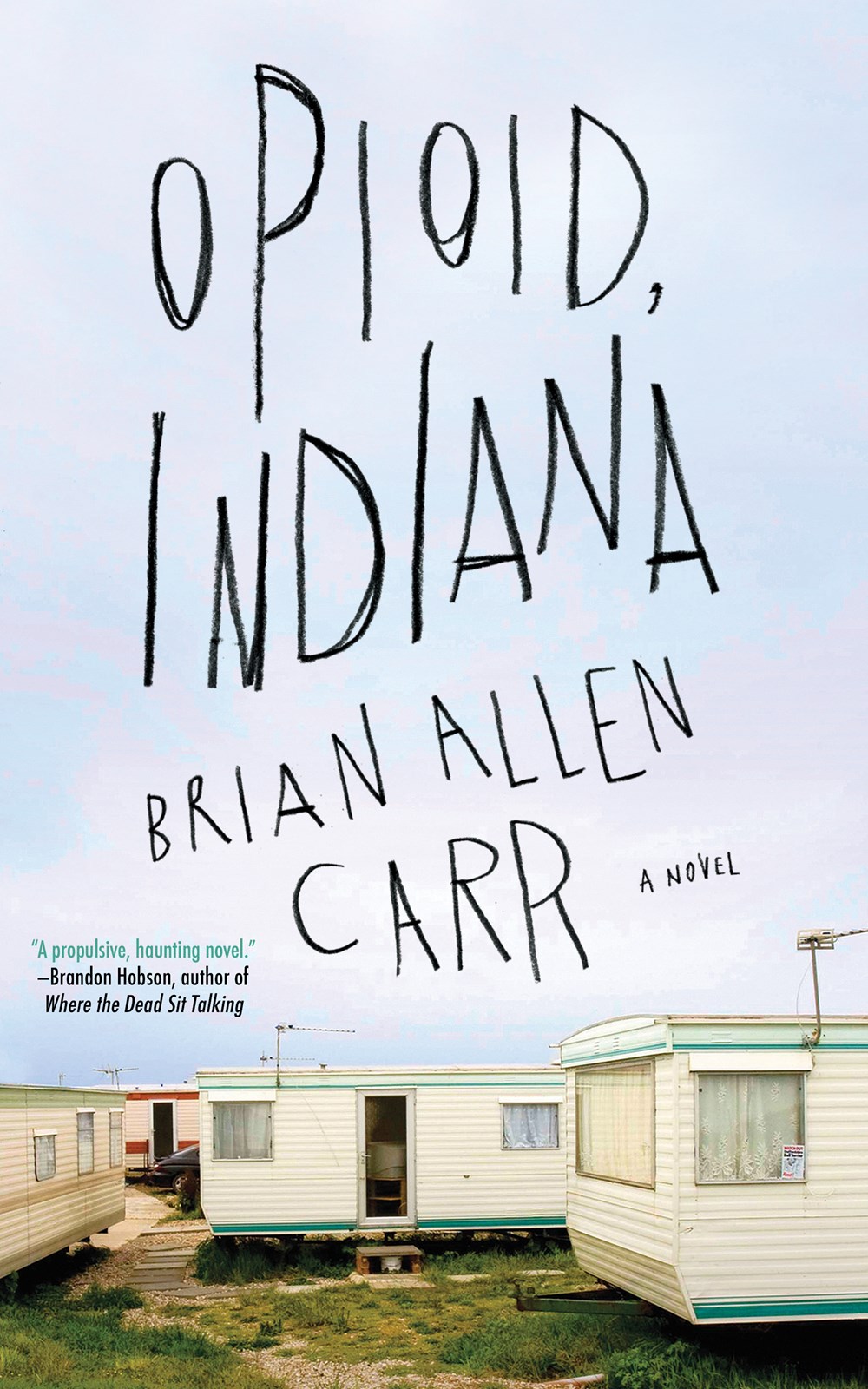 Here's a bit about the book:
Seventeen-year-old Riggle, the novel's narrator, has been sent from Texas to live with an uncle (and the uncle's girlfriend) in Indiana following the death of his parents. Landing in a small town near Indianapolis — read that as a small town anywhere in America right now — he navigates a world full of "adults" in which the teenagers seem to have the best grasp on reality, albeit a reality blurred with meth and opioid addiction ravaging their communities, economic uncertainty and the racism and violence fed by fear and insecurity. Riggle's voice is direct, honest and funny in that way that only teenagers can be, and it's one of the best and most heartbreakingly real novels about small-town life in this decade that I have read. Every single time I scan another article about the need for our children to develop "grit," or some vanilla-flavored parenting tome about fostering resilience and coping skills in our children, I consider the realities of adolescence in America in 2019. I think about school shootings and drug addiction, about terrorism and racism and the ever-real possibility of violence at the local convenience store or church youth group event perpetrated by another American toting a semiautomatic rifle.  And I wonder, how did we ever raise kids to be this tough?
Riggle, in the manner of 17-year-olds, is both heartbreakingly honest in his observation of the actual facts of his world, and unflinchingly direct in his analysis of the all-too-real daily possibility of terror that our teenagers face:
"Sometimes you feel so terrible that all you know is that you need something, and when people feel that way, they go out looking. My uncle went out looking for drugs. My mother went out and found death. I think those shooter kids go out looking for violence. They think it will stop the ache they have, but my guess is it doesn't."
Brian's tone and voice in this novel are pitch perfect — if you live with or work with teens, you will instantly recognize the slightly wry, disengaged speaking voice of older adolescents, with their cryptic, cut-to-the-quick analysis of other's motivations and actions:
"I feel like there are two types of misery in this world. There's not getting what you want and being angry. And there's getting what you want and being sad.
If you're either one of those — if you're miserable — you don't know what will fix it. You go back and forth forever. Wanting a thing. Pursuing a thing. Getting a thing. Now wanting it. And you start all over again.
So the question wasn't who would shoot up the school. The question was: who might think shooting up a school would make them feel better than they feel right now." 
One of my favorite reviews of this book (the one that actually pulled the ARC to the top of my TBR pile) came from bookselling colleague Terry Whittaker, former owner of Viewpoint Books in Columbus, Indiana, and now bookseller at Left Bank Books in St. Louis, Missouri. (Kris Kleindienst, you know just how lucky you are.) Terry wrote: "If Holden Caulfield was growing up in contemporary rural America, Salinger might have written something like Opioid, Indiana. 17 year old Riggle is struggling to make sense of his town where drugs, poverty, and isolation are obstacles he must confront."
Clearly, this was a title worth driving driving for, so off we went (my patient husband is an indie event veteran) toward Franklin, the author's adopted hometown and bookstore host. Wild Geese Bookshop, founded in 2016 by owner Tiffany Phillips, is everything indie – located just a block away from the town square, it's as smart and thoughtful and engaging as its owner. Here's the shop: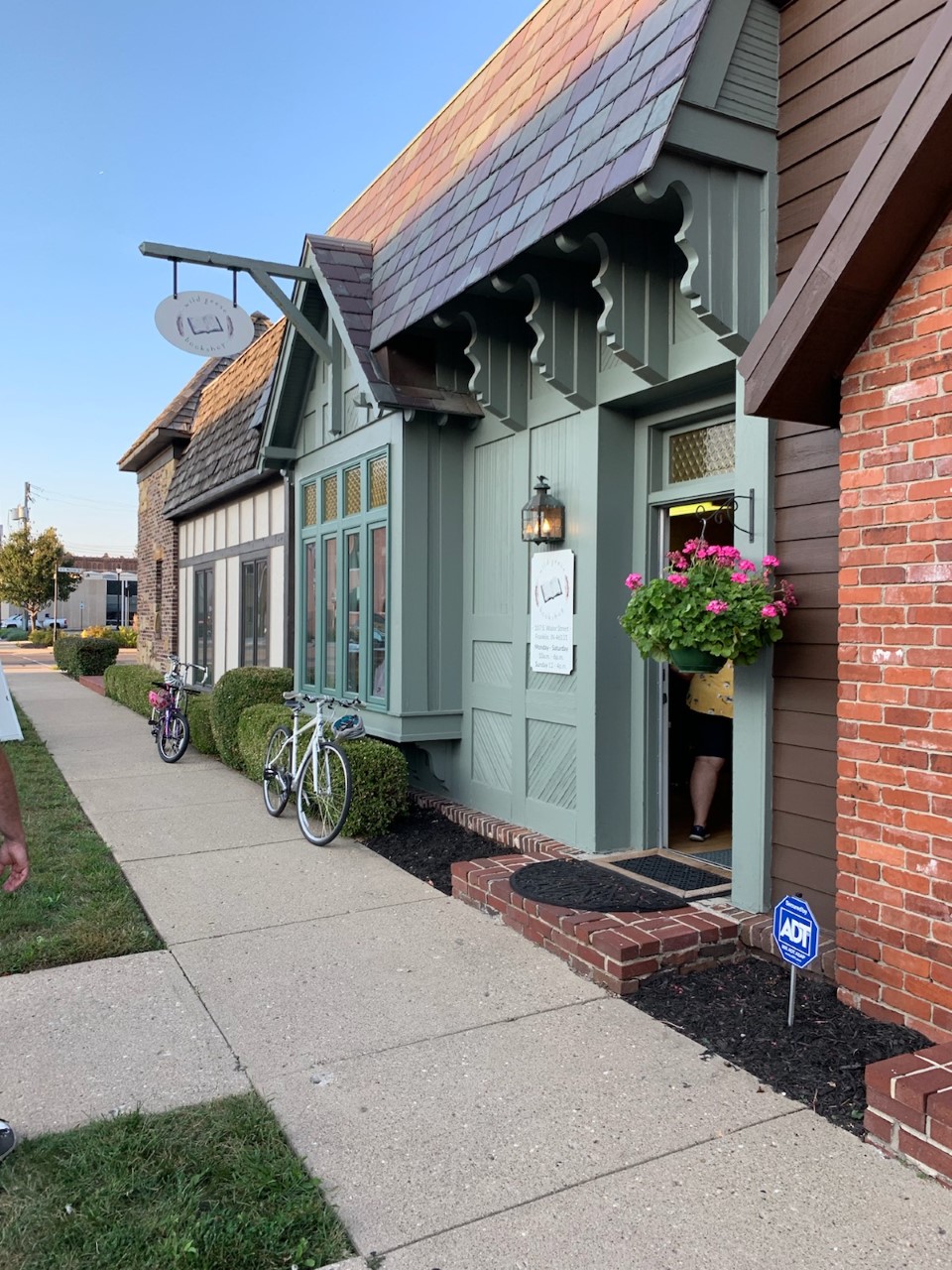 And here's every bookseller's favorite view, a full house for a signing: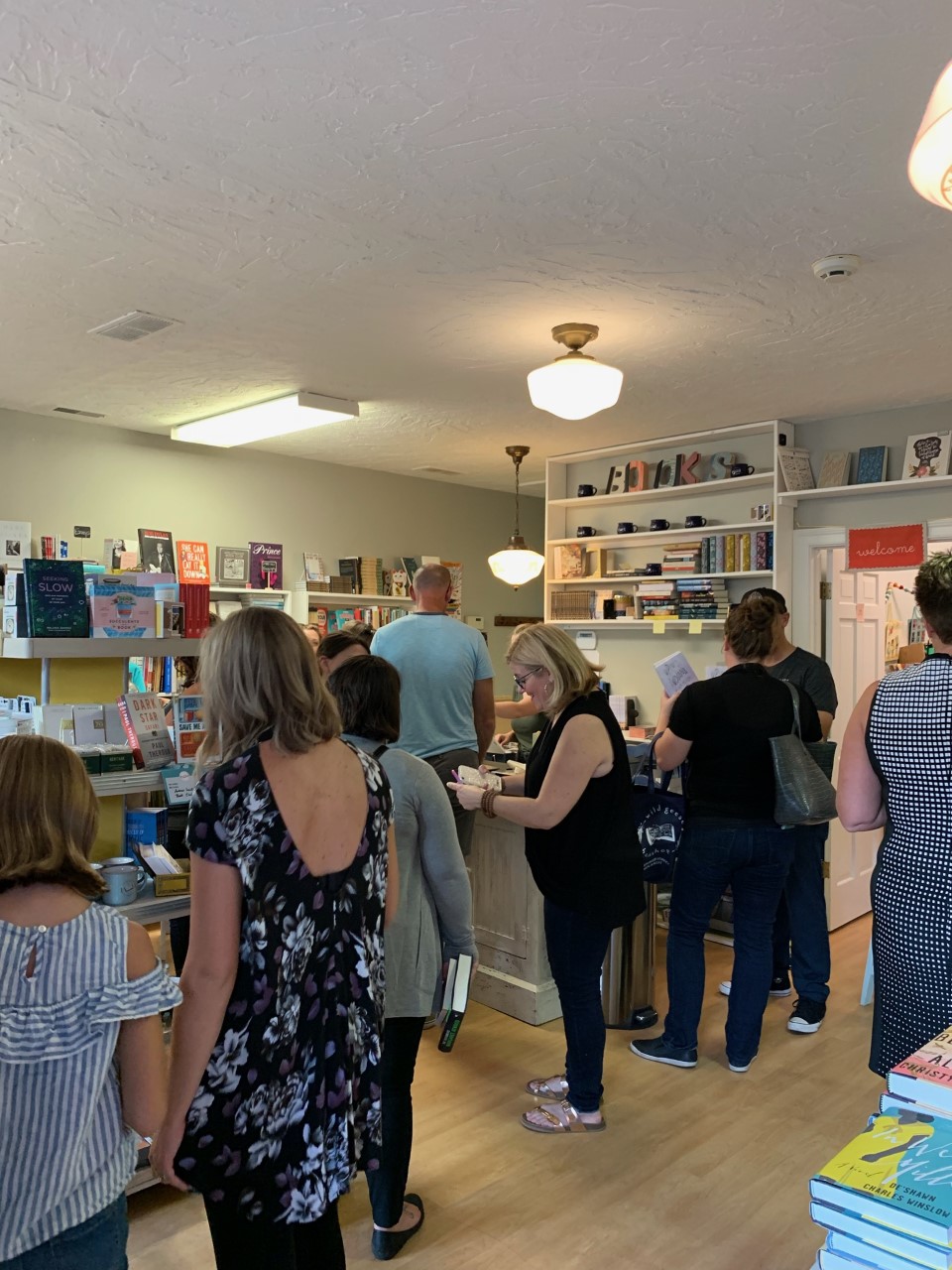 And oh, they're cooler than-the-average-bear with a DJ (why do I always FORGET THIS PART?):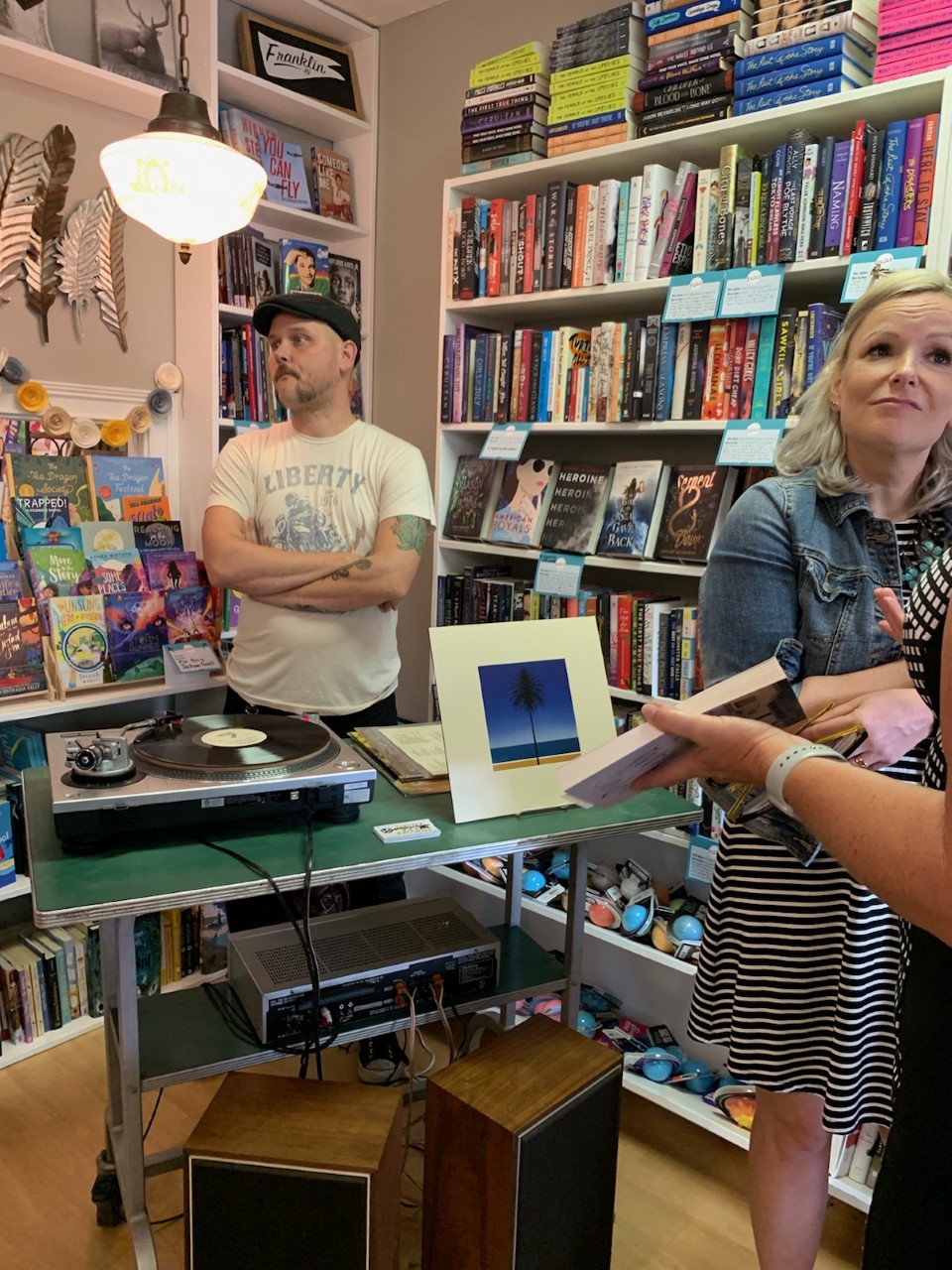 And a quick congratulatory pic with the shopkeeper and author: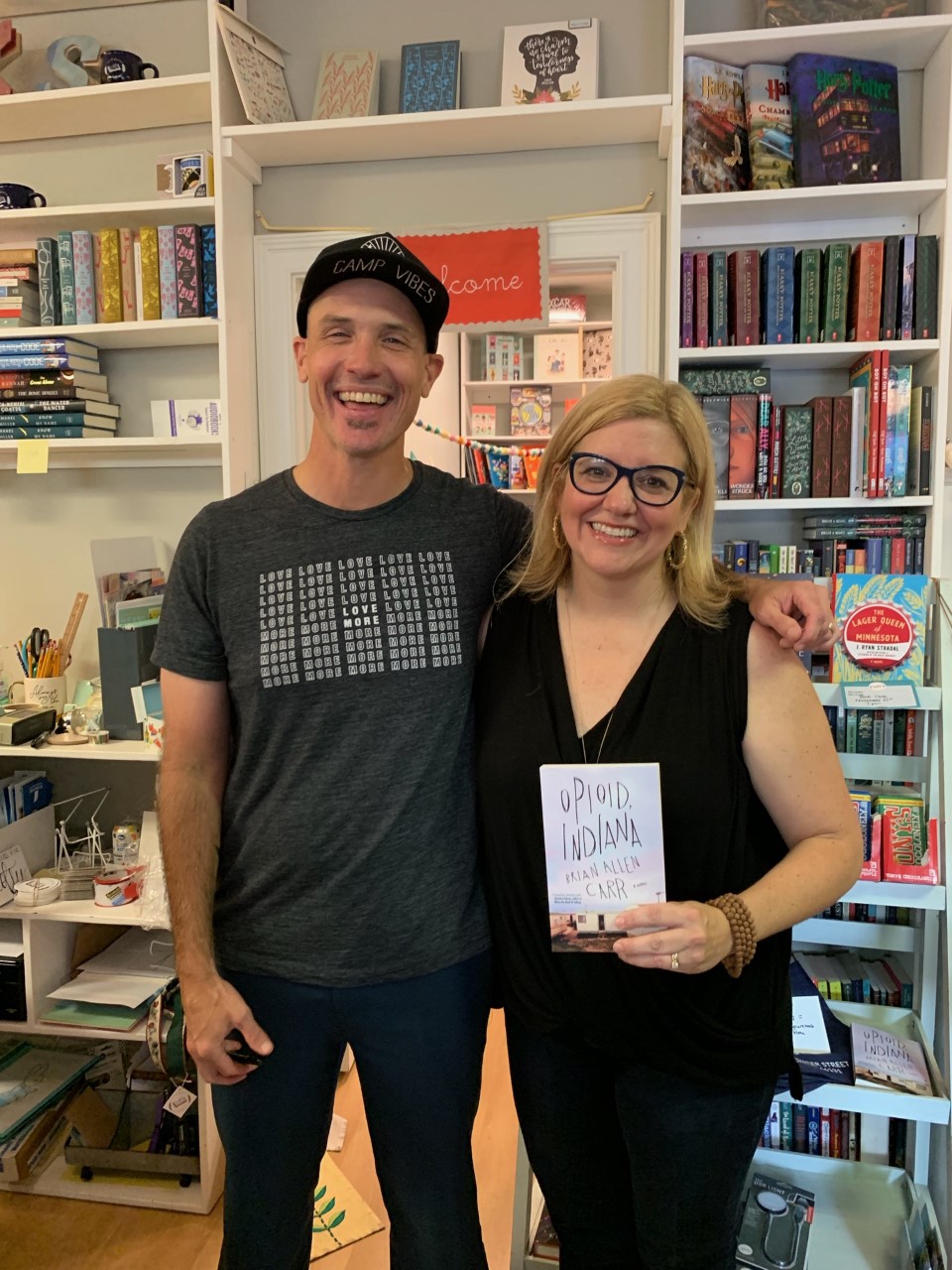 PS: My middle name is Carr (like the author's), inherited from my paternal grandmother, Caroline Carr. Here's my cool personal inscription from Brian ("stay Carr"). Every single thing we do, bookselling friends, is personal, and every single reader that we connect with an author is a job well done. Well done, Tiffany. Well done, Brian. Well done, Franklin, Indiana.