As Elizabeth mentioned this week, BookExpo has become less about book discovery for booksellers and more about other kinds of business conversations. Partially because I have been trying to mix it up between conferences—especially with Children's Institute in the rotation—I've missed BookExpo the last couple of years, but I enjoyed being back. Coming to New York always offers the value of meeting more people from the home office, so I took advantage of the chance to set up some business meetings. I also walked around and had some first-hand conversations with smaller presses and graphic novel imprints. You know, one thing I find challenging as a buyer is to differentiate true YA-appropriate graphic novels from those that are really for adults in some of the mixed catalogs, especially when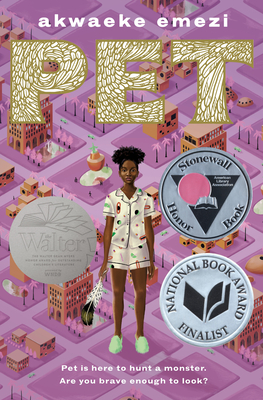 they aren't sold in by graphic novel specialists. (Make a kids and YA Edelweiss catalog, Diamond Books!) So I took the chance to make the rounds and ask all my questions, which was great!
While there's certainly less book discovery at the show now, I still always leave with my thoughts focused around at least one book that I really want to tell people about, and this year, that was the remarkable Pet by Akwaeke Emezi. Set in the near future, Emezi depicts the utopian aftermath of a righteous revolution in which a group of legendary "angels" has rooted out the "monsters" of society and eliminated evil wherever it lurked—in government, law enforcement, or behind closed doors at home. Now, in the idyllic enclave of Lucille, residents rest easy, secure in the knowledge that the monsters are forever gone and everything has changed.
Although Jam has been told the story of her city's salvation all her life, she's always wanted to know more. But in its post-revolutionary recovery, Lucille's adults live almost defiantly in the now, digging no further into their past than their mythology allows. Then a ferocious, feathered creature from within one of her mother's paintings bursts out of its frame, and Jam suddenly confronts the monstrous contours of myth in the flesh. No domesticated companion, the titular Pet crosses into our world with one shocking purpose: to hunt a monster hiding in Lucille.
I had the privilege of attending a breakfast event to launch the new Make Me a World imprint from Christopher Myers, for which Pet is an inaugural title. At the event, Akwaeke Emezi talked about writing a novel that exists in the excruciating window before people decide that something terrible really matters enough to acknowledge. In Jam's world, it's the adults who aren't ready to see the problem, or the "monster," among them. But that makes it no less terrifying and no less important to name.
One of the things I particularly love about this slim 203-page novel is that Emezi has the confidence to eschew explanation almost entirely, a quality beautifully passed on to Jam. A transgender girl whose identity is strongly affirmed by her safe, supportive community, Jam has grown up in a nurturing, protective world—albeit one still recovering from trauma in its past. Preferring to sign most of the time and only "Voicing" when provoked by urgent need or emotion, Jam's communication style is presented simply as her own, just as her mother's artistic furies are hers. Whether this leads Jam to see what others can't isn't exactly spelled out, which works well in a book that centers suggestion and exploration over exposition.
As he talked about his new imprint, Myers held up a shiny, metallic feather that he and Emezi had found together years ago: a single feather that presented a tantalizing "what if?" I liked that moment because it feels to me like this story offers a similarly small yet riveting glimpse into a very particular "what if?" All of us who read a lot of YA see many books a year (including plenty of good ones) that offer variations on a familiar theme, but Pet defied everything I thought I expected from a YA read. Slightly experimental and unapologetically itself, this is the boldest, most interesting novel I've read for the fall. It's also one that will stick in my mind for a very long time.