Rotating through Austin's big cities, Texas Library Association likes to spread the wealth, so its annual conference only comes to Austin every four years. That means TLA
has only been to Austin a handful of times since I've worked at BookPeople. I don't know if I just don't remember how busy it was the first couple of times or whether our programs have just grown to the point where we can accommodate most of the proposals that come our way, but now when TLA descends on Austin, it unleashes a literary whirlwind that makes the city seem like the nexus of the kidlit universe for a brief, glorious moment.

Helping facilitate 16 children's book events in 7 days with talents such as Alice Kuipers, Ann Braden, Dan Santat, Rhett Miller, Kate DiCamillo, Chris Van Dusen, Ashley Poston, Kathleen Glasgow, Tom Angleberger, Andrea Beaty, Raúl the Third, Adam Gidwitz, and David Bowles, we've certainly had our hands full. A schedule this complicated never goes off without a hitch of some kind, but although Tom Angleberger's flight cancellation caused him to miss his school event, he made sure we got signed bookplates once he arrived so the kids still get something special to take home. Never underestimate the power of a bookplate in a pinch!
We split up hosting the school events among different members of our team, but I personally had the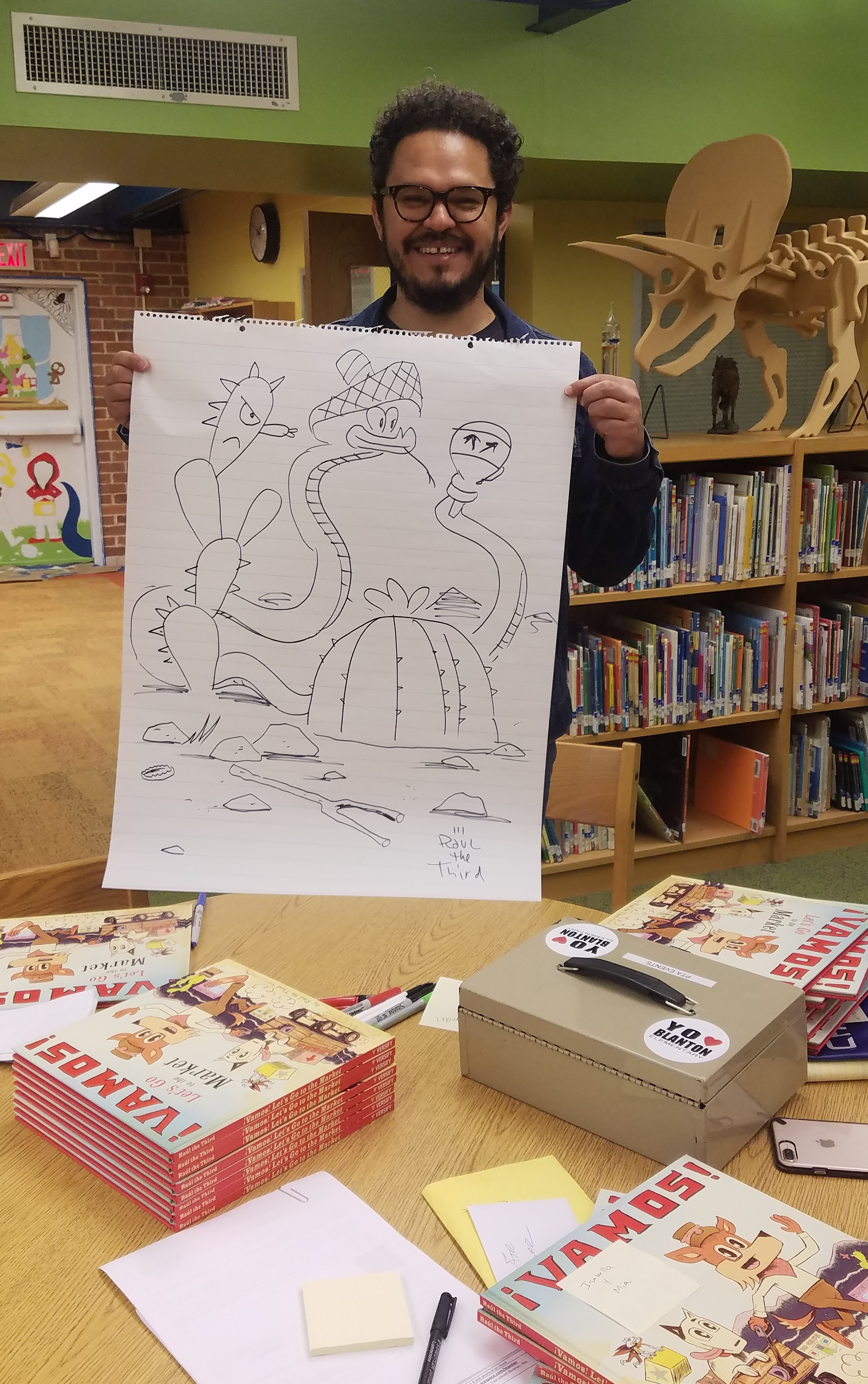 pleasure of joining Raúl the Third on the road. Although I don't get to spend the day at school events as often as I'd like anymore, they are honestly my very favorite kind of events to attend because of the unexpected moments of discovery and connection that always seem to bubble to the surface. From a teacher who instantly recognized the mountains of El Paso in the background of
¡Vamos! Let's Go to the Market
to another whose grandmother used to carry blocks of ice on her back just like the iceman in the Mercado, I loved seeing the small details that resonated with readers from within this vibrant celebration of commerce and community.
It was also fun to see the kids respond to Raúl's drawing demos and encouragement to take inspiration from everything they see, even if it's just what they can find on the ground. Plus, he revealed a handy pro secret. If you accidentally make a picture that seems kinda boring, don't throw it away. Take that boring cat, dull dog, or bland bunch of rocks and just add spikes! Spikes: not just for cacti anymore!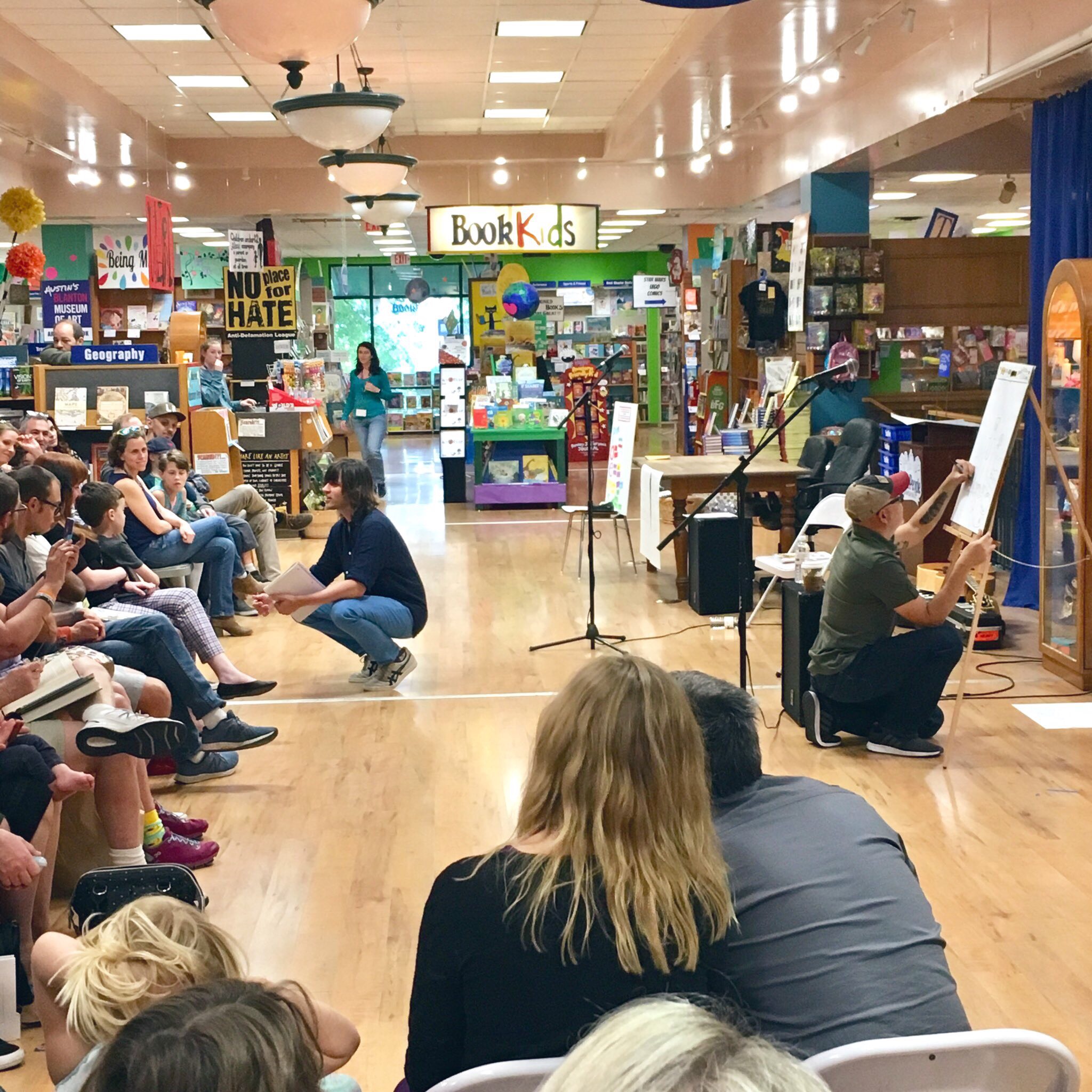 Our instore events have been just as fun this week. I was unfortunately unable to attend the Dan Santat, Rhett Miller evening event for 
No More Poems
, but I heard that they were a riot, with Dan and Rhett drawing and composing poetry (respectively) off the cuff, with input from the audience. I guess the highlight was a hilarious extemporaneous poem entitled  "My Lawn Is Gone. Thanks, Aliens!"
The next evening, I brought my own kids and two nieces to the Mercy Watson pig-a-palooza  I anticipated
in my blog last week
. It was my four-year-old's first author event that he actively cared about before walking in. He can't get enough of the Mercy Watson series right now, reading them all over the house, stashing them in the car, and popping around corners to ask probing questions about Francine Poulet's motivations at odd, unexpected moments. So I was excited to see what he thought of the event.
He did not want to get close to the giant Mercy Watson (although his awestruck cousin had no such qualms), and he did get a little wiggly at times. But he was mesmerized by the read-aloud and absolutely loved when Chris taught Kate how to sketch the character of Eugenia, with frown, wrinkles, angry brows and all. "Why is she always so mad?" he asked breathlessly.  On the way home I asked him if he liked the new book. He said yes. I asked if he liked when they made the funny drawings. He nodded enthusiastically. Then he paused for a long beat and murmured pensively while staring out the window: "I liked all the words too." I don't know about you, but that counts as a home run to me.
On a personal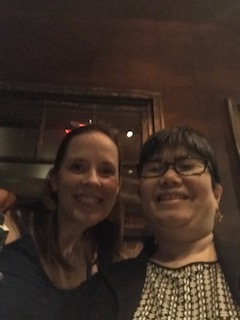 note, TLA also brings industry friends to town that we don't see often enough. On Monday I was lucky enough to kick off the week with a wonderful dinner with my friend and former boss, Crown publisher Phoebe Yeh, a couple of librarians, and author Nic Stone, from whom we got to hear a a few tantalizing details about upcoming projects. Of course Phoebe and I also had to take a (very dark) selfie to commemorate the moment. Thanks so much to all the authors, illustrators, and publishing folk who stopped by the store to browse, left us notes, or signed stock. We've loved having you here. Come back anytime, y'all!
(Yeah, no. Fourteen years isn't long enough. I still can't pull off that y'all. Maybe by the time TLA comes back to town…)