I posted a couple of weeks ago about the intricacies of planning our school events. But as necessary as all those logistics are, they aren't the fun part. The best part about going to school visits is seeing all the creative activities the host schools think up to build enthusiasm and make each author's visit memorable. Last week librarian Erin Bartley and her students at Grandview Hills Elementary greeted Matthew Gray Gubler for his very first day of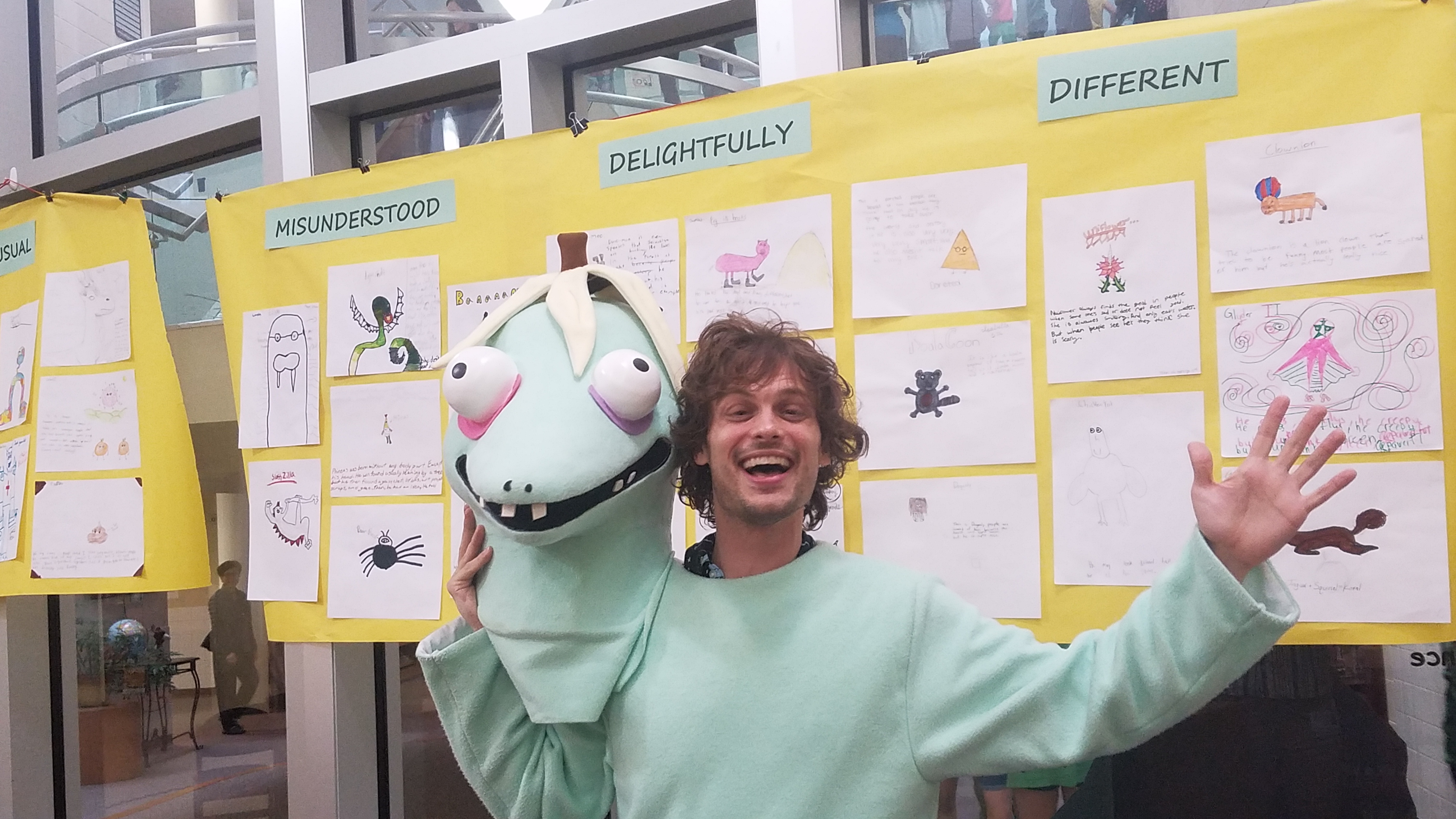 school visits with this awesome gallery of "misunderstood, delightfully different friends of Rumple," which was such a charming way to celebrate this lovably strange character. That kind of pre-event effort makes a huge difference. Those kids marched into that event (many with banana peels on their heads) completely amped up to hear more about Rumple Buttercup.
When we host public events, we don't have that kind of time with our audience in advance, so we have to take a slightly different tack. Of course the attendees for our events are 100% self selected, which helps. But if I'm honest, I've seen more than one event lose its audience over the years, despite the author's best efforts—especially for the picture book crowd. The savage truth is that little kids love books, but they are also demanding and fickle, and they aren't always excited by PowerPoint. Evening events can be especially tricky at the tail ends of long, active days. That's why as bookstore hosts, it's our job to infuse events with our own enthusiasm to help them succeed. Today, with a number of awesome events on the horizon, we took some time to prepare ourselves for the impending fun!

In the next weeks, we've got a trio of powerhouse picture book events on the calendar with the likes of Dan Santat & Rhett Miller, Kate DiCamillo & Chris Van Dusen, and Adam Rubin. These seasoned authors know exactly what they are doing in front of a crowd. But, the bigger the names, the earlier the crowds arrive, which means even more time for wiggles to set in. That's why we often offer added elements to help entertain wandering attention spans while everyone waits for the show.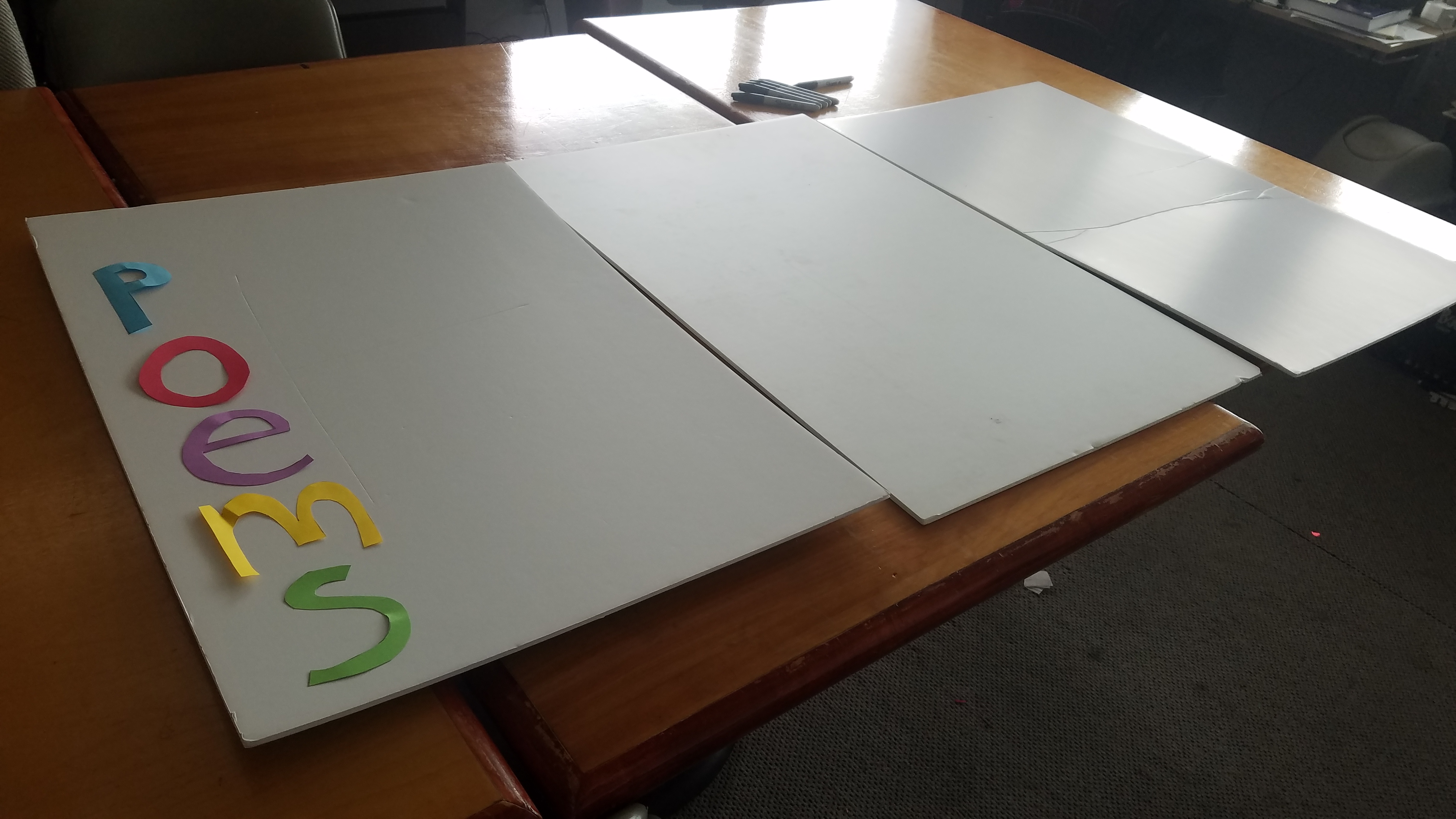 First up on Monday, Santat & Miller will be presenting the hilarious
NO MORE POEMS!
which is, of course, filled with nothing BUT wildly funny, irreverent poems. The event itself promises to be oodles of fun. Rhett Miller is bringing his guitar and Dan Santat is one of the most entertaining presenters on the circuit. But it is poetry month, so we thought it would be cool to get kids in on the action as they arrive with a semi-acrostic poetry invitation. Kids can grab some prompt words from a basket and assemble them into something new or come up with their own on a sheet of paper to tack to the board either before or after the presentation. Sometimes idle hands just need a little something to work on—although writing instruments bring perils of their own. (I speak as a mortified parent who watched her child distractedly draw all over his own face with marker in the front row of an semi-recent event.)
The very next night, we're hosting the dazzling duo of DiCamillo and Van Dusen. We've obviously been building excitement for weeks. A special guest recently popped into the window of our large barn display in the picture book room has seen to preview her imminent arrival (live and in costume) at the event next week. Obviously, the costume will do more than enough to dazzle the crowd during the pre-event window, but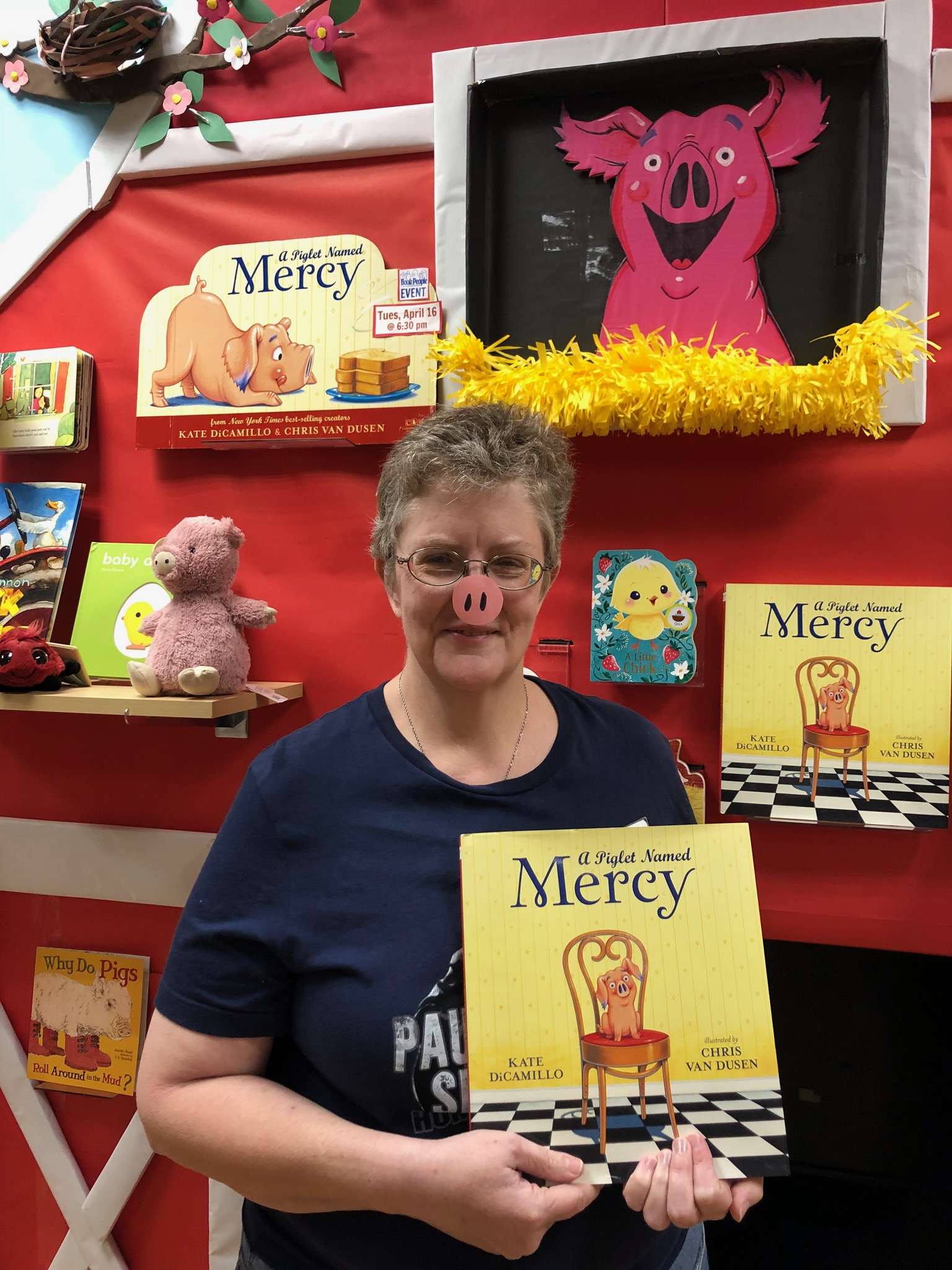 it's going to be the pig snouts on all the darling porcine wonders in attendance that will turn this into a true pig-a-palooza. Honestly, give a kid (or a bookseller) some character ears, a snout, or a necklace, and you're already halfway to an awesome time.
Later this month, our event with Adam Rubin for
High Five
 offers an opportunity of a different kind, with hand slaps for all and maybe even a wild and crazy contest! Since high fiving really builds an appetite, our kids events coordinator Eugenia Vela has been working to secure sustenance for the morning event (hint: not only dragons love tacos) while the rest of us get our high fiving muscles into shape.
A delicate blend of style, aim, slap volume, and the element of surprise, the science of hand slapology isn't really about brawn. It will take a team that can truly take their high fives to the next level to win it all. Take a look at round one of our high five challenge. Cassie the gifts buyer and CEO Elizabeth Jordan take on children's booksellers Staci Gray, Merrilee Wilkerson (and interloper Natasha Ford). May the best team win!