When I tell the untutored that I'm heading to Toy Fair in New York, their faces turn young and wonderstruck. "TOY FAIR?!" they say. You can hear the seven-year-old toy fanatic who lurks inside us all. It's hard to burst their bubbles and tell them that, while this giant annual exhibit at the Javits Center is indeed filled to the rafters (literally) with toys, the convention itself is all business.
In order to get through the door, buyers have to provide two pieces of personal identification proving they work for their stores, along with three invoices totaling $1,000+ each for past toy purchases from various companies (not easy for smaller stores to provide). Not only aren't children allowed into Toy Fair—admittedly, that could lead to meltdowns of epic proportions—but spouses aren't welcome, either. Everyone who attends must be an exhibitor, an official buyer, or press. It's pretty wild.
I've only gone to Toy Fair a few times; we're a bookstore with some toys, not a toy store with books, and we see toy reps in our state. But every several years, it's great to hit the convention, both to take advantage of extra discounts or freight breaks offered at the show and to discover new items to bring to our customers. The latter is the most fun, and it's how I spend most of my time at the Javits—prowling the aisles for something unique that catches my eye.
You have to be careful, though, because even the tiniest sidelong glance at an item in a booth brings a salesperson leaping to greet you. The experienced ones have learned not to take any breaths at all while they show you new products; any gap might allow a buyer to extricate herself. I only slow down near booths I absolutely know I want to visit, because every interaction is at least a guaranteed 20 minutes. (On the flip side of that was a busy booth in which the sales rep actually pushed us aside without a word as she led a group of buyers over to the corner where we were looking at metal construction games. Um.)
We found some great things.
BlueOrange had a craft that I haven't seen before, Creagami. These folded-paper sculpture kits have hundreds of paper pieces that turn into beautiful 3-D butterflies, dragons, etc. It's hard to see from this photo, but they look very cool!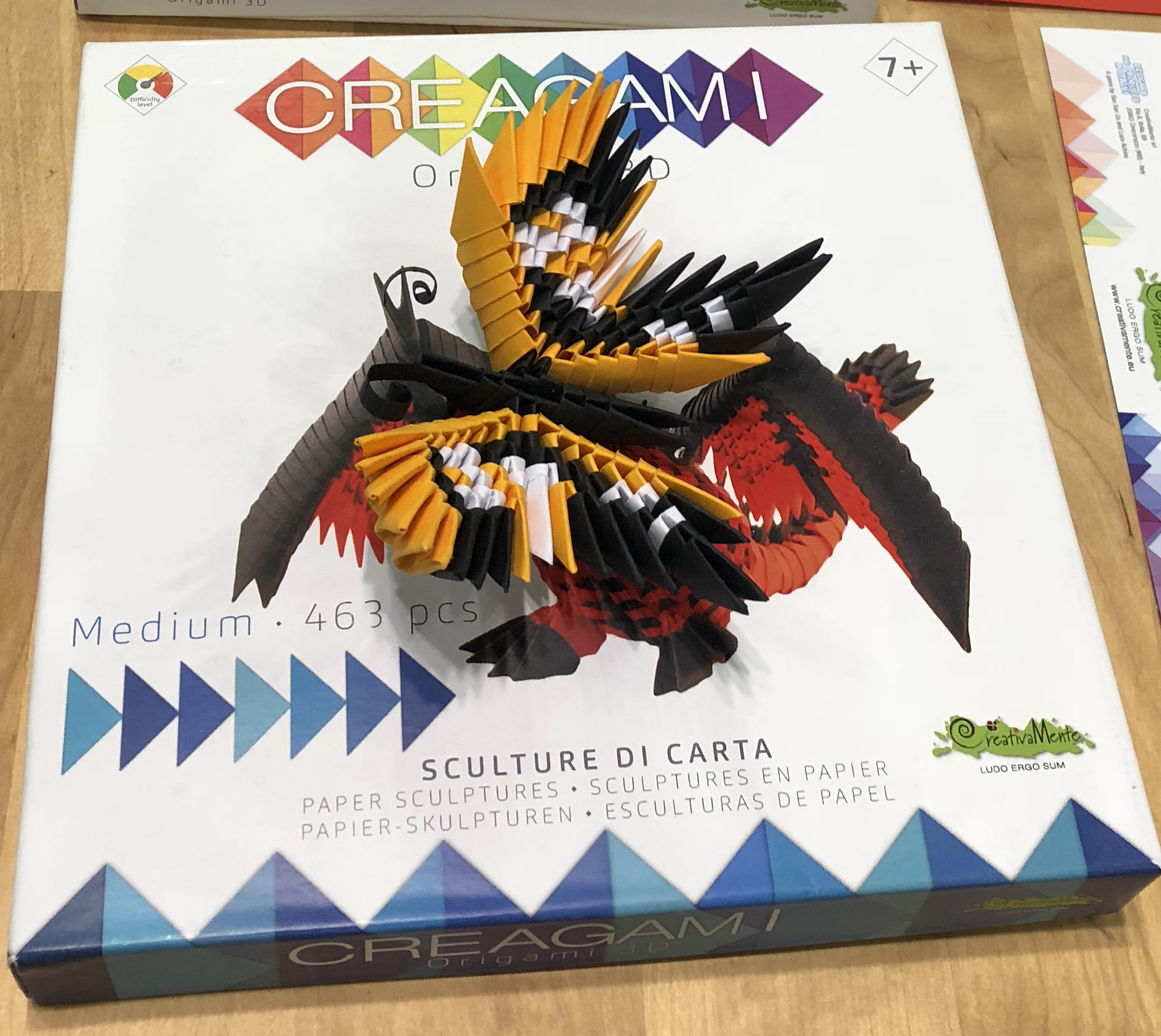 We were delighted to see these dolls from
Orijin Bees
featuring girls with a variety of skin colors ranging from tan to deep brown, with fabulous hair for kids to style.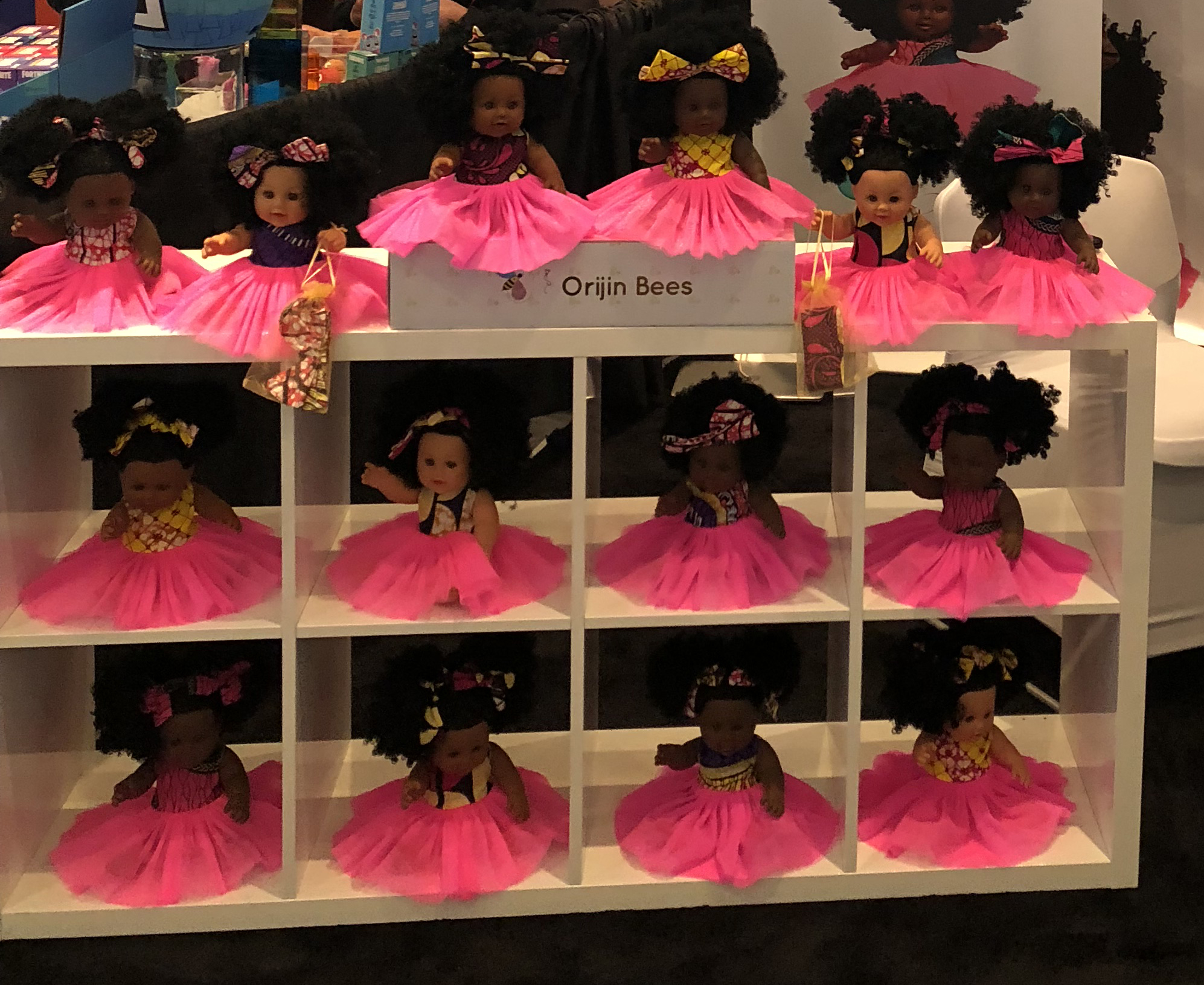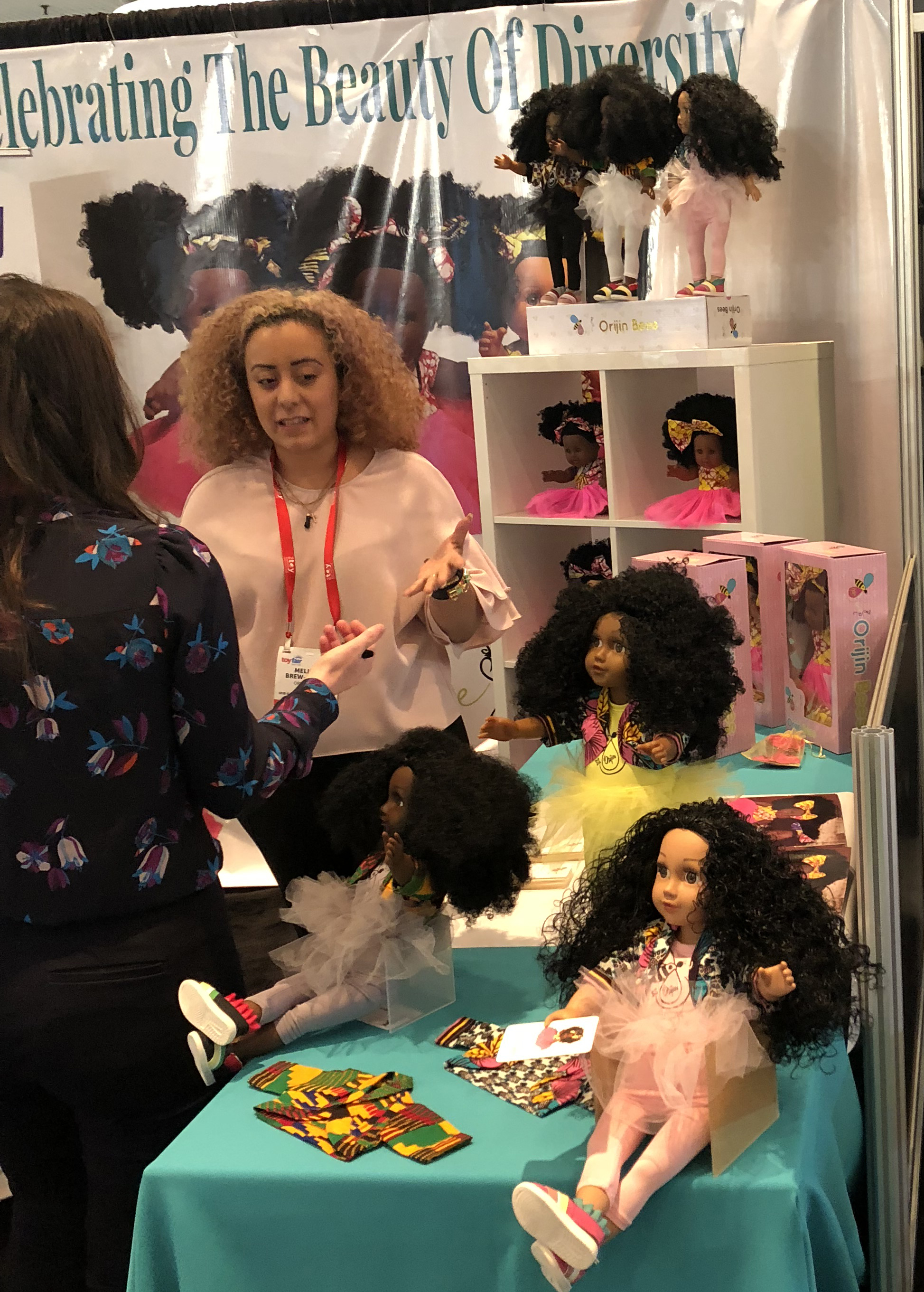 "Any boy dolls?" we asked. The saleswoman assured us they are in development. We will be telling our toy store colleagues who sell dolls about Orijin Bees.
We saw some gorgeous editions of classic games, high-end luxury versions of Monopoly and Clue. My favorite was the Clue set with actual miniature 3-D rooms under the lucite playing board: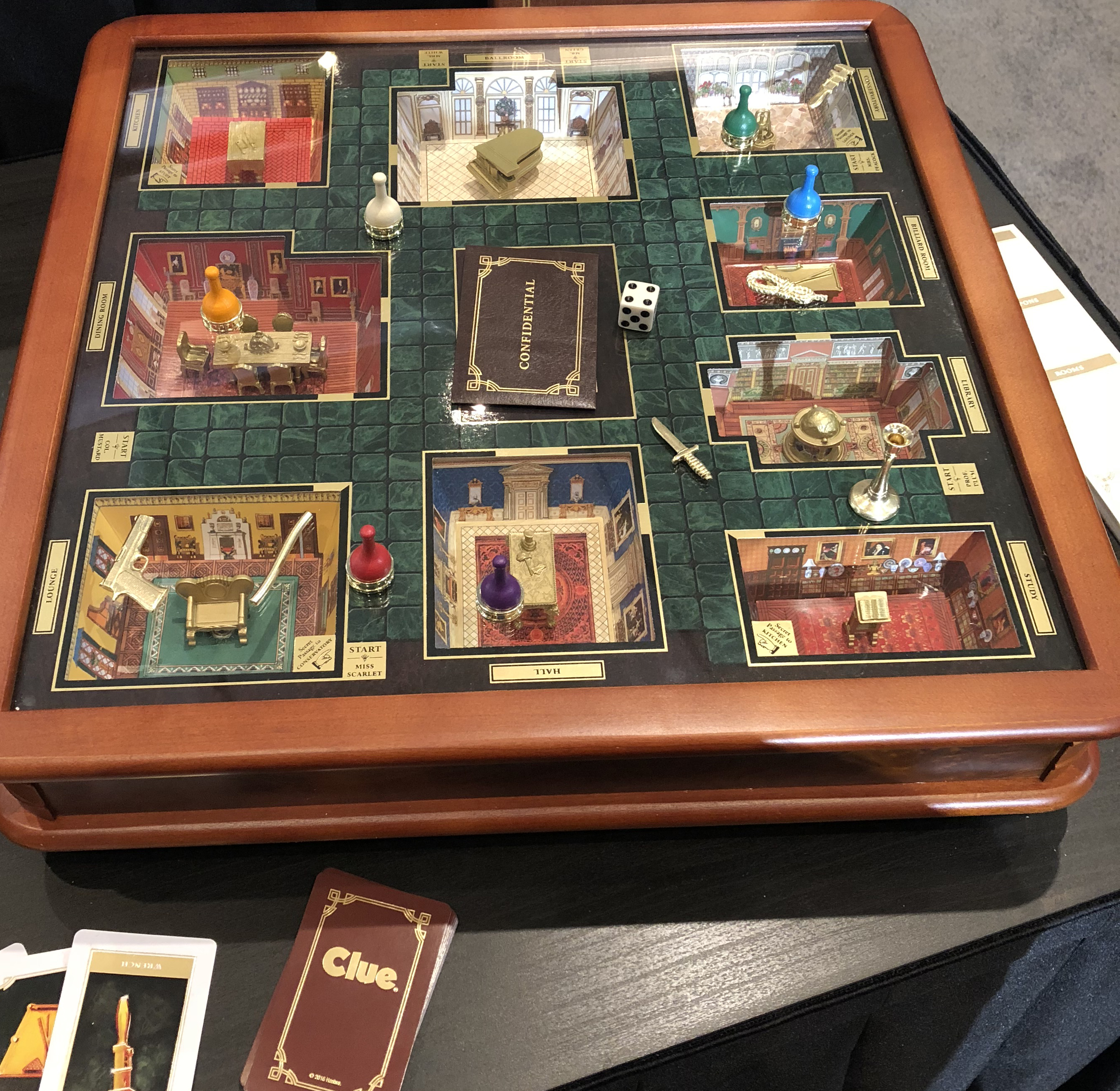 Our market won't support those super-fancy deluxe versions, but the
WS Game Company
 has many appealing items, including their Vintage Bookshelf line featuring classic games that fit into linen boxes that look like books: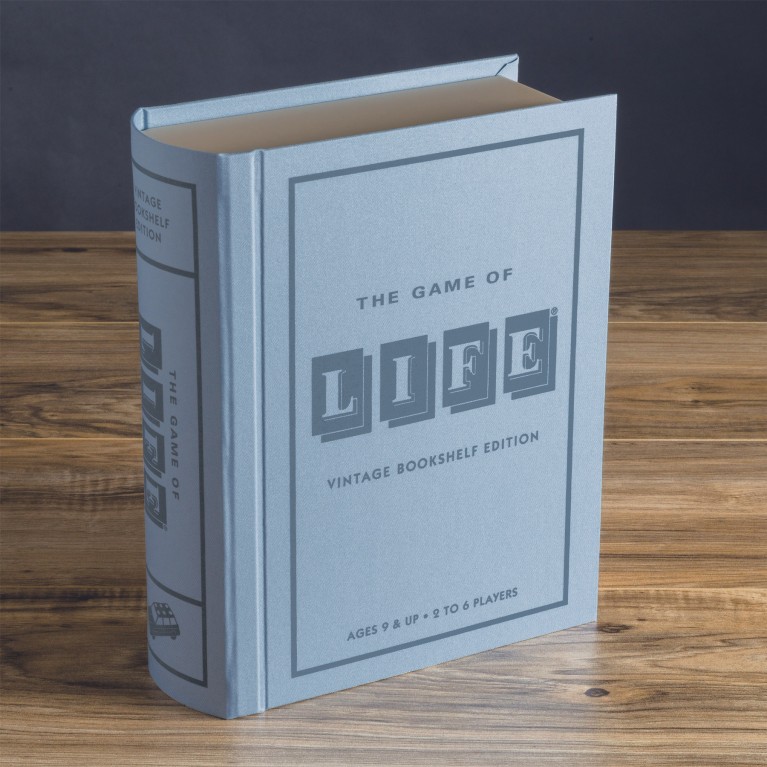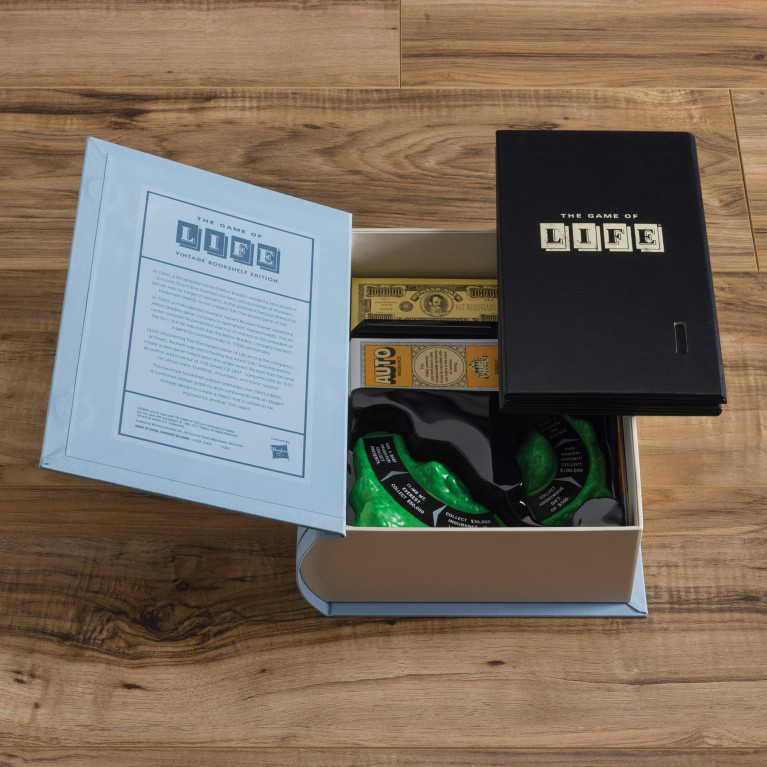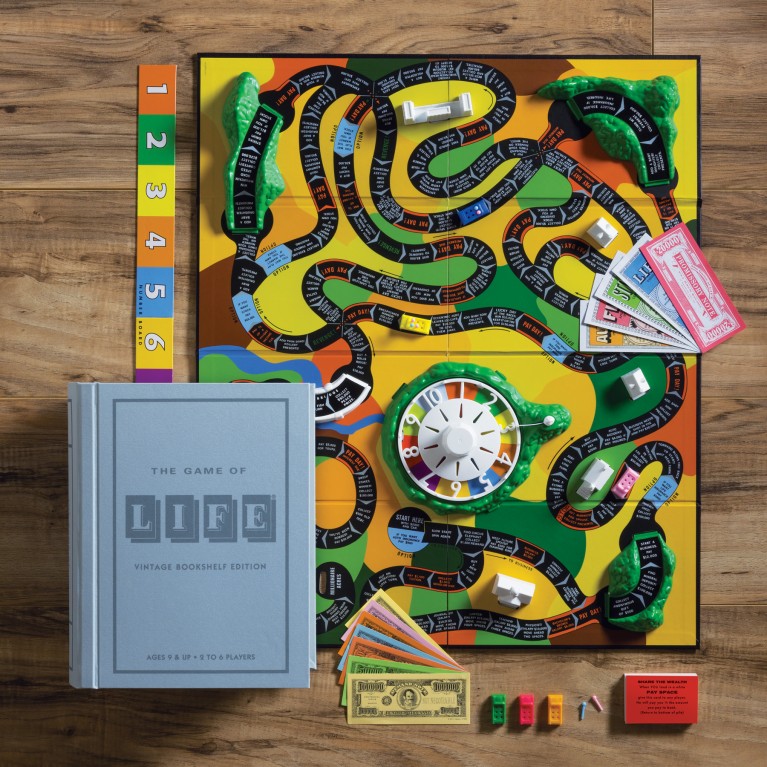 Our old friends Eeboo have some great new puzzles, including
Votes for Women
, featuring 40 women's rights activists and
Goddesses, Warriors, Deities, and Heroines from Around the World
: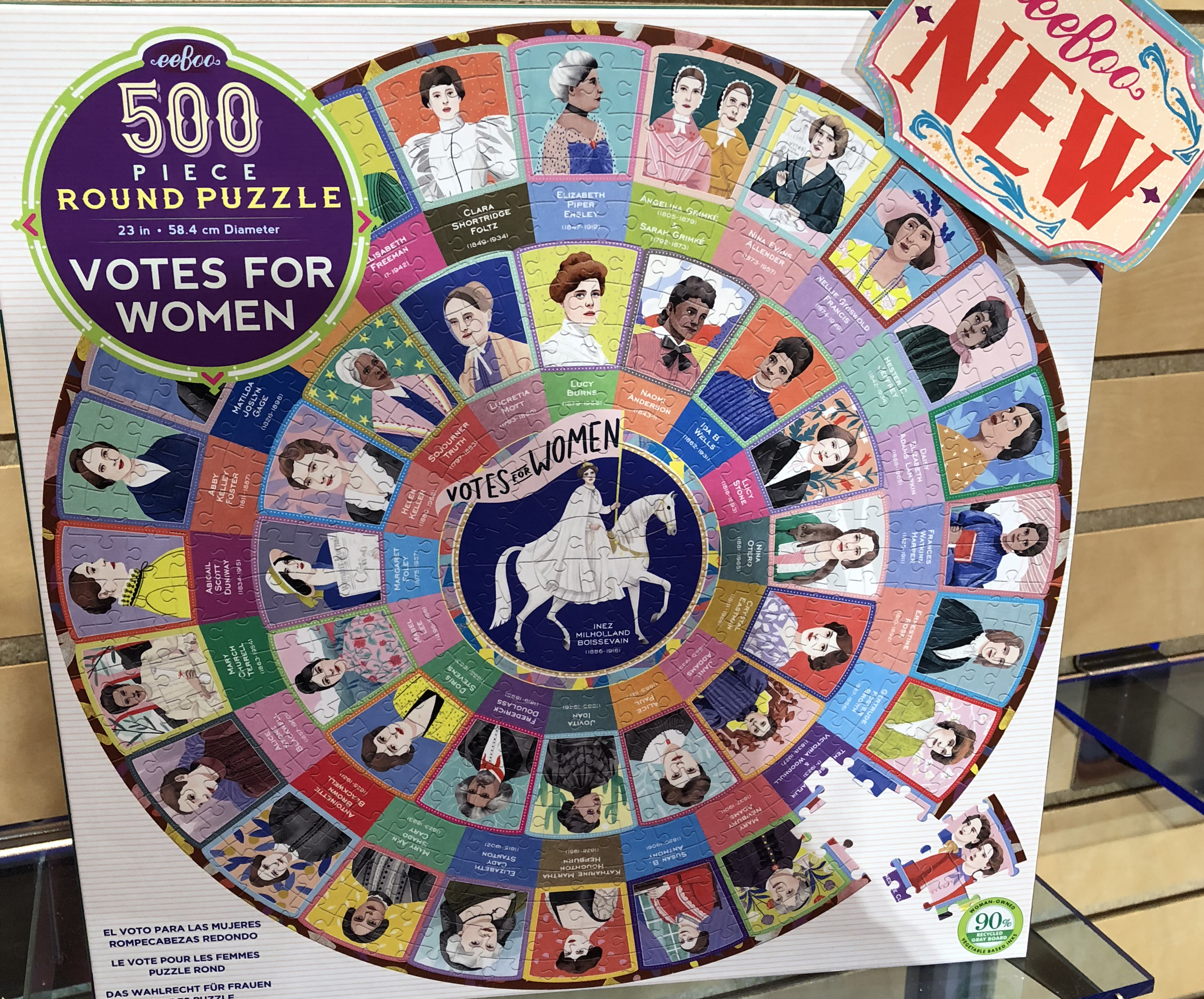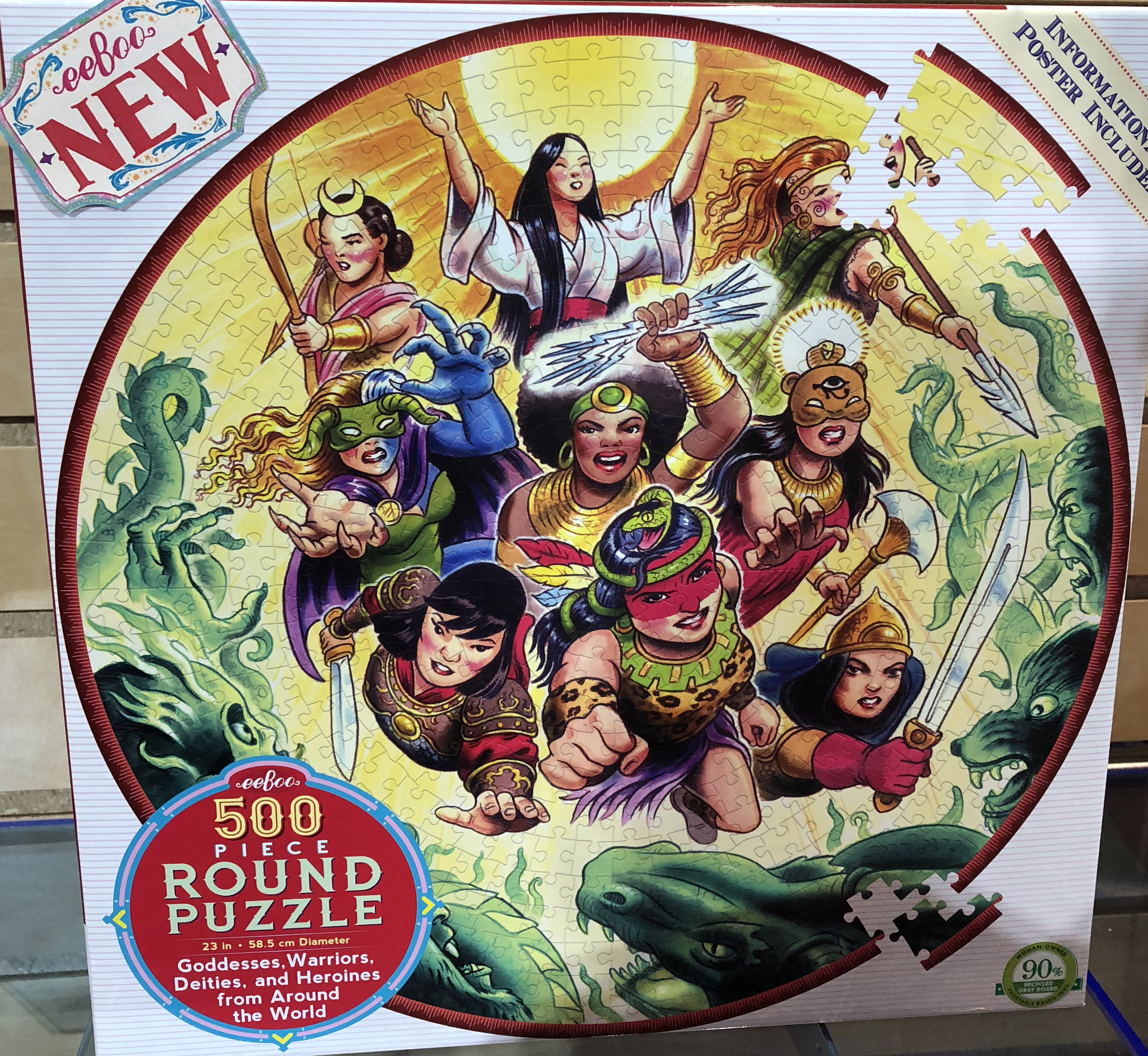 And, irresistible to booksellers, a puzzle featuring 100 great words.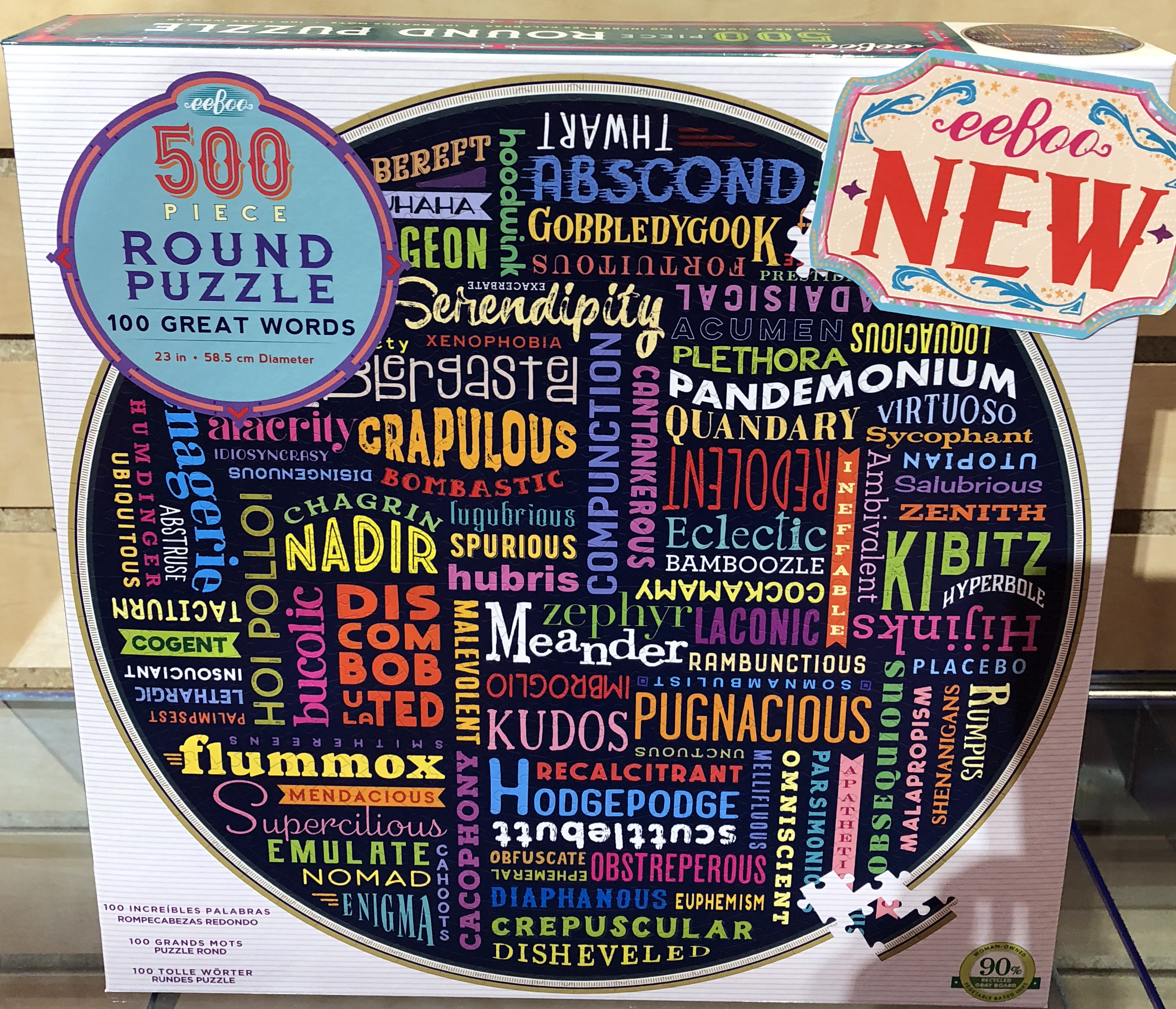 All of these puzzles have posters with more information on them—a nice bonus. They also have a great new line of board books coming out, featuring art by Joost Elffers.
Finally, we saw a beautiful line of shaped puzzles from a great little company out of the UK called Floss & Rock. They're about three years old, and their design aesthetic is great! This photo doesn't do justice to them, but they pop off the shelf. And the shaped puzzles are not only in shaped boxes, but assemble in shapes! For example, the unicorn Fantasy puzzle is shaped like a butterfly when assembled, the Zoo puzzle ends up shaped like a leaf, and so on. I can't wait to bring these in.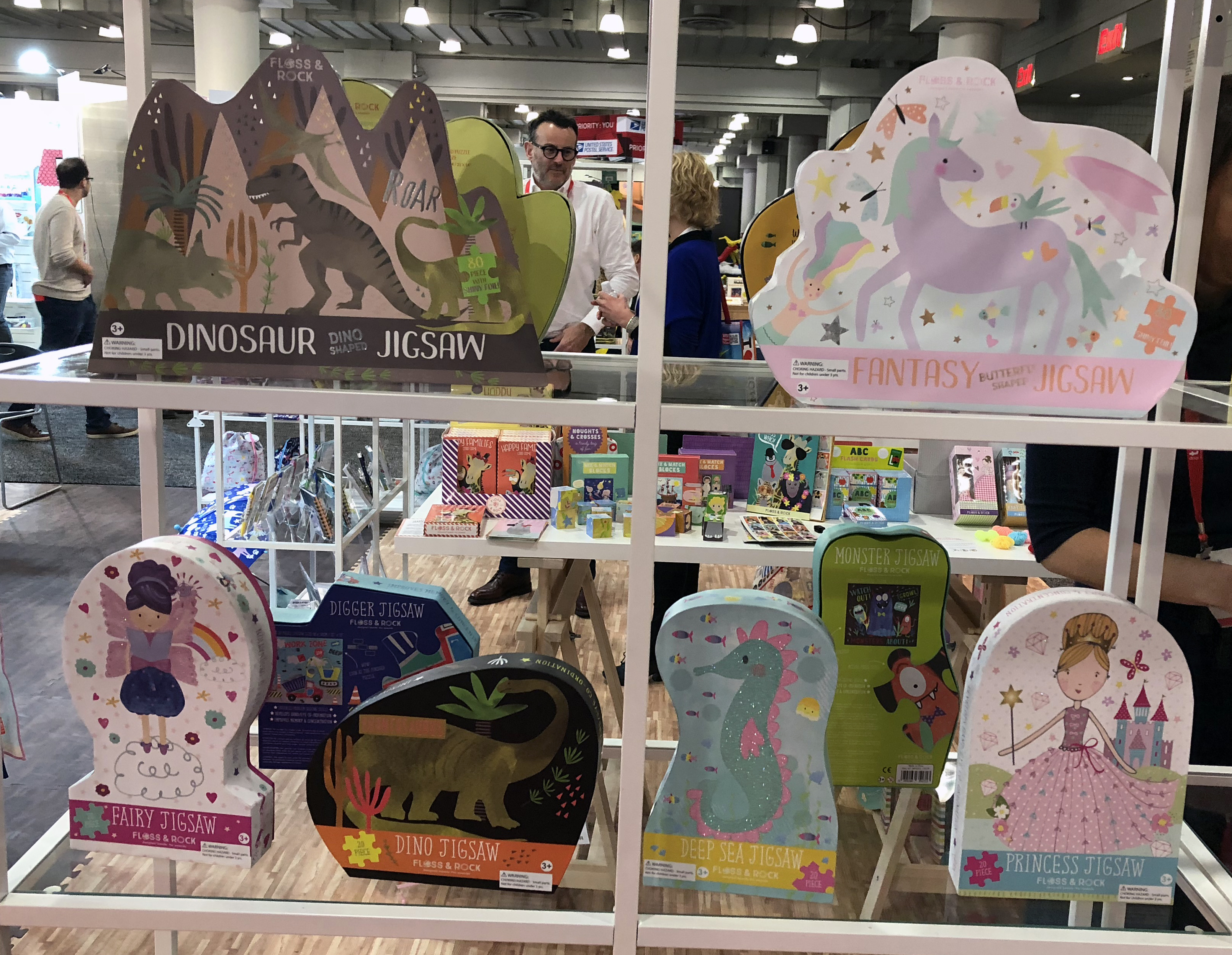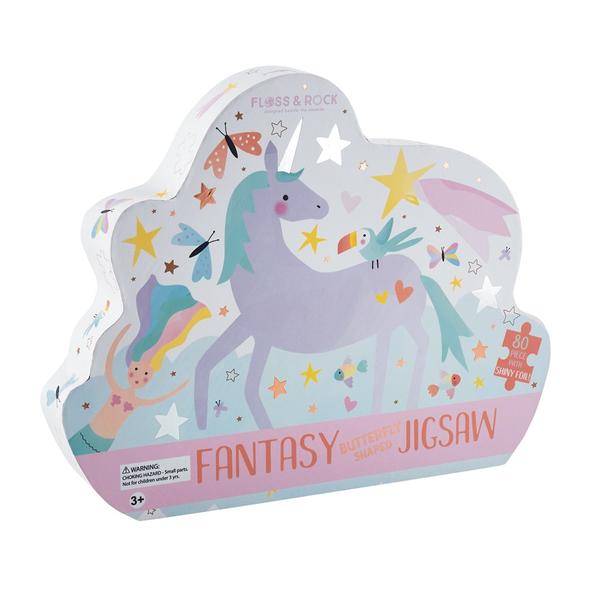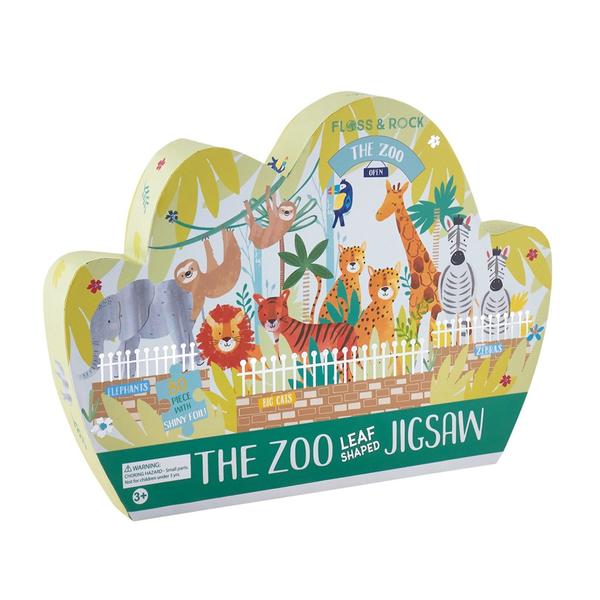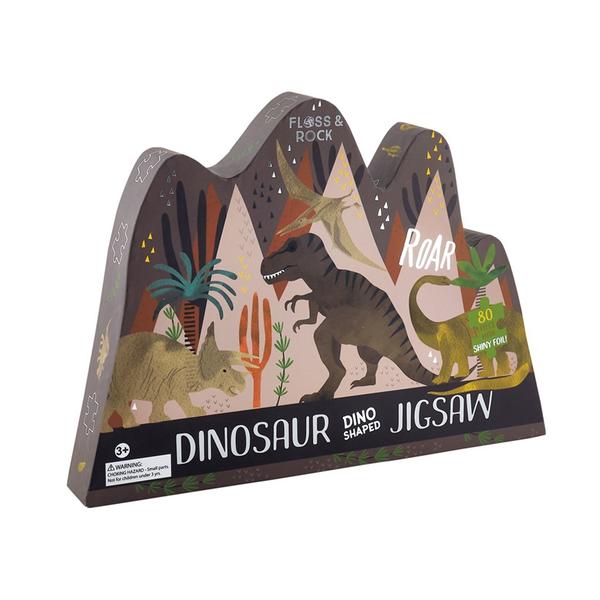 More than the new items we found, we enjoyed meeting the folks in the booths. Some of those interactions turned out to be a highlight of the show! At the Duncan booth, we met Bryan Jardin, a seven-time national champion yo-yo competitor, and one of the top five yo-yo masters in the world! His artistry and skill are unbelievable! Here's a snippet:
And
here he is on Wonderama
a couple of years ago, where you can see him in action for longer: http://www.wonderamatv.com/bryan-jardin-yo-yo-champion/
Not only was Bryan an incredible yo-yo-er (yo-yo-ist?), but he was incredibly helpful pointing us in the direction of the best yo-yos to try out at the bookstore. There's even a model for the littlest folks that has an auto-return mechanism (!).
Our other favorite salesman was the guy at the Project Genius booth. That booth had lured us in with its gorgeous Constantin puzzles: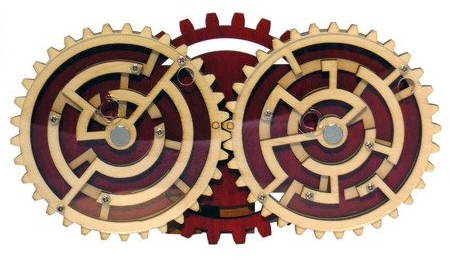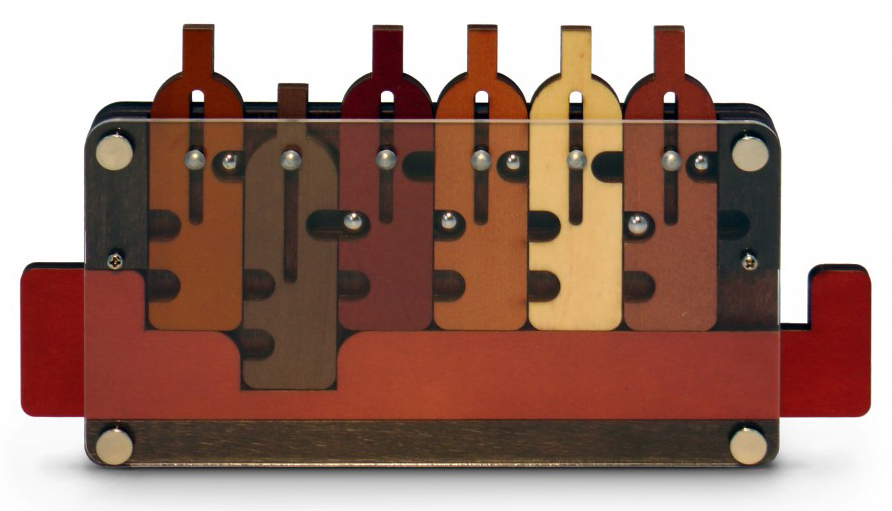 but it was Jesse who really wowed us. In about 30 seconds, it was clear he was not only a puzzle whiz, but a fun and brainy guy. After showing us some appealing wooden transport puzzles:
he explained that their increasing level of difficulty "grows with the number of pieces in each puzzle, along with the obscurity of the vessel ship." The Obscurity of the Vessel Ship! That's going to be the name of my next steampunk band. Jesse led us around the booth, sharing one intriguing puzzle toy after another. My bookstore cohort solved an extremely difficult puzzle in which players have to get everything you see below out of the narrow-necked bottle without smashing the glass:

After placing our order, we asked Jesse what he did for work when he wasn't at the Javits Center helping out his pals at Project Genius. He said he was a PhD student graduating in May, working on cell biology in cancer research. I have to say, it was gratifying to know that that brain was being applied to something so important.
Toy Fair was exhausting, overwhelming, and overstimulating, and as usual, I only covered a fraction of it in my single-day trip. But I'm coming home with some great additions to the store, and even better, I feel more hopeful about the world because of people like Bryan and Jesse.