The books and swag we ship back to ourselves from Winter Institute are time capsules of a sort. We experience the conference, packing up the books we pick up at author dinners and receptions in the shipping area as we go. The conference ages in our thought in normal time only to be reset suddenly when those shipped boxes reappear.
This phenomenon was particularly marked for those of us on the northeast this year given that the shipments were coming from Albuquerque. Truth to say they arrived last week and I had intended this post for last Thursday; however, a
time-sensitive topic
of importance was unfolding and I put this post off until today. That was unfortunate for two reasons. First, putting off a post which is literally about the interrelated flow of experiences over time exposes one to dark irony. Second, I am home this afternoon with a rare head cold and the Brechner brain is operating at around 5% of normal capacity. A terrifying thought, I know, but let's not dwell on that.
One of my main missions at the Author Cocktail Reception and other author dinners was to get signed copies of books that would make great gifts for my much appreciated staff, whose diligence while I was away allowed me to be at the conference in the first place. My fabulous assistant manager Karin has a seventh grade son Evan who spends a lot of time at the store. Evan is a great kid, an aspiring cartoonist with a big, non-standard-issue, personality. Jerry Craft's
New Kid
, with its seventh grade protagonist, an aspiring artist sent by his parents not to an art school, but to an academically focused, ritzy private school where he was one of the only students of color, seemed perfect for Evan.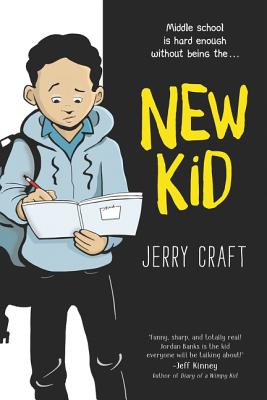 Jerry came across as a terrific guy at the reception and a quick perusal of the book gave every indication that it was the goods. When I pulled it from the box and had a real chance to read it I was even more impressed. It has so much depth to go along with its engaging visual interplay, tight pacing, and humor. Its nuanced handling of tensions between aspects of individuality and race are truly poignant and thought-provoking. Though the elite, mostly white private school setting which
New Kid
shares with YA books such as
Dear Martin
and
The Hate U Give
is a far cry from Mt. Blue Middle School in terms of class issues, the similar racial homogeneity of a rural Maine school district makes the book's compelling treatment of race, alienation, misunderstanding, personal growth, and friendship really important. Giving Evan his signed copy seemed like a triumph of post Institute gift giving to me.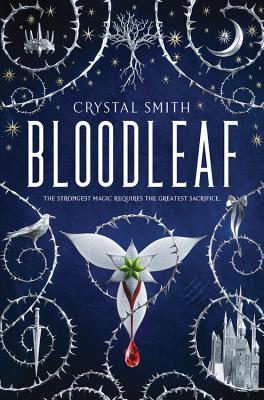 My quest to find Karin a suitable signed copy got off to an odd start as I was ambushed at the reception near the Houghton author tables by a cadre of booksellers and Houghton folks telling me I absolutely had to have Lori Gottlieb's new memoir,
Maybe You Should Talk to Someone
. My pal Monica Holmes from Hicklebee's told me that "I know it's about psychotherapy but it is so funny and moving, you have to read it." I was absolutely interested in the book at this point, but I couldn't see how this was an appropriate book to give Karin without an awkward explanation. I had Lori sign a copy for me and then, as I stepped back, was thrilled to notice that Crystal Smith, the author of
Bloodleaf
, was sitting next to Lori. I had read, loved and blurbed
, Bloodleaf
some months ago, and knew right away a signed copy was the perfect gift for Karin. I was very happy to see both books come out of the box.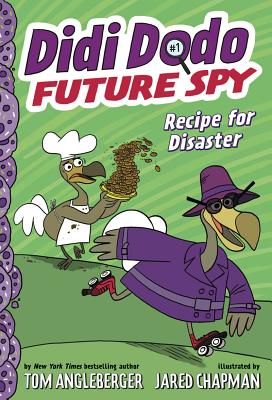 Two other signed books I was happy to pull out of the boxes were by Tom Angleberger. I really enjoyed talking to Tom at the Abrams dinner and while the merits of
Didi Dodo Future Spy
, and
Bach to the Rescue
are very large, it was a book which was not in the box that I reflected on most. While Aaron Curtis of Books and Books and I were chatting together with Tom it came to light that Tom and I were both big P.G. Wodehouse fans. Tom shared with us that he had actually written a middle grade book built loosely around the Drones Club, that notorious club for feckless young gentleman of which Bertie Wooster was a member. Apparently this book was the only manuscript of note that Tom had not been able to place. His agent and editor had both been nonplussed by it. This was an outrage. We were horrified to hear it, or at least I was actually horrified and Aaron was being polite. Nothing says Middle School like the Drones Club* and I had no doubt at all that Tom's book was Middle Grade gold. He agreed that a miscarriage of justice on a grand scale had indeed occurred and vowed to fish it off his hard drive and give it another go with his people. Huzzah!
My wife Nora came to Albuquerque this year as a guest. She is an assistant attorney general, not a bookseller, so this was a rare vacation. One book we were both happy to see come out of the boxes was
Nocturna
by Maya Motayne. Maya's infectious enthusiasm for her book, which was revealed during her amazing Indies Introduce reading, was equally engaging in person. Nora and I found, sitting together at the Harper dinner, that to chat with Maya was to want to read
Nocturna,
and here it was again, restored to us by the box!
If you had any favorite box books from this Winter Institute let us know in the comments!
* Paraphrase there of Megan Bannen's observation that "nothing says YA like Opera."