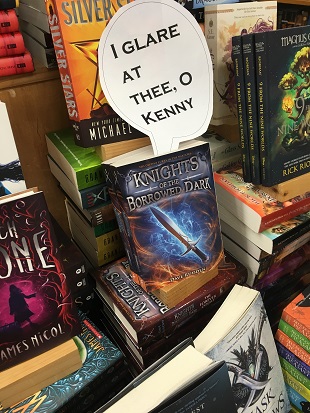 Day four here of the ShelfTalker week of last-minute book recommendations. We are indeed in that most interesting point in the holiday retail season: too late to order in more store stock, but with the five busiest days of the year still ahead. As weary travelers crossing an arid wasteland, having just used up the last of our food and water, and with five days of walking still remaining, we must now live off whatever excess fat is stored in our bodies.
As a buyer this time of simplicity (either it is on the shelf or it is not) is a source of both relief and existential terror. Mostly relief, though, if we've done a good job.
Bearing our current state in mind, as we think of last-minute suggestions, it behooves to consider good books we have on hand but have neglected to promote. Books, I mean to say, that are lying latent on our shelves that we can lift up into the front tier of the store's consciousness.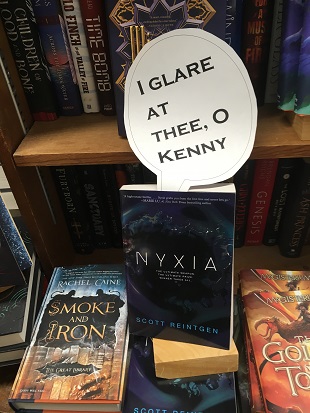 The first order of business is to walk the floor and look for a pile of books which fixes us with a glare of quiet rebuke. You promised me handselling attention and here I remain unremarked upon. Walking over to our fantasy table I encountered two such books. The Nyxia series is a sensational choice for kids looking for something in the "children battle to survive in a controlled environment regulated by evil adult corporate interests" genre. Exciting and socially relevant, this series is being penned by a middle school teacher who is writing for the kids in the back of the class.
Another book glaring at me was Knights of the Borrowed Dark. The story of an orphan born into a secret society unbeknownst to himself, it is wonderfully well written and nuanced. Why haven't I brought these books more front and center? I have no good answer but I do know that the time of their rising is now. Check your inventory!
Another area to think about is whether there are any books a good customer shared with you during the year that you ordered in on their recommendation, found them to be excellent, but then neglected to promote in the store.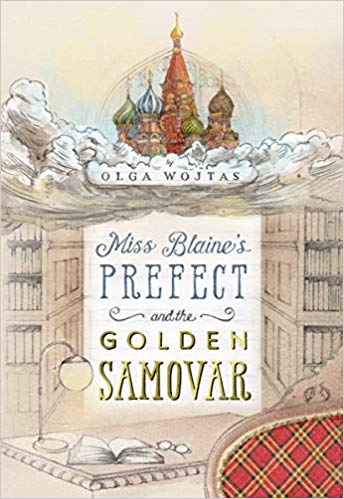 There are two of these I can share. Miss Blaine's Prefect and the Golden Samovar by Olga Wojtas, with its alluring cover and delightful tone, are just the thing for handselling. If you have any copies at hand get with the program. Second, if you have The Snooty Bookshop: Fifty Literary Postcards by Tom Gauld in stock, flip through it and then take the obvious course of action.
Now that we've covered these bases it is time to turn to two other departments: the best moment of special order discovery, and the easiest to answer customer question of the season.
A customer came in and hailed me. He spoke as follows.
"I was at the Homestead (restaurant) and this fellow was talking up a book that I now absolutely want to read. It was a new book about the fall of a corporation. A recent book. The author's name started with C."
"Hmmn. That may take me a minute. Who was the gentlemen who told you about the book?
"No idea. Just order if for me and let me know when it comes in."
"Will do. Thanks. "
A half hour later a customer comes in and marches up to the counter holding a book.
"I just want you to know that I brought this book in with me."
"Sure."
"I was reading it while I had lunch. "
"Can I see it a moment? "
"Sure. "
(The book is Bad Blood: Secrets and Lies in a Silicon Valley Startup by John Carreyrou)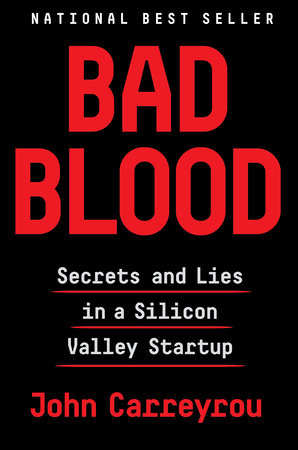 "Aha. Did you talk this book up to someone at the restaurant earlier today?"
"I did!"
"Thank you very much."
Finally, a customer who had moved to the area recently came up to me and asked a question I consider the easiest one to answer correctly I received this year.
"Should I be one of those people who call you Kenny? I'm going to be one of your best customers. "
"Well, everyone calls me Kenny, so I figure we're on safe ground."
Finish strong, everyone, and have fun!