Although the Christmas whirlwind is upon us, a group paused for a minute this week to welcome the author of an 2019 novel. We were lucky enough to sit down with Houston author and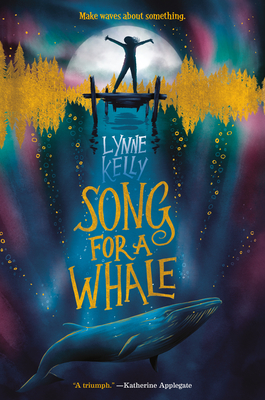 sign language interpreter, Lynne Kelly, to talk about her upcoming release, Song for a Whale. A radiant story about a Deaf girl who sets out to show an isolated whale that he's not alone, her novel was inspired by the plight of a real-life whale who sings at a much higher pitch than other whales.
To 12-year-old Iris, who has always felt separated from her hearing friends and family, that sort of loneliness feels all too familiar. So when she hears about the whale (named Blue 55) whose voice goes unrecognized by others of his kind, she feels a compulsion to help. What follows is a wildly hopeful quest to prove to Blue 55 he's not alone by sharing music composed to match his singular frequency. The thing is that Blue's heading for Alaska and Houston isn't exactly en route. But she finds an unexpected ally (and travel partner) in her Deaf grandmother who's looking to leap back into life after a tragedy. Before anyone can stop them, the two conspirators have headed north to make new friends, touch glaciers, rock some cruise ship karaoke, and find one very special whale.
Throughout it all, Iris's attempt to claim her place in the world as a Deaf person and forge a path not defined by her hearing parents or their fears feels incredibly poignant. While each of her relationships at home and at school reflects a different shade of the obstacles she faces in sharing her unfiltered self, Iris's relationship with her Deafness is her own and never defined by others. The culmination of her quest to find Blue may push past what's 100% realistic, but Song for a Whale offers no pat answers to Iris's questions about her identity or, really, to its scientific musings about Blue. In a book that celebrates both bold action and open-ended inquiry, that feels altogether appropriate. From Iris's experiments with music theory and acoustic biology to her best friend Wendell's astronomical explorations, Kelly offers an expansive vision of science as a fascinating and not entirely knowable pursuit—but one that's worth the effort nonetheless.
We have a very active and robust Deaf community in Austin,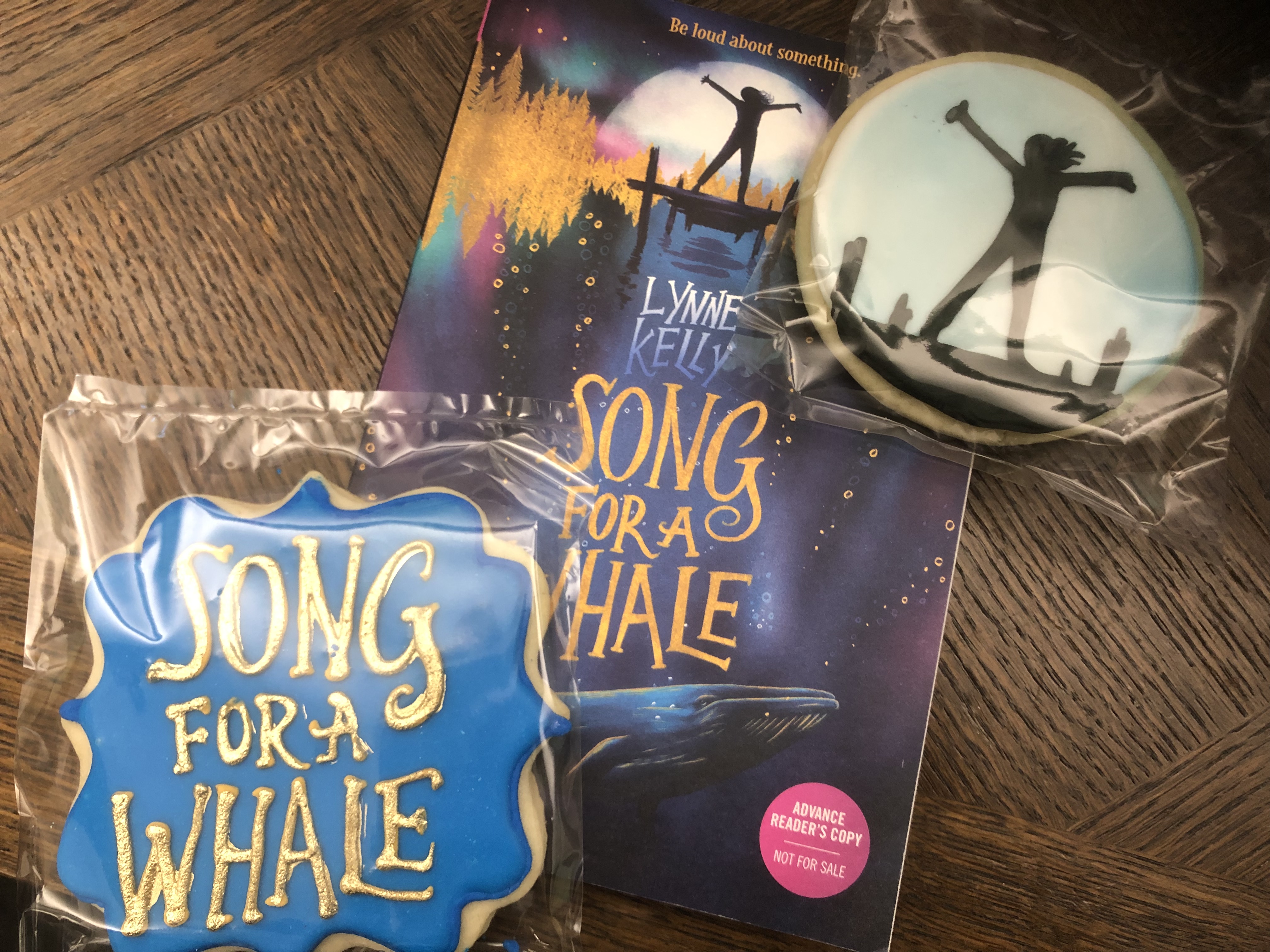 partly because of the highly respected Texas School for the Deaf, and I am thrilled to see another book with a strong Deaf main character. You know, we have done several author events there over the last few years with hired interpreters. But last year we took Karen Kane, a professional sign language interpreter and author of the mystery Charlie & Frog. She obviously could speak directly to them, and it was an entirely different event. It was so special for those kids to be able connect directly with an author about a book that starred a Deaf character and incorporated ASL into the plot. We have also started running the Texas School for the Deaf bookfairs, and they have expressed a desire to see as many books with Deaf characters and perspectives as possible. We are thrilled to be able add this book to their next list, along with all our other fairs. Lynne told us that many Deaf people never get beyond a 4th grade reading level, something that's entirely understandable when you think about the challenge of learning a language all by sight—which is all the more reason we need books that speak to the Deaf experience. I sincerely hope we see more in years to come.
While chatting about the book, the awesome phenomenon of Deaf karaoke (which was new to me), and the challenges of effective music interpretation, we pigged out on the beautiful cookies Lynne Kelly brought. But since there were way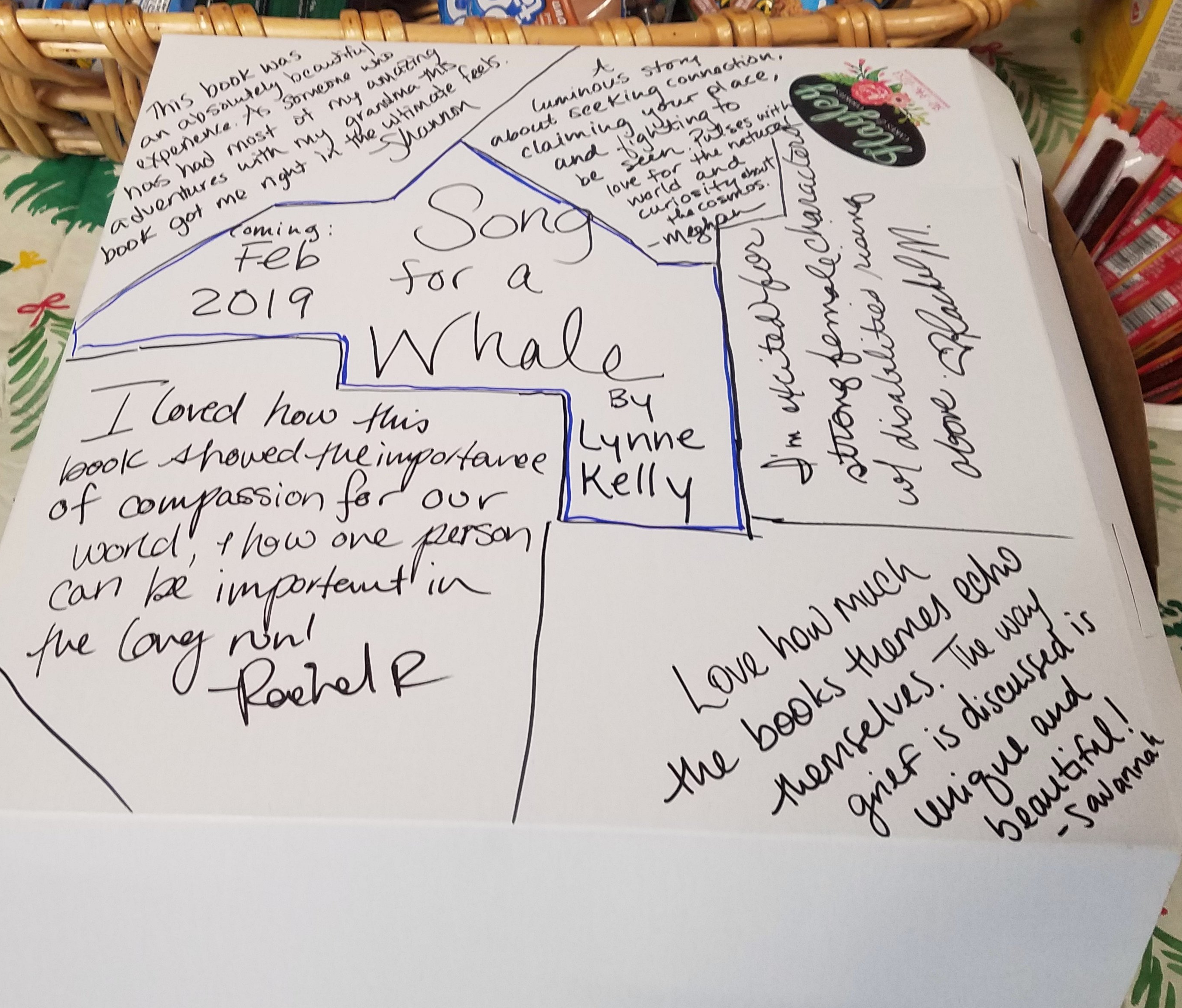 more than we could eat, we put our bookselling skills to work and added some book blurbs directly to the box to share with our hungry colleagues in the break room. Since our hasty scribbles are hard to read in the picture, here's what we had to say:
"This book was an absolutely beautiful experience. As someone who has had most of my amazing adventures with my grandma, this book got me right in the ultimate feels." – Shannon
"I loved how this book showed the importance of compassion for our world and how one person can be important in the long run." – Rachel R.
"I'm excited for strong female characters rising above." – Rachel M.
"Love how much the book's themes echo themselves. The way grief is discussed is unique and beautiful." – Savannah  
"A luminous story about seeking connection, claiming your place, and fighting to be seen. Pulses with love for the natural world and curiosity about the cosmos." –Meghan
Have you read Song for a Whale? What did you think?