As a retailer, I'm supposed to deck my halls for the holiday season pretty much the moment the first autumn leaf flutters to the ground. Fourth quarter makes or breaks our year as a business, so it's vital to attend to "the season." But as a human being, I dislike the relentless consumer madness our culture has created around the holidays. So I strike compromises at the store, reluctantly setting up a couple of low shelves with holiday books just after Halloween—people start asking for them in August and I'll bring them out from the back but cannot bring myself to create a display that early—and I also relent by setting out the holiday boxed cards in early November, putting two shelves of Hanukkah cards in the top spots because, even though we don't sell many, Christmas tends to drown out all the other seasonal holidays, and I'm striving for at least a little equity. But there's one thing I do love about early holiday prep, and that's the influx of aunts, uncles, and grandparents coming in with their lists of family members, eager to match each reader with the perfect book.

I love the thoughtfulness these relatives bring to their holiday shopping, and it's an absolute joy to spend time book matchmaking. Some customers live far away, so their lists come by email with tidbits of information about each child and his or her interests. This tradition is twinkling lights and shiny tinsel to me.
The other day, our longtime customer Anne came in to select books for her grandchildren, Emily and Michael. She doesn't just bring in a list; she brings in resources. Clipped together are book reviews from newspapers and magazines and IndieNext catalogs, notes jotted from interviews and media mentions. Anne uses the clippings as a starting point, and we dart around, adding possibilities and weighing in when we think an extra year's wait might introduce Emily or Michael to that book at the perfect time. It's a joyful and lively discussion. My whole staff is impressed by how informed she is about books, and also how open she is to books she's never heard of.
Once the final selections are made, Anne adds each child's book picks to an index card labeled with her grandchildren's names, the year, and the special occasion the books were given for (including half-birthdays; love that). These records go back to when Emily and Michael were two years old. Anne let me take a photo of as many of those lists as I could fit on the counter, but there were many more: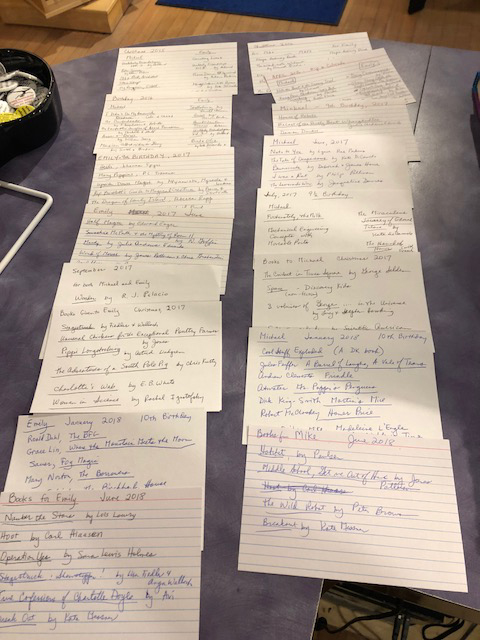 I love thinking about those lucky kids and their ever-growing libraries of classics old and new, and the grandmother who makes it happen year after year after year. Now that's holiday magic!