As booksellers, our primary job is to curate book selections and displays that welcome readers from all backgrounds and create moments of recognition, discovery, and delight for anyone who enters. Fostering that environment is both a big responsibility and a big job. We wrestle with whose voices to include and lift up, and the truth is that the good isn't as easy to separate from the bad as we would all like for it to be. Not for nothing, the blog post that my ShelfTalker colleague, Cynthia Compton, wrote during Banned Books Week was the most eloquent, authentic expression of that particular bookseller conundrum that I've seen. And ShelfTalker's Kenny Brechner and a group of college students thoughtfully explored the question of how to handle books by authors facing real world accusations very recently as well.
But the more important challenge is less about dealing with the repercussions of bestselling authors'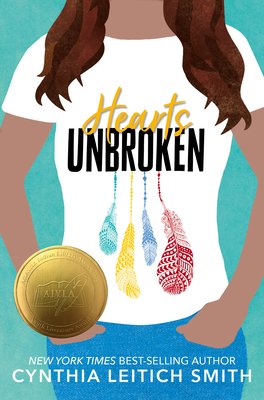 behavior and more about making sure no community feels that all their stories have been entrusted or restricted to a few lone stewards. As much as the Kid Lit community has truly dug into overdue and heartfelt conversations about inclusion and representation over the last few years, we can all agree we're still working to fully live up to our goals, especially, perhaps, when it comes to Indigenous and Native voices.

We are lucky enough to have bestselling Muscogee (Creek) author Cynthia Leitich Smith in Austin. Author of the Tantalize series and the Feral trilogy as well as a number of books with Native themes, Cynthia came out with Hearts Unbroken last month. Inspired to some degree by her own high school relationship, this latest book is a very personal one. What I like most about Hearts Unbroken (aside from the fact that Lou's family builds Tolkien's Shire into their front yard) is that her experience feels quintessentially teen to me as she figures out how to reconcile her identity as a proud Muscogee (Creek) citizen as well as a writer, a girlfriend, a friend, and an empowered young woman—even when all those things feel incompatible. What teen, or adult for that matter, hasn't experienced the painful angst of staying true to who you know you are in the first flush of love or in the face of what others are predisposed to think? But while Lou's story is universal, it's also specific to her own experience as a minority so under-represented in her school's population that there's no demographic box for her to check except "other." I personally think the book offers a brave and layered look at the complexities of identity and the missteps that are so easy to make in navigating your own and that of others along the way. I hope you get a chance to read it!
I recently asked Cynthia if she had thoughts on what bookstores could do better to help champion Native voices. One of the first things she said was that bookstores need to look beyond Sherman Alexie to other voices telling stories from Indigenous points of view, which is a point that I think is well taken. Cynthia also called out one of the challenges that stores always face when curating a balanced selection that speaks to all our customers. Cynthia points out that "For many Native families, walking into a store that prominently displays, say, The Little House series or Indian in the Cupboard series may feel overwhelming and/or insulting. Why not feature displays of Native-authored books instead? Like Louise Erdrich's Birchbark series. Or at least there has to be some grounded, authentic, pushback content for Native folks to feel good about bringing their kids to the store."
She offered some really practical suggestions about how we could better build Native content into what we do, and I thought they were great, so I asked if I could share! Cynthia has offered wonderful suggestion lists in interviews and on her blog, in addition to her ideas outlined below, and I encourage you to take advantage of them. But as her main point, she encourages booksellers "to use recommendation lists, yes, but also get in the habit of asking for every theme: where are the intersections with Native-created titles? So, my suggestions model that approach."
Here are some of Cynthia's great display intersection ideas that I hope people can take advantage of:

Could a book like this have been part of the pride display? 
Love Beyond Body, Space, and Time: An LGBT and Two-spirit Sci-fi Anthology (Bedside, 2016).
This anthology celebrates Native LGBT and Two-Spirit identities and experiences through sci-fi and urban fantasy stories, poetry and
reflections.
What about an ACL / SXSW or other music tie-in? 
Rock and Roll Highway by Robbie Robertson 
and Eric Gansworth's
If I Ever Get Out of Here
and
Give Me Some Truth
. (Note from Meghan: I just read
Give Me Some Truth
, and I loved it!)
Prompt for celebrating girls & women: 
#NotYourPrincess: Voices of Native American Women
edited by Lisa Charleyboy and Mary Beth Leatherdale and
Apple in the Middle
by
Dawn Quigley.
Prompt for Native Heritage Month, separating it from Thanksgiving: 
Traci Sorell's
We Are Grateful, Otsaliheliga
would be a potential centerpiece book. And not to limit displays and features to November—but it's okay to go big so long as the effort continues all year long. It could be so meaningful if signage featured Indigenous languages of local Native people or the featured authors/illustrators. I'd suggest reaching out to educators from the local Indigenous communities to request guidance and permissions.
Prompt for Valentine's Day: 
Hearts Unbroken
of course!
Prompt for anytime fantastical:
Joseph Bruchac's Killer of Enemies series, his stand-alone
Wolf Mark
, and Tim Tingle's Choctaw Trail of Tears ghost novels.
For those thoughtful suggestions, I say mvto, Cynthia! Thank you for sharing.