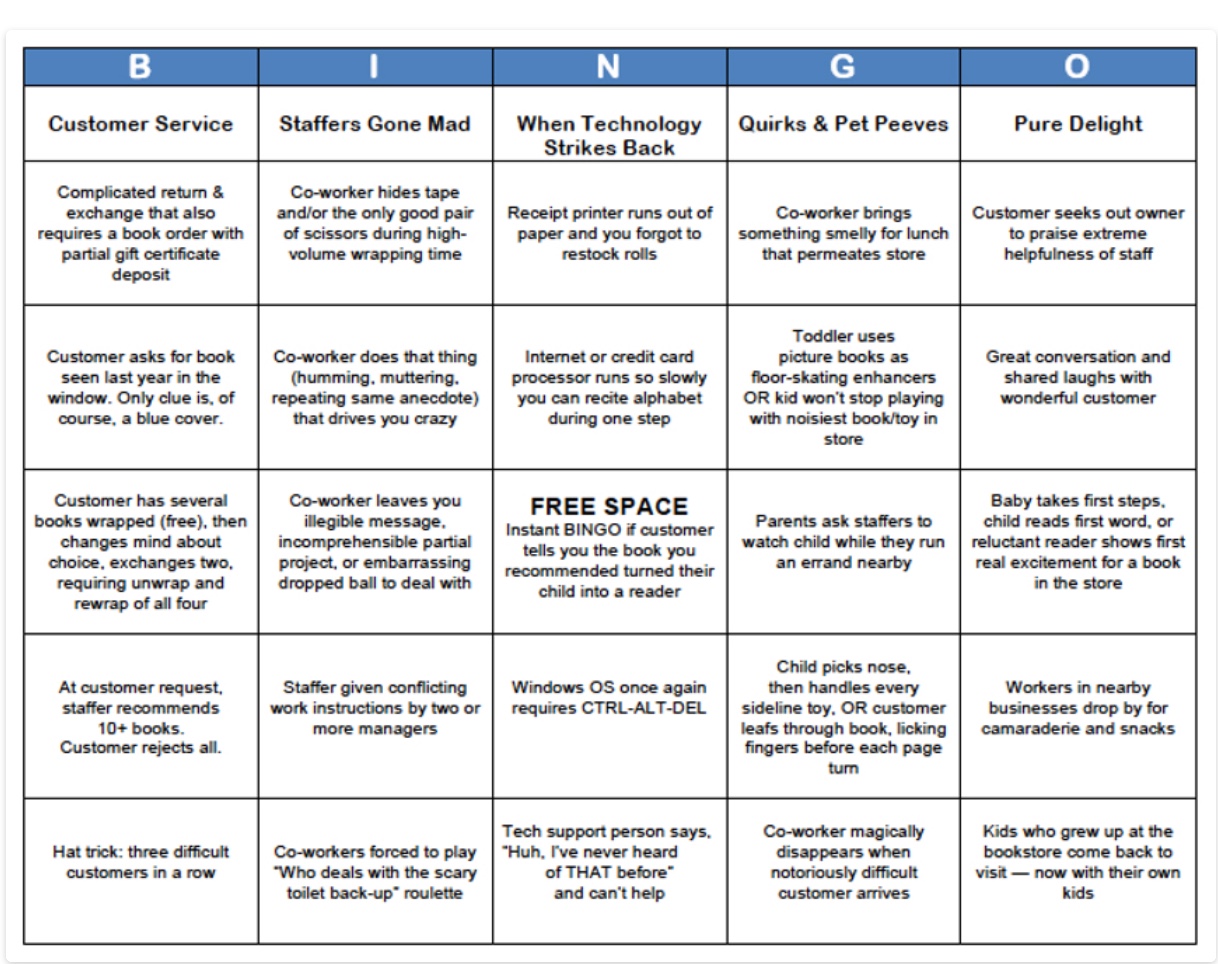 A couple of years ago, one of our customers brought us a homemade BINGO board. Instead of numbers, each square was filled with funny things she imagined we might encounter—with customers, co-workers, technology glitches, etc.—during the crazy holiday season. It was an inspired idea, and we did a little adding and tweaking to create the BINGO board we shared here in a 2016 PW ShelfTalker blog post.
Recently, bookseller Bob Lingle (recent new owner of Off the Beaten Path Bookstore in Lakewood, N.Y.) posed a kindred question in a private booksellers' Facebook group. "I think it would be a fun activity to do a 'Bookseller Bingo,' he said, "for phrases you hear or questions you're asked. Any thoughts on what the spaces could be?"
He named a few of his own, and thus began a conversation that drew in more than 50 booksellers with a couple hundred comments. It was gratifying and hilarious and relieving to know that other colleagues share our experiences of the many odd, funny, and sometimes annoying things people say to booksellers on a regular basis. I thought ShelfTalker readers might enjoy a peek into the back room, as it were, so I asked folks if I might share some of their responses. They said yes (hooray!). Readers, welcome to life behind our sometimes-cluttered counters.
Note: These were insider conversations, a safe place to vent, so of course we all shared our "worst of" examples. Please forgive the occasional cranky comments; we do love and appreciate our customers, and this week my ShelfTalker colleagues are all writing on the theme of funny / cute / interesting collections of things we encounter at our stores. Check back in all week long!
At the end of the post is a list of all of the bookseller contributors.
Our BINGO categories:
Heard at Bookstores Daily:

"Have you read all these books?"
"I don't remember the author or title, but it has a blue cover." (We don't know why, but the cover is always blue.) Common variant: "I saw a book here a couple of years ago, I don't remember what it was, but it was in the window. Do you still have that?"
To used booksellers: "Do you BUY books?" "Do people donate all these to you?"
"Got any books?!" (Followed by uproarious laughter.)
"What's your favorite book?" (This is an impossible question for a bookseller to answer, but if you narrow it down to 'this week' or 'today,' we might be able to give you an answer.)
"You don't carry [x] book. You should." (Book is actually a store staple and was on the shelf until a half hour earlier, when the last copy was sold, and is already on re-order.)
"How long have you been here?" (always to bookstores with decade-long tenures or more)
 "It must be nice to get paid to read all day." (Um, it really would be nice! If it ever happened in the history of bookselling….)
Head-scratchers
"Are the books for sale?"
(Customer holding a hardcover just released that day) "Do you have this in paperback?"
"I don't think you'll have this, but do you carry [insert hugely popular title directly in front of them]?"
Authors promoting themselves to indie bookstores with the line, "My book is on Amazon."
"Is the price on the back the actual price?"
"Will you redeem this gift card from Barnes & Noble?"
"Do you sell Kindle books here?" or "Can you order it from A****n for me?"
"You should have a coffee bar in here!" (uttered in 500-sq.-ft. store)
Bookseller: "Can I help you find anything?" Customer: "Oh, no. I don't read."
Customers who ask for a specific book, which we have, then they make it clear that they have no intention of buying it, they just wanted to know if we have it. It must be some kind of test to decide if our store meets their standards.
"Do you sell e-books in here?"
They Say / We Think

"It's my dream to own a bookstore when I retire." / (Uncomfortable inner tug-of-war between happy bookstore-love bonding and knowing that if someone thinks owning a bookstore is retirement, they have a rude shock ahead.)

"I don't want to take your last copy." / (Um, we have 30,000 books in here hoping to find new homes! We can restock as quickly as overnight. Please take our last copy!)
"Your bookstore reminds me of that adorable one in 'You've Got Mail!' " / (Aaaand, you remember she had to close that store. Because the giant bookstore put her out of business. We were the moviegoers you heard weeping in the back of the theater.)
Customer in the grocery store: "Hey, can you order [insert title] for me?" / (Uhhh, please call the store tomorrow. I'm not going to remember this….)
"Do you price-match Amazon?" / (We'll price match Amazon when Amazon's customer service matches us.")
"How do you compete against A**zon?" / (We chose to be here, contributing to the community; they didn't, and they worry about competing against us.)
"You'll sell a lot more of my [self-published book or line of cards] if you put it on display more prominently." / (Yes, and that's true of every single other item on the shelves, too.)
"You should get [insert Stephen King / J.K. Rowling / the Dalai Lama] to do a signing here!" / (If only reality were like this!)
Things We Don't Love to Hear
"This is a tough business."
"Wow, you're still here!"
"This is such a great shop!" Exit customer, stage left, with no books.
"You won't have this but I'm looking for [insert name of current bestseller]…"
"You have to order it? That's OK, I'll just order it on Amazon!"
"So, you're black." (Yes, I [African-American bookseller] have been asked that.)
Visitor starting a conversation with "You won't have" or "You don't like" or "You don't want" or any version of that. Is that a question?
(Customer slipping in right at closing time) "I'll just be a second." Inevitably the longest store lingerer of the day.
Said to used booksellers: "Is there a real book store in town?" or alternatively "Do you know where I can find a real bookstore?"
Said to new-book-only booksellers: "I only buy cheap books, so I won't shop here. You only sell new books. But would you look at a carton of used books I have in my car?"
Things We Love to Hear / Overhear:
"I love the smell of a bookstore."
"What's good?"
"We're back!"
"You guys have never steered us wrong."
"If there were only one book I should read before I die, what would that be?"
"You have the best staff." Or, "That young man / woman was SO helpful the other day."
"What is one book you recommend all the time?"
Customer to customer (strangers to each other): "I loved that book!" (great conversation ensues)
"This is our very favorite bookstore."
"You turned our child into a reader!"
****
Many thanks to my comrades in arms, who contributed the above items, including:  Tom Beans, Wendy Beeker, Cathy Taylor Berner, Billie Bloebaum, Carmen Bollinger, Amber Neva Brown, Anmiryam Budner, Mike Buglio, Mary Ann Cockle, Liz Decker, Carrie Deming, Rick DeVoe, Rob Dougherty, Beth Dumity, Emily French, Charlotte Glover, Sara Grochowski, Kris Haggblom, Emily Hall, Grace Harper, Ruth Hulbert, Rachael Shaw Johnson, Stefani Snead Kelley, Christen Thompson Lain, Katie Lancaster, Bob Lingle, LuAnne Locke, Kathy Magruder, Roxanna Malone McGinnis, Bel McNeill, Cheryl Hodges Mesler, Valinda Miller, Lydia Miner, Karla LeClaire Nelson, Molly Gilroy Olivo, Karen Opper, Joe Orlando, Melissa Phillips, Diana Portwood, Jesse Post, Melissa Posten, Mamie Lewis Potter, Kate Rattenborg, Sue Roegge, Leanne Smith, Luan Stauss, Dan Sullivan, Debbie Austin Sullivan, Tegen Tigani, Shannon Walker, Megan Waterman, Toni Wheeler, and Liz Hopper Whitelam.