Our local schools have been embarking on renewed efforts to enrich the diversity of their elementary and middle school classroom libraries, and we've been helping them build their lists. Last week, one school principal contacted us in search of books about gender and asked for more suggestions. Her initial list had some great titles, and we were able to add some spectacular books from this season.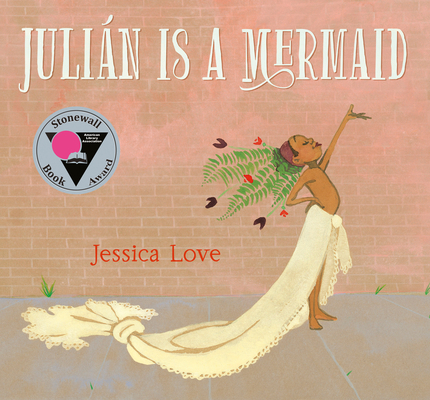 Julián is a Mermaid by Jessica Love, upcoming from Candlewick Press on May 22, is a picture book celebration of a boy who not only loves mermaids, but sees himself in their glorious swirls and grace and colors and style. He decks himself out in his abuela's fabrics and makeup—and then, when she discovers him as his mermaid self, Julián (along with the reader) has a nervous moment about her reaction. Her face looks stern, then solemn, then betrays a loving and understanding twinkle as she hands Julián a necklace to complete his ensemble. Then she takes him down to the seaside to be part of a celebratory parade of mermaids, including gender-illusionist mermaids. (New Yorkers may recognize the Coney Island Mermaid Parade.)
I love this book, and I love Candlewick for always being on the front lines of celebrating diversity in the most lush, artistic, and light-handed ways. They never compromise artistic quality to make a social point. This isn't the first book to celebrate boys who love to dress up in beautiful, traditionally feminine clothes, but it is one of the most beautiful ones, in part because Julián's world is so alive—it extends beyond a narrow circle out into the real world—and in part because the simplicity and spareness of the text allows space for mystery, for the reader to create the story along with the artist.


My staffer Emily and I debated whether younger children will love the sophisticated palette as much as we do, and we are looking forward to finding that out. One thing that's certain: any child who has ever felt the need to keep some core piece of him or herself secret (and what child hasn't, to one degree or another?) will appreciate Julián's breathtaking moment of being fully seen—and still loved. As for the child readers who share Julián's gender fluidity? This is a wildly validating, beautiful book of acceptance.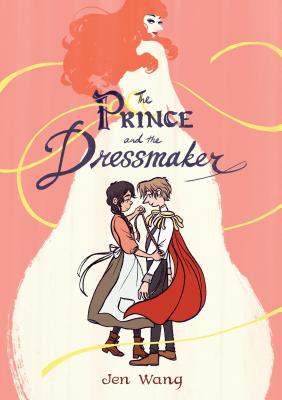 I picked up a copy of Jen Wang's charming graphic novel, The Prince and the Dressmaker (published earlier this month by First Second) before I knew anything about the subject matter. When I realized that it wasn't a traditional fairy tale romance, that it was, in fact, about two characters who live outside the social norms, my heart beat faster with sheer joy. This was different! Hooray and hallelujah!
The main character, Frances, is a hardworking seamstress with a flair for design. When one of her dresses steals the spotlight at an important ball, she is hired to work for a mysterious client who won't show Frances her face. Except that the client turns out not to be a "her" at all — he is a young prince who loves high fashion and gorgeous dresses, but who must hide this side of himself to avoid disappointing his parents and his kingdom. By day, the dutiful Prince Sebastien keeps a busy schedule of meetings with princesses that his parents have arranged. By night (and occasionally in the daytime, too), he is Lady Crystallia, who causes a great stir in Paris society with her incredible style, poise, charm, and grace. But because Lady Crystallia keeps her true identity a secret, Frances is forced to keep her talent a secret, too, and the strain of that is wrenching. What's great about this graphic novel isn't just Prince Sebastien's growth and self-acceptance, but also Frances's narrative of strength: she grows increasingly confident and ambitious (in the good way), ultimately refusing to be rendered invisible. The Prince and the Dressmaker is a sweet story of self-discovery, navigating friendship, and building a life for oneself. I can't wait to read whatever Jen Wang comes up with next. In the meantime, since I missed it the first time around, I'll be seeking out her newly-reissued graphic novel In Real Life, co-authored with Cory Doctorow.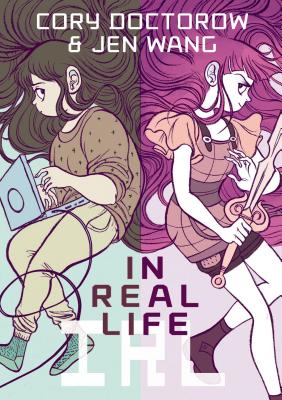 It's hard to describe to those whose lives roughly fit the insider narratives we've all grown up with how incredible it feels—even at my age, even with all of the privileges I have enjoyed in so many other ways in this culture—how it feels to see outsider main characters, gay characters, gender-fluid characters, characters who don't quite fit the usual acceptable roles, find themselves and love and friendship and full lives in children's books. I never even imagined I could see my deep self in any book, an invisibility the depth of which didn't even register with me until the first time I read a YA book with a gay character. And every time I have one of these resonant moments, I think again of the deep thirst all children have to discover themselves in books, and the shocking media invisibility that children of color have grown up with all their lives.
What would it have been like to grow up with these books? I'm thrilled that today's kids have so many more chances to see themselves. It's about time.