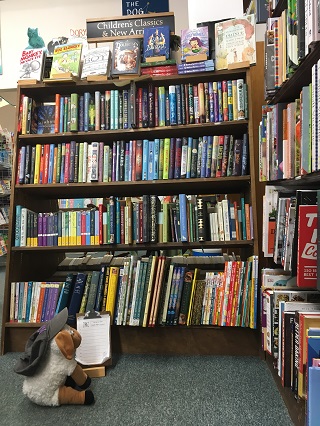 We still do a robust special order business at DDG. Nonetheless, the insatiable ubiquity of Amazon's presence seeping into the backdrop like a well mannered poltergeist has put increasing pressure on us to have books in stock that our customers walk in for. Given limited space, this is a challenge to me as a buyer and also puts added pressure on inventory management, meaning that we have had to be increasingly active in returns.
The gradual migration from being a softhearted co-dependent enabler to being a ruthless executioner is not an easy one for a book buyer. At least, I personally have found it to be a grim necessity. That's why I am so grateful for Emile. Emile, one of our store sheep, turns out to have a gift for culling and expunging under performing books from our shelves. Well-earned, to say the least, is his full name, Emile the Sheep of Doom. Above you can see Emile assessing our Children's Classics and New Arrivals section with his ever-present clipboard. Emile is about two things: intuitive statistics and decisiveness.

Now you may be asking yourself if it really was a strong management decision on my part to dedicate such a precise and nuanced operation to a plush sheep. I can assure you that turning things over to Emile occurred gradually. At first his culling was strictly compared with our old method of running detailed reports and then eyeballing each to determine if there were extenuating circumstances of some kind. In every case where Emile's work differed from our reports he turned out to have been right. Any book we kept against his suggestion never sold another copy!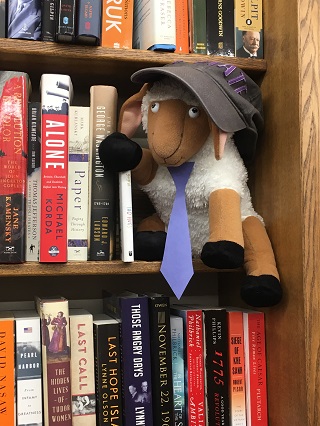 Emile is up on one of our history shelves right now. Let me see if he can take a moment to chat with us.
Kenny: Hi Emile.
Emile: Greetings, source of future returns.
Kenny: Tell us, Emile, are you named after Emile Zola?
Emile: J'accuse.
Kenny: Have you ever made a mistake about a book, culling it before its time?
Emile: No.
Kenny: Okay, so I'm sure people are wondering if you make any use of our POS reporting capabilities or if all your work is intuitive?
Emile: I do use Booklog, but mainly to help me sniff out titles that are hiding from me, misshelves, overstock and the like.
Kenny: Hmmn. You can't blame a book for being in overstock, can you? Isn't that our fault if we sold a copy and failed to restock it internally?
Emile: Sure, you bear blame there but so does the book. Books are quite capable of causing themselves to fall from the overstock shelves or otherwise call attention to themselves. If you are not invested in the high purpose of leaving here with a customer you are unworthy of staying.
Kenny: Wow, you really are ruthless. What about books that I have designated as part of the store's permanent collection, books that have enriched the store or our personal lives so much that their presence here is valuable regardless of sales figures?
Emile: Are you sure you want to ask me that?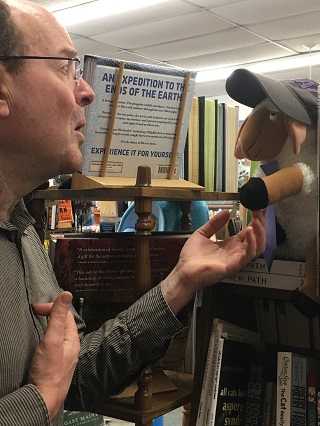 Kenny: What? Hey, why are you pointing at me like that?
Emile:Your time has come.
Kenny: Oh no it hasn't. I have decades of bookselling left in the tank. What are you saying?! You are not authorized to dispose of me.
Emile: Lightweight! Suit yourself. I'm off to the Indies Introduce video call. They need me.
And so it is. The Sheep of Doom is truly infallible when it comes to returns, even if his ill-concealed lust to be involved in personnel decisions is a bit unsettling sometimes. Still, the downgrades to my own sense of worth and security are a small price to pay in order to run a trim and efficient operation.