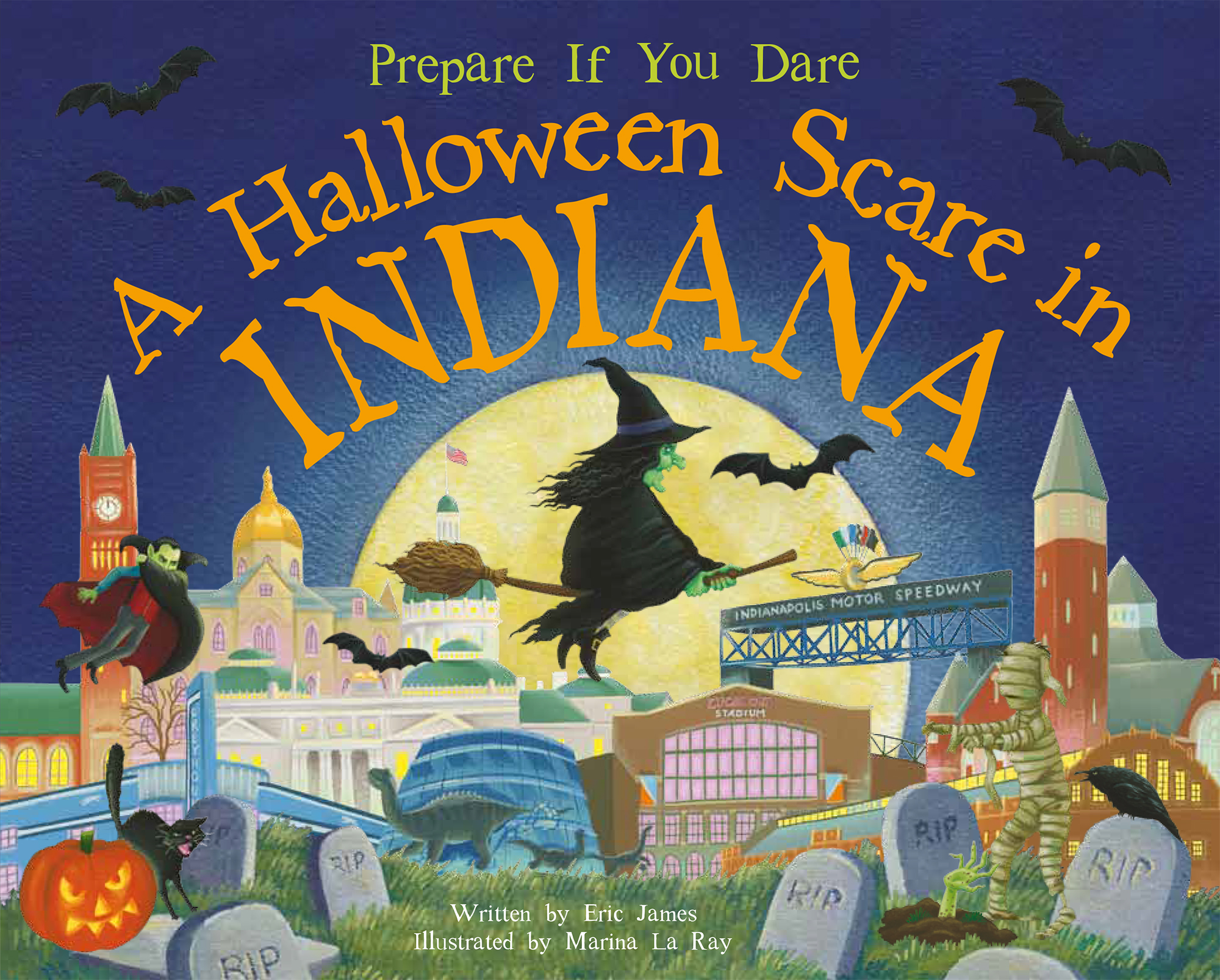 We are pumpkin-ed and ghouled near the front counter here at the shop, as October, that lovely month-long bookselling bonanza of Halloween books, is in full haunt. There's something so appealing about Halloween books in a children's bookstore – they sell to all generations, most faiths, and are so easy to add to the top of any stack of purchases…. "Oh, goodness, let's send that cute Indiana Halloween book to my grandchildren, too, shall we?"  Yes, yes, we shall. Last year, we added plain black bags with a store sticker and orange tissue paper to the gift wrap options, and were amazed at how many "Halloween gifts" we sold.
October is also the perfect month for DYO events, with little cost and effort, but lots of ghostly goodwill. Besides the obvious spiderwebs and orange and black decor, we look for ways to extend the celebration of All Hallows Eve into a series of events. Early in the month, we dedicate one of our Paint-a-Story session to Pumpkin Wreaths (thank you, Pinterest), offering kids and parents the opportunity to hear a few fall stories and complete two wreaths — one to take home, and one to be delivered to a nursing home near the shop. Staff put these creations on the doors of the residents, offering some seasonal cheer and the charm that only a tissue paper creation made by a three-year-old can deliver.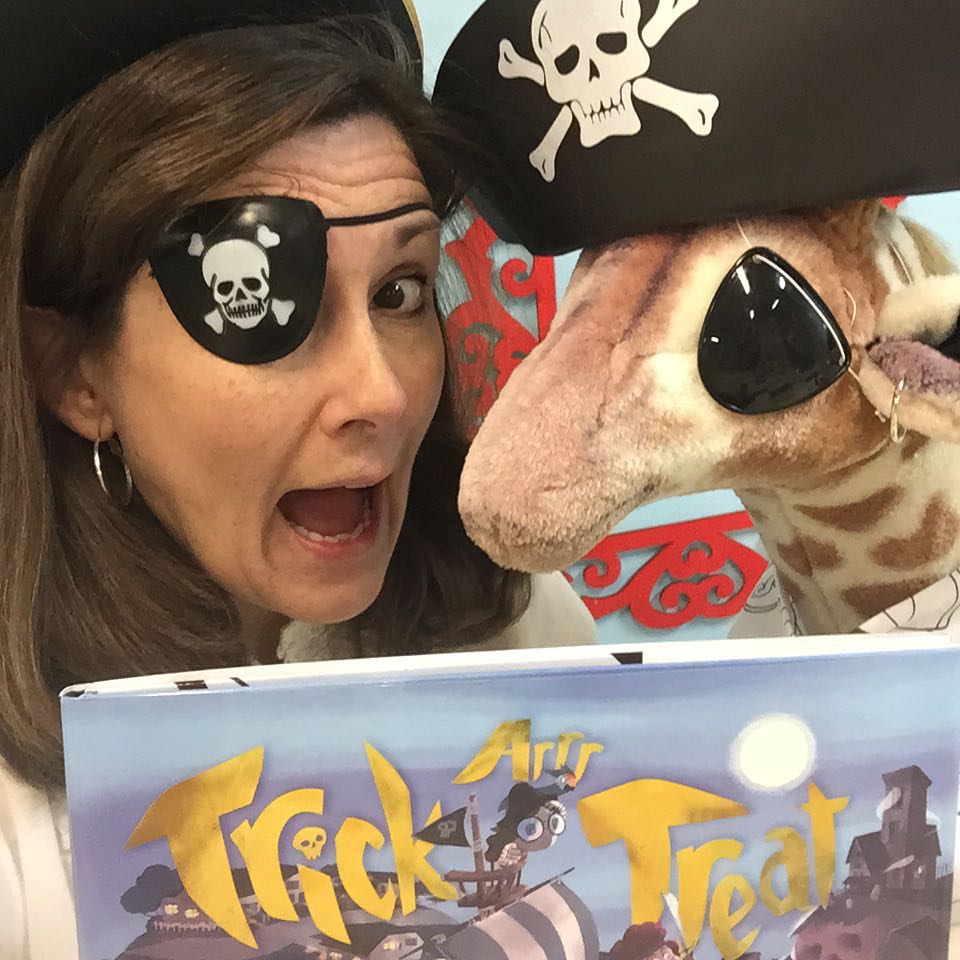 Our staff gets right into the October mood with a "costumes optional but expected" daily routine. We keep a giant box of nonsensical dress-up items in the stock room for last-minute creations and a supply of stick on name tags to clarify the more esoteric creations. My favorite team of Saturday morning staffers came to work dressed as a pair: one wearing an Army jacket with surgical scrub pants, and the other wearing a surgical scrub top with fatigues.  Their costume? An "upper and lower GI." (I love bad medical puns.)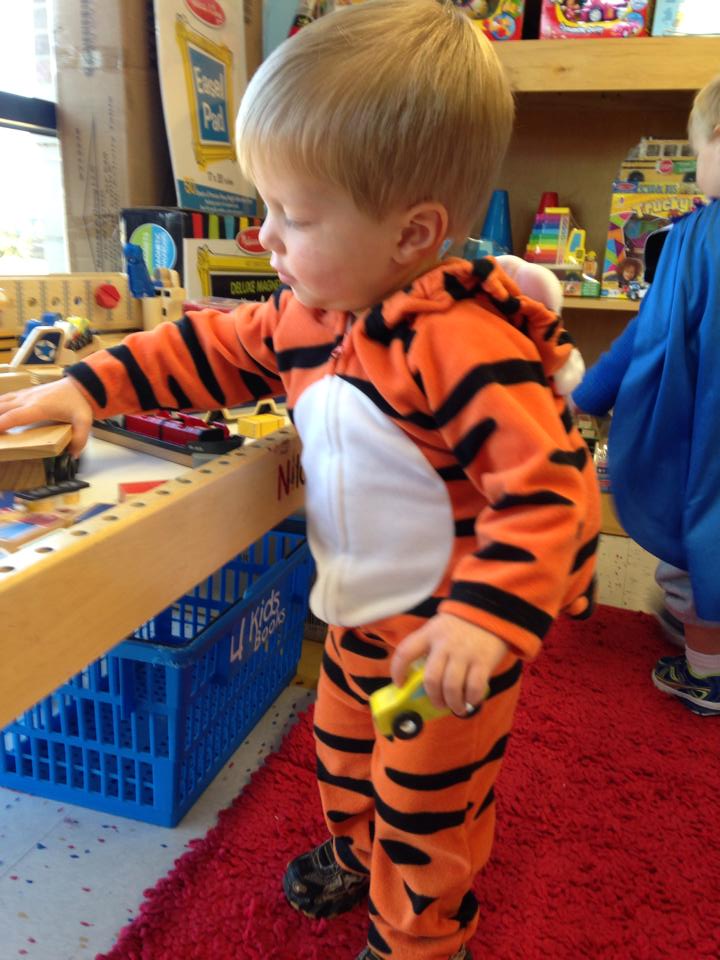 We invite our young customers to visit us in costume any time during the week before Halloween, and take their picture with our costumed giraffe outside the store. We make up little goodie bags in advance as trick-or-treat fodder, including some giveaways from local businesses and publisher swag — this is where all those promotional tattoos go — as well as a coloring page from us to complete and return, which make a lovely display on the walls around the shop. Parents appreciate the non-candy option, and we LOVE to see all the costumes and have time to admire each child's choice for the year.
Our weekly evening story time is a new addition to the schedule this year, but we're anticipating larger than usual crowds as we add flashlight stories and a not-so-scary Monster Mash Party to the mix. Speaking of flashlights, we purchase about 200 orange ones of these every year from the local party supply wholesaler, which are given away to customers on the weekend before trick-or-treating occurs. The battery sales more than make up for the cost of the flashlights (if you don't sell batteries, just drop by your local wholesale club, and be a hero to every parent the week before Christmas by putting a basket full by the register….), and most children love the opportunity to carry their own flashlight on Halloween night.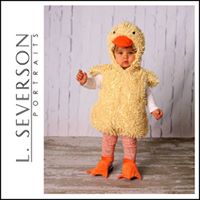 By far, our very favorite store Halloween event is one that many stores could replicate, so I'm sharing it today while there's still have time to plan and execute, to the benefit of both your stores and your community. For the last few years, we have partnered with a local photographer to do "trick or treat" photos on October 31, available free to customers in exchange for 12 cans of food, which are donated at the end of the day to a local food bank. Our photographer, Leah Severson, sets up at around 9 or 10 in the morning, and stays (officially) until noon, but is always accommodating for those still in line at that point. Customers bring their babies and children, dressed in Halloween costumes, and Leah takes professional portraits of each child and sibling group, in mini five to ten minute sessions. Obviously, she's a pro, and the lights and simple backdrop that she sets up in the corner of the store make a difference in the quality of these pictures, but it is Leah's silliness and sense of fun that creates all the magic. Immediately recognizing each superhero, princess and odd vegetable (why are so many baby costumes based on produce?), she engages each child in conversation, gets them to strike the perfect pose in seconds, and moves through a line of little ghouls faster than I can finish the candy corn. Parents bring 12 cans of food in exchange for an online image (of course, she's willing to produce print versions for a cost, but most families are pleased with cute little costumed pictures to share with grandparents on social media), and at the end of the day, the huge pile of donated food is picked up by a local food pantry. The procession of costumed preschoolers winding through the store all morning is adorable, and is only exceeded in smile production and goodwill by the vision of stacks and stacks of food cans that are loaded up at the end of the day into a truck headed for local kitchens. Candy and spooky stories are fun, but no one should be afraid of going to bed hungry.