One of my favorite months is upon us. Not only because of the emergence of bluebonnets everywhere (which I love) and copious amounts of sunshine (which we don't really hurt for in Austin anyway), but because every April we turn over our cafe art wall, where local artists display their pieces throughout the year, to the hundreds of incredible bookmark designs submitted to us through our annual bookmark contest. Our prompt is simply to create "something inspired by your favorite book." We pick winners in each age group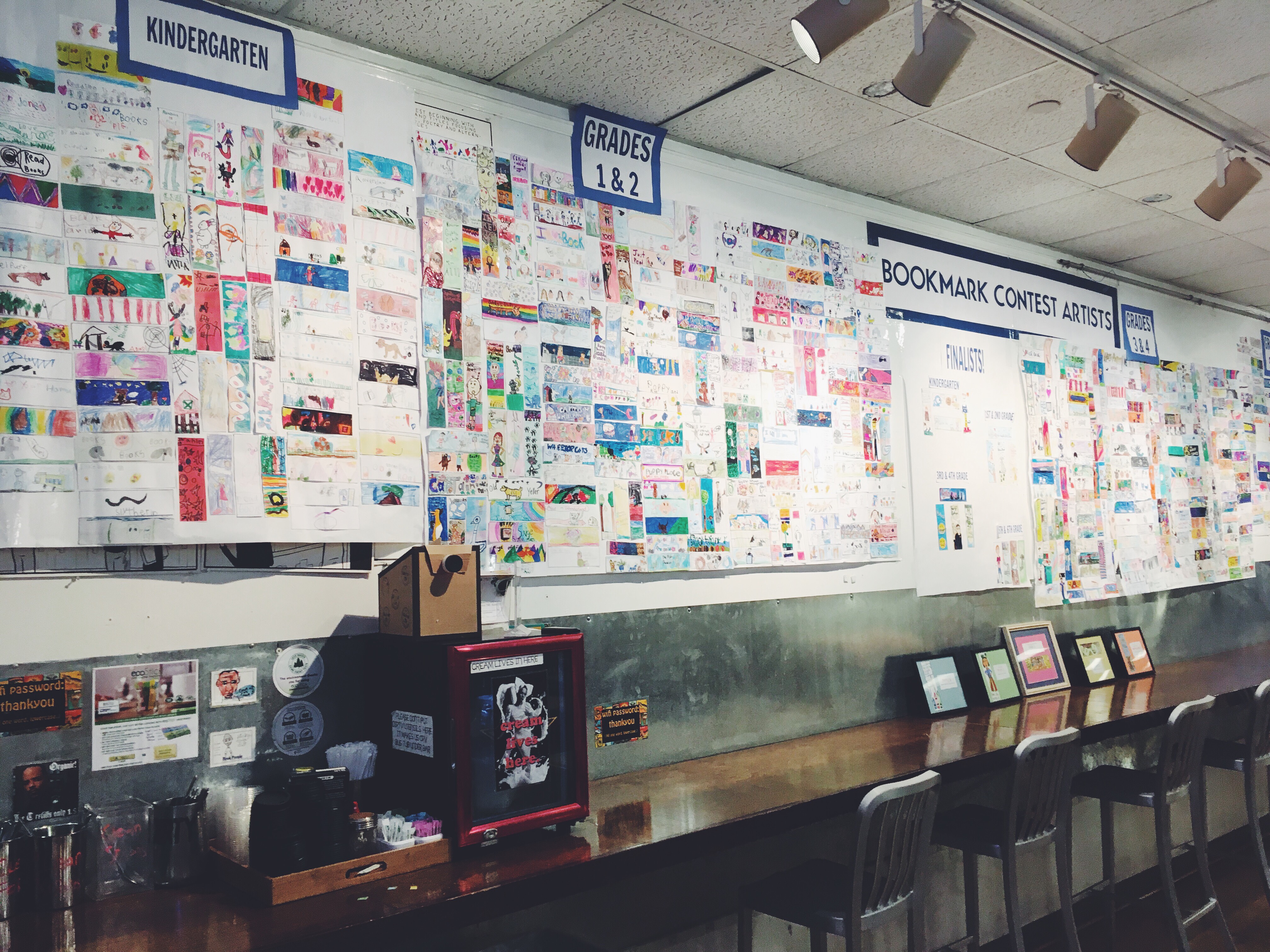 (kindergarten, 1st-2nd grade, 3rd-4th grade, and 5th-6th grade) and have them printed to give away at the store for the rest of the year.
Of course we see a lot of love for book celebrities like Elephant and Piggie or Harry Potter. And I've certainly seen a fair few cats in hats. But the really special thing about going through the submissions is that each bookmark expresses something a little different, even the ones that tackle similar themes. Sometimes the images are straightforward homages, some are whimsical fantasies, and some are just plain strange, but none of them is boring. I honestly wish we could print each and every one of them because they not only show off some serious artistic talent, but they reveal so much about what stories are truly resonating with kids around Austin and what elements of those stories are evoking responses.
The ultimate effect is of a vibrant visual bookshelf that reflects the way people actually read. So you might see Sisters Grimm next to Where the Sidewalk Ends next to Pokémon next to a self-portrait of a girl reading stories with her dad. Not only does this art show give kids a thrill, seeing their art displayed like this, but it also creates a joyful reminder that we really are part of a community bound by books. I wish it could stay up all year.
The way it works is that our children's bookselling team narrows down the list, and then the whole BookPeople staff votes on the winners. This year's incredible winning bookmarks were inspired by The Day the Crayons Quit, Viva Frida, Pax, and The Underneath. And we also saw a bookmark that inspired us to do something we've never done before this year, printing an honorable mention bookmark for the very first time. Jack L.'s bookmark was chosen as our first ever Modern First Library bookmark selection, tying into a program we created with some of our favorite authors (including my fellow ShelfTalker, Elizabeth Bluemle) to honor and reflect the diverse and global society of the 21st century. I can't wait to see these beauties around the store. They're free, so if you find yourself in Austin, come in and pick one up!