I know the coloring book craze has taken hold as a way for adults to relieve stress. But I am finding more comfort, as are my friends, by revisiting favorite picture books. I have been struggling with a rare case of insomnia that has me reaching for beloved picture books, both old and new, as the I watch the nighttime hours tick away. There is something lovely about picture books that can not only help with sleeplessness but with many adult stresses. A dear friend is moving to Chicago and we spent much of brunch talking about the impending move and the inherent anxiety around it. She offered that her journal and her picture book collection are helping keep her sane as she prepares to move. 
Here's the thing about picture books: they are like spending time with old friends. When a child asks to hear the same book over and over they are learning things and spending time with characters they love. When kids get older and request to be read picture books, they are not slipping back into "baby books"; instead they are getting a specific need met. Picture books are friendly, often. They speak to moods, situations, and themes that readers find comfort in. They help puzzle out a mood or a situation that can be hard to articulate.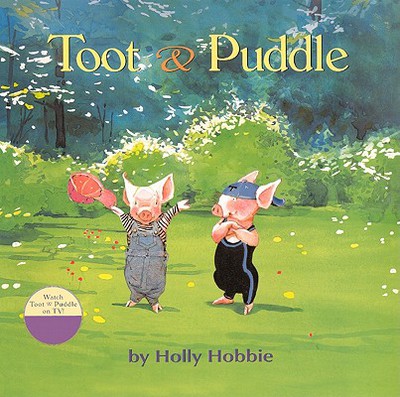 My friend and I both agree that there is perhaps no more comforting book than the original Toot and Puddle book. Toot and Puddle are best friends who live in the serene world of Woodcock Pocket. Toot travels the world, while Puddle remains home. The postcards of Toot's adventures out in the big world are how they stay connected. They miss each other, but there is comfort knowing they are still best friends. It helps that Holly Hobbie's art is so soothing and playful. There is a calmness to the book that delights. And when Toot finally comes home there is a delightful reunion. The underlying message is, it's all going to be okay. We all need to be reminded of this sometimes, regardless of our age.
One of my other favorite picture books is David Wiesner's Sector 7.  I just love poring over the complex art looking for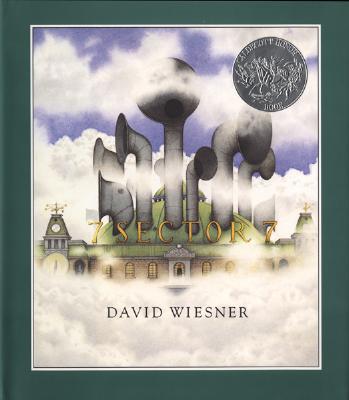 things I might have missed. The art is delightful and the story is about daring to be yourself, taking risks and trying something different. But mostly the story is about friendship between the cloud and the boy. And just when you think the two will be separated forever, they find a way to be together.
Paperbag Princess is a wonderful reminder that girls are strong and capable of anything. The way the princess handles her encounter with the dragon with grace and good humor is a great reminder to stay true to who are even if you've been told that you cannot do something. I love how triumphant the princess is at the end.
Anything by Edward Gorey is fun to revisit. Reading his books as an adult is a very different experience than reading them as a child. Yes, children find amusement in his books, but their subversive nature is pure fun for adults, and can take out of our adult world for a little bit and just laugh.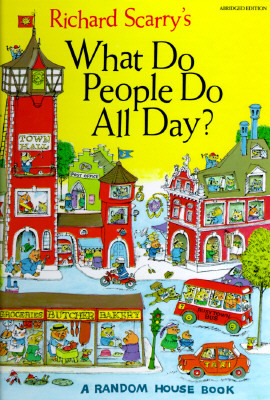 Lastly, for me one of my most soothing books is What Do People Do All Day? There aren't big themes here. More like montages of what happens all over town. The text is simple and the characters just go about their day doing whatever their day demands of them. This book fascinated me as a kid. As an adult, spending time with this book somehow reminds me that there the world is full of choices. Do you want to be a librarian, firefighter, or mayor? Sometimes it's nice to know that anything is possible and there is enormous comfort in seeing that everyone is happy doing their jobs.
So, readers, what picture books do you find comfort in and why?