There is lots of fun to be had at the bookstore for adults and I am not talking about Fifty Shades of Grey. I'm talking about a coloring book. Yes, a coloring book. The Inky Treasures series of coloring books are designed for children. But their complexity of art and grown up images have made this a bestseller among our adult customers. There's more to do than just color. Creatures and treasures can be found on the pages, and  there are hidden objects and symbols to be discovered to complete a puzzle at the end.
These books are fun. Silly, old-fashioned fun, and I cannot keep them on shelves. And it's not just me. Ingram Distributors has almost 13,000 on order for the two books combined.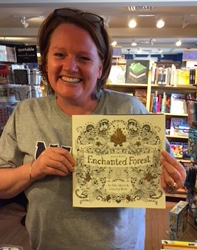 I have to confess I knew nothing of these books, Secret Garden: An Inky Treasure Hunt and Coloring Book or its companion, the newest one in the series, Enchanted Forest: An Inky Quest & Coloring Book. But more customers sure did. Within a week, I had more than six special orders for them. Today, I finally learned about these books from an extremely happy customer.
Maureen came in yesterday fresh from the first nice day we've had and asked for her special order. She orders often enough that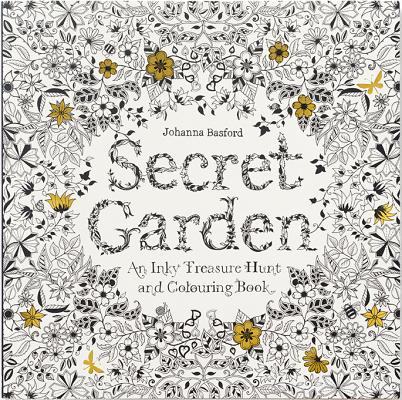 she really couldn't remember what had come in. I handed the book and she started smiling from ear to ear. "Do you know about this?" I said that I didn't. "It's a coloring book for grownups. I can color again!" Her enthusiasm was utterly contagious. Maureen missed coloring with her now teenaged sons. She explained about the joy of colored pencils and just taking some time and filling in a beautiful drawing with the colors of your imagination. She left clutching the book to her chest.
And then, I ordered a coloring book for myself.