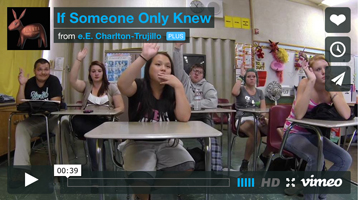 Anyone familiar with the creative and advocacy efforts of YA author e.E. Charlton-Trujillo and her writing colleague Carrie Gordon Watson will know about their Never Counted Out initiative, which strives to empower teens—especially at-risk teens—by encouraging them to share their stories and believe in themselves despite being dismissed, stifled, bullied, or belittled.
The Never Counted Out folks have created a new project in reaction to recent suicides by transgender teens like Ash Haffner and Blake Brockington. Frustrated by the slow pace of tolerance in this country for kids and teens who are different from their peers, Charlton-Trujillo, Watson, and their team dreamed up the idea of a shared public blog for teens called If Someone Only Knew, which invites young people to share writings on that topic in an effort to support one another.
Charlton-Trujillo felt that her childhood and teen years growing up in a small Texas town, where she "felt counted out more often than [she] was counted in," would have been vastly different if she had been able to connect to people like her in other towns and cities, sharing ideas and offering encouraging words and supporting the fierce belief in freedom and self-expression.
If Someone Only Knew invites teens to share their stories anonymously. It's an opportunity to tell people what's really going on in their lives—the good, the bad, and the ugly—which, Charlton-Trujillo and Watson hope, might just help other teens make it through the roughest patches. "We are now asking young people to be heard via writing and art rather than in a suicide note," Charlton-Trujillo writes.
Submissions to the blog can take the form of photography, video, writing, poetry slam, and music, and the comments section will be moderated to keep internet trolling at bay.
The Never Counted Out website has a great clip from At-Risk Summer, the short documentary film sparked by Charlton-Trujillo's novel, Fat Angie. The video shows Charlton-Trujillo working with teens. Her workshops are lively and funny, and clearly draw out teens who may not have many respectful, relatable adults in their lives.
Some of the contributions to If Someone Only Knew will eventually be published in a paperback anthology, likely to come out in 2016. "Monies from the publication," Charlton-Trujillo says, "will be directed to programs sponsored by Never Counted Out."
Kudos to an inspired and inspiring project!!