I'm not certain what's going on in the rest of the country, but Vermont has been hit hard by the flu, one of the worst colds folks have ever seen and a stomach bug. When you have a small staff, illness can be a real problem. It's not just an issue of having someone to actually work, but staying healthy is a challenge.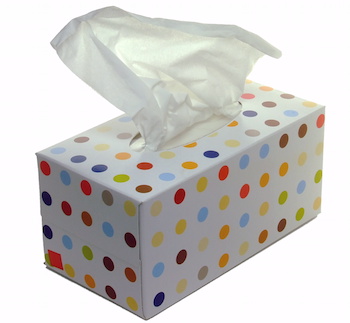 Conveniently, we all waited to get sick until after the crush of the holidays. I'm sure it was because the pure adrenaline of the season kept all the bugs at bay. I got it first when we came back from annual week off. My fits of sniffling and sneezing for days was preceded by a very bad sore throat. It's been a month, and I'm still coughing. Sandy got it next, pretty much the exact moment I felt well enough to work again. She was really sick with the flu and had a fever and chills. We had to force her to stay home. Then,  just as Sandy was rounding the corner to better health, PJ got the nasty cold that sidelined her for a few days. And now Elizabeth is deep in the heart of the worst part of the flu.
Every day now begins with the same ritual. The first one in disinfects everything at the register. The phone, the keyboard, the mouse, the credit card machine, etc. Pretty much anything that can be touched gets wiped down with an antibacterial Lysol wipe. I'm not sure what good this actually does, but it sure does make us feel like we're taking action against the bugs. We have a ready supply of tissues and antibacterial hand sanitizer for use after we use the tissues. We are trying very hard to stay healthy, but it's a struggle. The world of retail is practically designed to throw the maximum number of germs at you. Parents stop at the store to load up on books before they go to the pediatrician with their obviously sick kid. Adults are not as careful about their germs as they could be (not many folks over a certain age have embraced the "cough into your elbow" strategy that kids employ) and touching money and credit cards all day can is just asking to get a bug. Usually I feel like working retail builds up my immunity, but as I sit here writing this, coughing and sneezing anew, I can't help but wonder if I'm now starting round two of the cold.
The only thing that's good about being sick is having unfettered time to read without guilt. I used my downtime to read the new Dennis Lehane galley, World Gone By,  which I thoroughly enjoyed. I sometimes feel like adult mysteries are my guilty pleasure that I don't indulge in that often because the kids' books are stacking up on the bedside table. I spent all day reading and napping when I was sick and just loved it. I think we're all so busy that it's really hard to just take a day and not do anything, so when we're forced by illness to slow down there's a luxury to it, even with the irritation and discomfort of a nasty cold.
Readers: what do you choose to read when you're home sick? Is there anything that you're drawn to that helps you feel better?