It's been two or three years since I've been able to get to Winter Institute, the American Booksellers' Association's conference dedicated to bookseller education. Publisher sponsors also attend, sharing their top picks for spring releases and giving us sneak peeks ahead to the fall season. Let me tell you, there's something uniquely wonderful about being in a room filled with booksellers from all across the country. These are people who, when the official sessions about books end, pick up with personal conversations about — books they love. Bookselling is one of those professions that draws enormously dedicated, passionate people who work very hard for little money. Well, maybe some of them make lots of money, but I don't know any of them. Booksellers are smart, funny, interesting people with a depth of knowledge, a breadth of interests, and the courage of their convictions, and I am honored to call so many of them friends. (In case it sounds like I'm complimenting myself in this paragraph, I'm wearing my blogger hat, not my bookseller hat, when I say all of that.)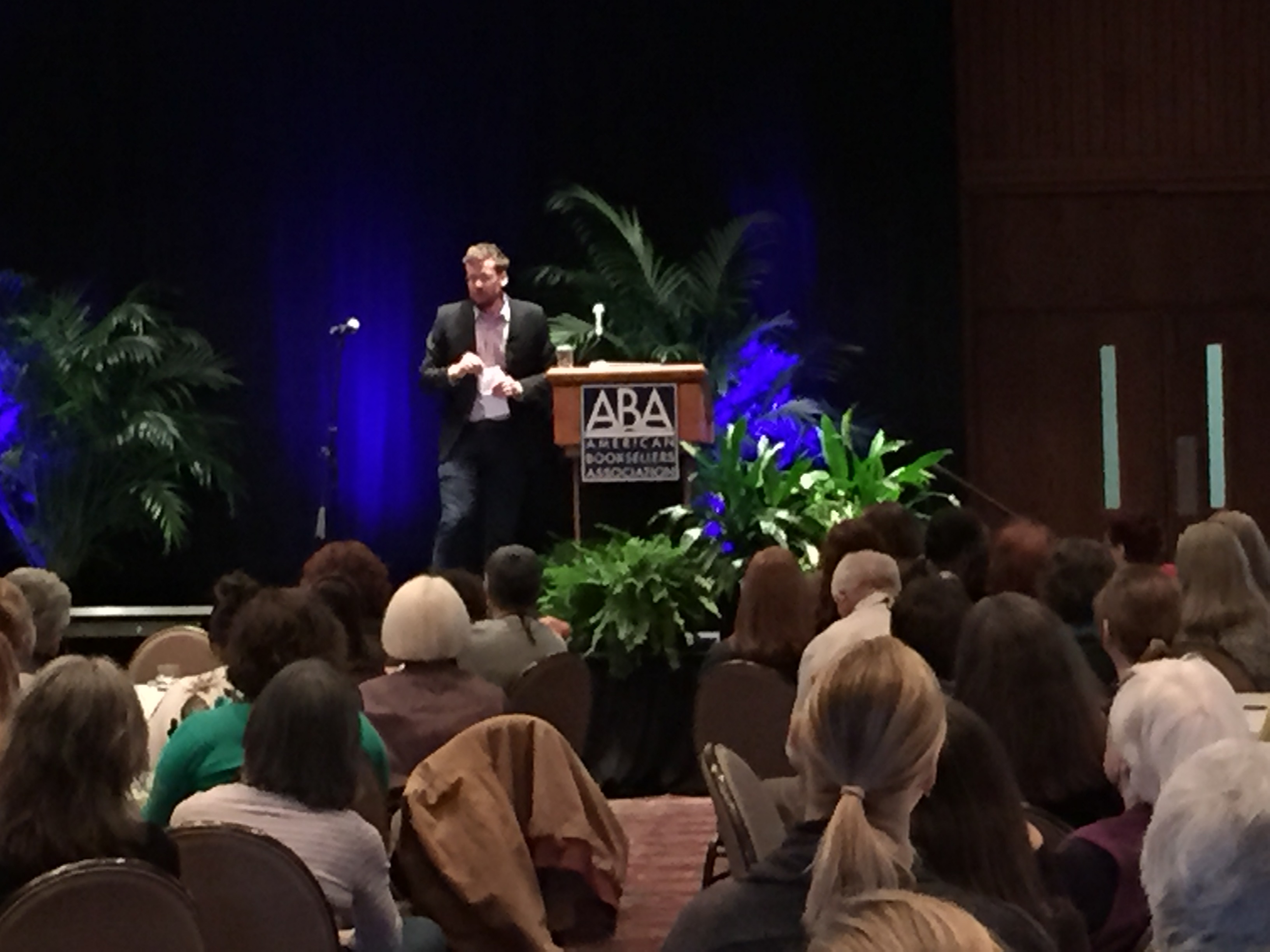 Author John Green
was one of this year's keynoters, and he teased the room about booksellers' notorious pessimism (then again, he doesn't have to balance a bookstore's accounts at the end of the year). He gave a terrific talk, appreciative of the importance indies have played in making his own books — and so many others'  — so successful. In addition to discovering new talent and creating blockbusters by word of mouth, indie booksellers also keep backlist alive through continued handselling long after publisher marketing campaigns have ended and the promo machine is quiet. "Indie bookstores are what make evergreen books evergreen," said John Green. He said he and his brother had always only toured indies, which I hadn't realized. Go, John Green!
One of the best things he said was about why he thinks his books and online videos have been so wildly popular with millions of teens. "Marketing to teenagers is not pretending I know stuff I don't know about Snapchat, but sharing what I do know and am passionate about. .. They LIKE passion and unironic enthusiasm." He left us on our feet, applauding.
Before we leave John Green, I have to mention Diane Capriola and her bookstore crew from Little Shop of Stories in Decatur, GA, for their introduction to his talk. The guitarist struck a chord, and the bookseller singers growled out, to the tune of "Wild Thing:"
John Green
You make my heart sing
You make the register ring
John Green
I love you
But seriously, dude, when are you going to write another book?
Come on, move me.
It was hilarious and JG called it the best introduction he'd ever had.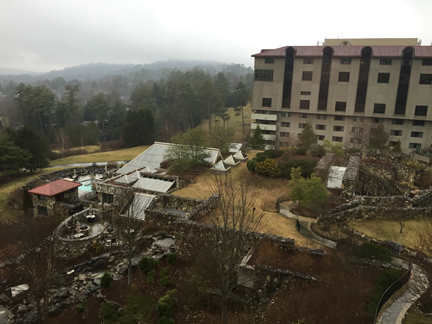 The rest of Winter Institute was a whirlwind of sessions on bookseller education, most very useful (on topics ranging from diverse books to wringing 2% more margin from our stores to planning for succession after retiring) and lunches with publishers large and small who shared their favorite spring titles and asked booksellers for feedback on a variety of matters. The huge Grove Park Inn resort in Asheville, N.C., kept us in good shape going back and forth to workshops held in opposite wings. And the author receptions — one evening for the major houses, one evening for smaller publishers — were wonderful, festive, and celebratory.
One of the highlights of any trade show or conference is the chance to go to dinner with authors and publishers and fellow booksellers. I met a whole new group of bookstore people at Random House's fete for
Chris Grabenstein
in honor of his new book,
The Island of Dr. Libris
. It was such a fun dinner, and I read the ARC on the way home, finishing it on the plane where I happened to be sitting next to one of the world's great 10-year-olds, a preternaturally articulate, funny snowboarding fiend from Nashville. He was SO delighted to be given a free book, one that telegraphs fun from the very cover. When I showed him it had also been autographed by the author, his jaw actually dropped. I live for moments like that.
My other favorite thing about Winter Institute was meeting the energetic and brilliant Ilene Gregorio, a.k.a. I.W. Gregorio, author and v-p of development for We Need Diverse Books, and getting to be on a panel on diversity in our field and in books for young people with fellow bookseller Cynthia Compton from 4 Kids Books & Toys in Zionsville, Ind., and fab moderator Joy Dallanegra-Sanger. My cold had taken residence fully by the time of this panel, so I'm not sure my offerings were as meaty as I'd have liked, but the room was chock full of booksellers (so heartening!), and I did get to invite everyone to participate in the 
2015 50/50 Read
, where for every book about white main characters I read, I'm reading a book featuring main characters of color (ideally by writers who are also POC). (Side note: this project has made reading so FABULOUS again! Booksellers love books and reading, of course, but it is also necessarily work. This 50/50 Read project has made reading fresh and new again, an unexpected and marvelous side benefit.)
Winter Institute was my third back-to-back conference, so I was ready to come back home to my bookstore and my own bed. But it reaffirmed that the community of booksellers across our country is as dedicated and creative, as thoughtful and passionate, as ever, if not more so. I do love my profession and am so lucky to be part of it.