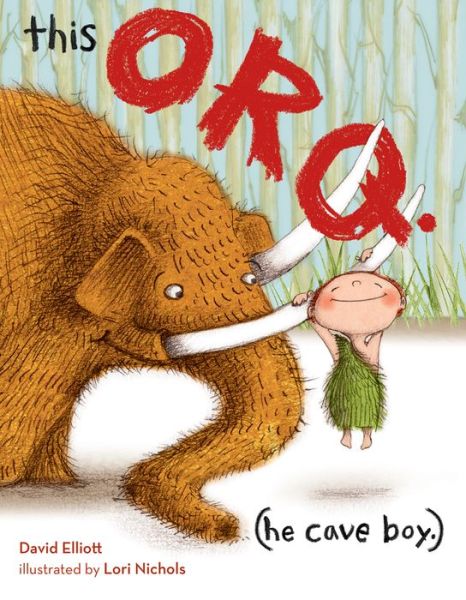 There are hundreds, if not thousands, of picture books published every year, and many of them are good. Some of them are great. And a few of them hit the picture book sweet spot jackpot by managing to provide:
a perfect marriage of text and art

phenomenal kid appeal

read-aloud deliciousness

art that invites poring over

new discoveries in repeated readings

heart, joy, playfulness, suspense, reassurance, and humor
and, yes, jokes for the grownups, too.
this ORQ. (he cave boy.) by David Elliott, illustrated by Lori Nichols (Boyds Mills Press) hits the jackpot with its hilarious (and wry) caveman-speak text, huge heart, and utterly lovable illustrations by newcomer Lori Nichols (who also wowed us earlier this year with her debut picture book, Maple, published by Penguin/Nancy Paulsen). 

Orq, a lively little cave boy, has a pet woolly mammoth named Woma, whom he LOVES. Yes, LOVES in big, unabashed giant red letters and hearts that convey that unconditional mutual adoration children and their pets share with each other. As Woma grows, however, Orq's mom becomes less of a fan. "Woma shed. Woma smell. Woma not house-trained." To Orq's dismay, mom orders Woma out of the cave. So Orq decides to teach Woma tricks to woo his mama, but Woma's oversized attempts to speak, fetch, and roll over go comically awry. One day, Orq is playing hunter when a real sabertooth tiger appears in the brush. After an alarming moment, Woma rushes to protect Orq, and "Sabertooth reconsider." Woma is a hero to Orq's mama, who now LOVES Woma, too (I absolutely love that Nichols distinguishes between Orq's love – represented with those big fierce red letters – and Mother's love – big pink ones. Mother's regard is earnest but her belated turnaround means she does not quite earn big red love status).
Elliott's economy of language is fabulous, as is his choice selection of a few sophisticated words to wryly shake up the simple cave-speak. Nichols' art manages to be both charming and lively, sweet and mischievous. It will resonate with any child who has ever loved a pet with his whole heart, and it will hook any child who's ever loved the ebullient abandon of well-intentioned but accident-prone characters.
ORQ is the new picture book I read aloud to customers every chance I get. I think it's going to be a huge hit at storytimes in bookstores, schools, and libraries. And I'm pretty sure every family I hand it to will read this one again and again and again, adopt Orq-speak in their own households, and refer to it with their own inside jokes. "Orq's mother not convinced," is a natural line to adapt to family events, as is "Sabertooth reconsider."
I predict big things for this little book.