Kenny Brechner, owner of DDG Booksellers in Farmington, Maine, worked with  Betsy Turcot, the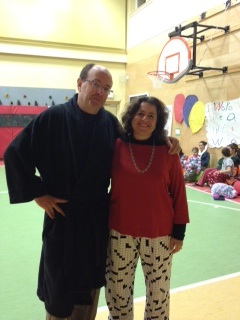 librarian at the local school, this Monday to put on the 15th Annual Jammie Night Celebration of Reading and Community that featured none other than Elizabeth Bluemle. The event is an homage to family literacy. Kenny and Betsy have been doing this for 15 years and it's simply wonderful. The entire school community is invited to come back to the school for an evening program that finds teachers in their jammies reading to kids before an author presentation.
Elizabeth and I drove up to Maine together and went to Kenny's store before the event. It's always such a treat to finally see a colleague's store. Kenny's store is chock full of a great book selection and some of the best sidelines I've ever seen. Within minutes of entering the store two young women walked in. One of the young women looked really familiar. At first I couldn't place her, but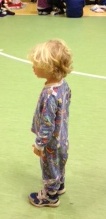 then it hit me: she grew up shopping at our store. There standing in Kenny's store was someone who had been shopping at our store since she was seven. Rachael is now a junior at the University. All of were stunned by the smallness of the book world.
The event that brought us to Maine encourages kids to come to school in their jammies for an evening program centered on reading. Pajama Night has become a massive event for families. We got to the school early and already there were families in the gym in their PJs. One thing I noticed was kids in jammies at school think that sliding on the gym floor is just about the best thing, ever. There were as many parents in their PJs as kids. Everyone just seems to love this event, as evidenced by the more than 200 people who attended.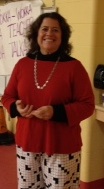 Betsy runs a great event. Elizabeth was coming to the school in support of the paperback release of How Do You Wokka-Wokka? Betsy prepped the kids for the event by reading the book to 20 different classes, so by the time Elizabeth got there, the kids knew her and her book. Kenny helped get the kids excited by having a How Do You Wokka? contest that invited the kids to come up with their own version of a Wokka. I should explain the book is about joyously celebrating movement and rhyme, with contest line being: I wokka wokka like…" Kids submitted their selections; one girl's creation was, "I wokka wokka like a girl go shopa shop." Kids at the school also made huge posters of ways they wokka, which hung all over the gym.
By the time Elizabeth started her reading the gym was packed. Elizabeth had the crowd rapt through her very funny PowerPoint presentation I had never seen before. I loved that she said you don't have to study writing to be a writer. Then she read her book. The totally cool thing was she read it with a drum beat behind her that just reinforced the rhyme of the story. Kids were bopping along to the story.  Then Elizabeth asked kids how they wokka-ed and shy little voices came through the cordless mic about, "I wokka-wokka like a bunny go hoppa-hoppa." I was dying of cuteness. Then everyone danced out their wokka. Kids are cute enough as it is, but put a roomful of them in their PJs dancing around and you've got a most memorable event.
Elizabeth signed many books. I noticed while she was signing, that there are as many kinds of jammies as there are kids who get shy when meeting authors. The only little girl in a nightgown left the signing line while hugging her book exclaimed, "I'm going to be a writer!"
It was such a lovely evening of families coming together to not just to celebrate reading, but to rejoice in it.